Business Talk with Mikihisa Asano of JCB International Asia Pacific Pte. Ltd.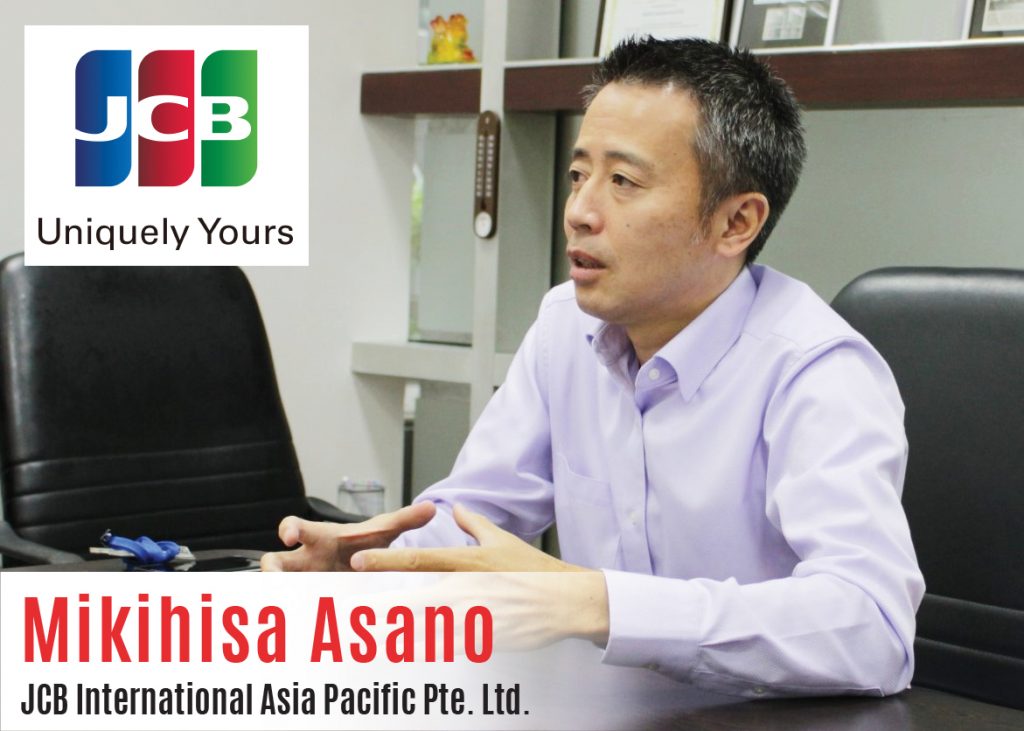 Mikihisa Asano was born in 1969. His hometown is Nagoya city, and he is a graduate of Sophia University with a degree in Foreign Studies, majoring in English Language Department. He joined JCB in 1994 and has worked in JCB Travel and JCB's overseas operations in Geneva in 2003. In 2006, he returned to Japan where he got involved with renewing systems and negotiating with Discover Card. He has been leading JCB in the Philippines since 2015, hoping to tie up with a major bank within this year.
Asano says the transfer to the Philippines was totally unexpected, and in this unfamiliar place, though with struggles, the company has been doing well this year and a new business tie-up is expected. It is easy to imagine that Asano's self-discipline and modesty were the reasons for his success. As one of Japan's international brands that unfolds Japanese hospitality, Asano continues to work hard for JCB to take root in the Philippines.
What made you join JCB?
One of my interviewers was a graduate of my university and told me about an assignment to America the following month. I remember that I felt like my dream suddenly expanded. I made up my mind instantly and joined JCB in 1994 while it was still a young company. The Manila office only opened in 1996, and the head manager at that time had only seven years of experience with JCB.
Which departments did you work in for JCB?
I was first assigned to our authorization center. Nowadays, whenever you use your credit card, it is processed through a credit card terminal in the shop, which will then be authorized by the issuing bank. This process is called "authorization." Credit card terminals didn't exist when I joined JCB, so they had to call for authorization; that's where I was—the authorization center.
I spent three years working at JCB's authorization center before I was transferred to JCB Travel, a joint venture with JTB that focused on helping Japanese cardholders abroad. I was in JCB Travel for three years before being assigned to overseas operations.
We call ourselves an international brand, competing with other cards such are Visa, MasterCard, and American Express. These brands either get contracts with banks in each country/region or make contracts with shops to accept their international cards.
What we wanted to do was to first have our cards be accepted in as many places as possible and eventually increase the number of cards we issue. The next step was to offer more attractive services so that the cardholders will use their cards. The last step was to set up rules with banks and companies. I prepared these rules and explained them to our partners.
What was your reaction when you were assigned to the Philippines in 2015?
I had no plans of leading a team overseas, so it took me by surprise when I received an order of transfer.  The Philippines was (and still is) one of our main business points in Asia, and I never thought I would be chosen to lead our branch here. People say "my mind went blank" and, to be frank, it was just like that. The first thing I thought was, how will I explain this to my family?
Give us an overview of the services of JCB Philippines.
90% of brick-and-mortar shops accept JCB cards. With this, we should be able to increase the number of cardholders. What we have to do now is to increase the number of JCB cardholders at a steady pace. We have been in the Philippines for over 20 years, with BDO and RCBC issuing JCB cards. We would like to have more card-issuing banks and expand our business.
How is the Philippines positioned among overseas branches?
We are positioned as a prior issuing country, but our scale is still small compared to neighboring countries like Thailand and Indonesia. Some parts of business activities are also hard to develop. Thailand has been doing extremely well in the last three years, especially because they tied up with a Japanese brand and have taken advantage of the pro-Japanese boom.
The sign of the same boom is starting to show in the Philippines, too, so our business is expanding. Our growth, however, is not as big as that of Thailand because we only tied up with two banks; this is something we have to fix.
What are your challenges working in the Philippines?
We do well with people with whom we already tied up, but to build a relationship with people who we do not have ties with is hard. We have established enough business connections, but things don't go well if we don't offer something valuable.
There is a misconception that in Asia, duty and humanity may guide your business; this is not the case. Bankers hold MBAs or have, at the very least, studied economics in America. If we are not good enough in presenting our product and its value to a potential client, negotiations will not go well.
What are the strong points of JCB Philippines?
Our service quality and the number of shops that offer special deals are second to none in Asia. Last year, my objective was to create as many special deals as possible. I wanted to have one thing that can never be beaten. Another thing that differentiates us is our use of Japanese hospitality as a selling point. We also need to make sure that our special deals appeal to other Asian countries.
What has changed in the credit card industry since you started with JCB Philippines?
This year, the sales is growing surprisingly well. When we looked into why this was the case, it was as we expected: the cards are being used in Japan. Relaxed visa rules and income growth may be the expected reasons. Some people re-visit Japan many times as a hobby, which may come from deepened cultural and economic exchanges.
Contactless payment is also slowly becoming a norm in the Philippines. This ties into our contactless payment services. In Japan, contactless cards such as QUICPay and Suica are widely used, though they are only good within Japan. The Philippines is more advanced than Japan in this regard as they have terminals that accept VISA and JCB.
How would you like to develop JCB in the Philippines?
We want people to be more aware of JCB, so brand awareness is a priority. For starters, we must stand out in the market, so I am thinking about doing promotions with nationwide chain stores and advertisements alongside our special offers. With this as a base, we will naturally stand out once large banks start issuing our cards. This should improve our brand image, making our day-to-day sales activities easier. As to shops, I would like acceptability to be as close to 100 percent as possible.
What plans do you have for yourself and JCB?
I have always felt that I would like to prove myself. It's been three years since I came here, and I think I have had more frustrating experiences than happy ones. I always push myself to the limit, yet, compared with other offices, our office has not grown as we expected. Sales negotiations sometimes do not go well, and I think I thrive on these frustrations.
JCB is the only international credit card brand from Japan. We must work hard and let people know that we are doing well in the Philippines to raise more awareness. I would like to create visible results by having as many banks issuing JCB cards as possible. I would like to make sure this happens before my term in the Philippines ends. I would like to hand over my job to the next person in a good way.
What words do you live by?
I stick with my belief, and I think that's good enough. I don't want to tie myself up with a motto.
What I try to do is this: we experience things, meet people every day, and, sometimes, the things you see and hear are either one-sided or questionable. I try to think these things also mean something because they exist. I try to not be biased and understand different opinions so I can make something out of these things.
---
This also appears in Philippine Primer English Magazine's September 2018 issue.