Business Talk with Miguel C. Garcia, President & CEO of NTT Ltd Philippines
Miguel C. Garcia is the founder, chairman, and CEO of Diversified Technology Solutions International Inc. (DTSI) Group, which is now part of the NTT Global Group, one of the top 10 global business and IT service providers with a presence in over 57 countries.
DTSI was founded by Garcia in 1997 and became part of the NTT Group in 2012, specializing in facilities, and technology-based products, solutions, and services focused on the IT-BPO industry and global enterprises. They build and enable the Intelligent Workplace of the Future.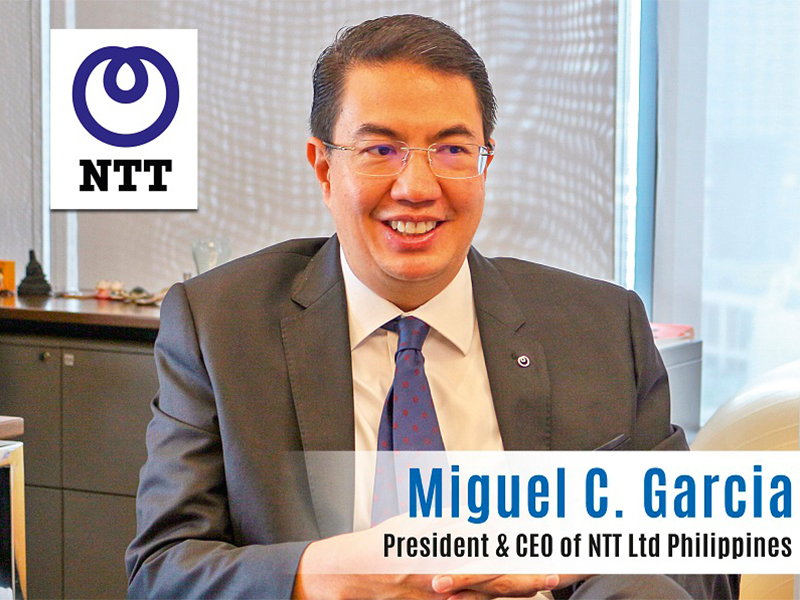 Please tell us about yourself as well as your background and experiences.
I am deeply rooted in values—passion, integrity, faith, professionalism, hard work, and doing the right things. Very entrepreneurial, obviously, but also very passionate about making an impact on society. It's not just about business but about improving the lives of our people, the lives of our customers, and society.
I come from a family of entrepreneurs. My grandfather started his own company, my father started his own company—very successful companies in their own right, but I never wanted to work for the family business. I always wanted to make my own brand and make my own name for myself in the industry. I'm quite happy with the results and continue to work on evolving and becoming better.
Can you tell us about DTSI and how it became a part of the NTT group?
When I started DTSI in 1997, it was a joint venture with Fujitsu, another Japanese company. And then, many years later, I met NTT as one of my providers of connectivity.  It became a more strategic relationship, and that's how we became part of the NTT Group.
NTT is the third-largest company in Japan. We are the 65th largest company in the world, with 106 billion dollars in revenue, so I'm very proud to be part of that. Very few Filipino companies are able to transition into the global market, and my vision was always to become global. Although DTSI was doing projects in the United States and other parts of the world, today, with NTT, we are truly global with presence in over 57 countries around the world.
Where did your interest in the IT-BPO industry come from?
As a young man, I said, "How do I bring value to society?" One thing I really believe in is the Filipino knowledge worker. I truly believe how good the Filipinos are—our capability in English and in enablement, the workforce, and ethics.
Filipinos are warm and hospitable people, which shines through in customer service and any kind of job, and that's what makes the Philippines very special. I took that skill of the Filipinos, the secret sauce of the Filipino, and sold that in the US first. I was continuously knocking on corporate companies, small, medium, and large, to convince them to come to the Philippines. I was one of the pioneers that really knocked on the doors of the US, convincing these very large companies to please come to the Philippines.
It was all about selling the Filipino knowledge worker, the Filipino talent, and the Filipino capability, and by then, one customer at a time, we convinced them. Now here we are in terms of the BPO industry being the second biggest contributor to the Philippines' GNP. We have helped provide hundreds of thousands of jobs directly, and millions indirectly, to the country by convincing companies to enter the Philippine market.
Can you tell us more about your flagship services?
The value we bring is an end-to-end solution to our customers—from advisory, incorporation, set-up, PEZA, and the whole nine yards. We help them even with the recruitment of their leadership because we know so many people in the industry. From there, we do what I call an end-to-end solution or the "Intelligent Workplace of the Future."
This is what we do: an intelligent workplace or the workplace of the future, where we design, we build. We actually do the construction—we build their facility, we build their offices, and we do all of the information technology from LAN/WAN to PC, network servers, application solutions that enable or provide better business outcomes.  All our customers need to do is to operate; and in some cases, we do the IT managed services for them.
We call it a one-stop-shop for our clients.
How do you deal with the constant changes in technology and the digital world?
We constantly have to innovate. It's how we create better outcomes for our customers, so we're now on the journey of digital transformation. We provide Robotic Process Automation (RPA), kinds of Artificial Intelligence (AI), and managed security.
As you talk about the digitalization of companies, everybody wants to go digital, but how do you really protect the company? The biggest threats today are cyber attacks. The Philippines, unfortunately, is one of the top five countries in the world being attacked all the time. Most companies here spend very little on security; it's the least priority. That's why we're easy targets. If you're a thief, which wall would you want to go up? The shortest wall, the easiest wall to get in. And if companies don't invest in their wall, they can't protect themselves. It's not just about putting up a firewall. You have to be watching constantly.
We have an active AI engine with global threat intelligence platform and very sophisticated security analysts all around the world. We have over 1,500 highly-trained security analysts watching our customers' network all the time.
The way we provide innovation to our clients is by providing managed security services, and we, NTT, is one of the leading providers. Business is all about trust, relationships are all about trust, and that's what we bring to our clients.
What is your management style?
I lead by example. I am a very passionate, very aggressive leader. Hopefully, my people will be as passionate. People would say I have such a big network, that I know so many people, but I say, you can have that same network. I am intentional in building my network.
Leadership style is leading by example, doing the right things with integrity. My leadership style is values-centric, putting the customer at the center of everything that we do, and then our people as well. We want happy employees. If you have happy employees, you have happy customers. So we want to engage the employees. It's my job as a leader to create the temperature, the climate, and the culture of the company, and that's what I always try to do.
How do you see the BPO industry in the country?
Based on the percentage of growth, obviously it is slowing down because of the law of large numbers. We're not growing by 15 to 20% anymore. We're now growing by 5 to 7%. The base is much bigger. We have over 1.4 million employees in the industry, and we're growing by 5% a year. That's still a very big number. But I'm still very bullish about the value that the Philippines brings. I travel all over the world, and we tell the story of the Philippines. There's nowhere else in the world where you can get this kind of knowledge worker.
---
This first appeared in Philippine Primer's English magazine December 2019 issue.
You might also like...