Business Talk with Hideaki Kato, President of Fuji Xerox Philippines
Hideaki Kato is the President of Fuji Xerox Philippines since February 2018. The company offers office multifunction devices and solutions, which can reduce printing costs and streamline business processes.
Having experience in Shanghai, Singapore, and Myanmar, Kato continues to expand the business overseas.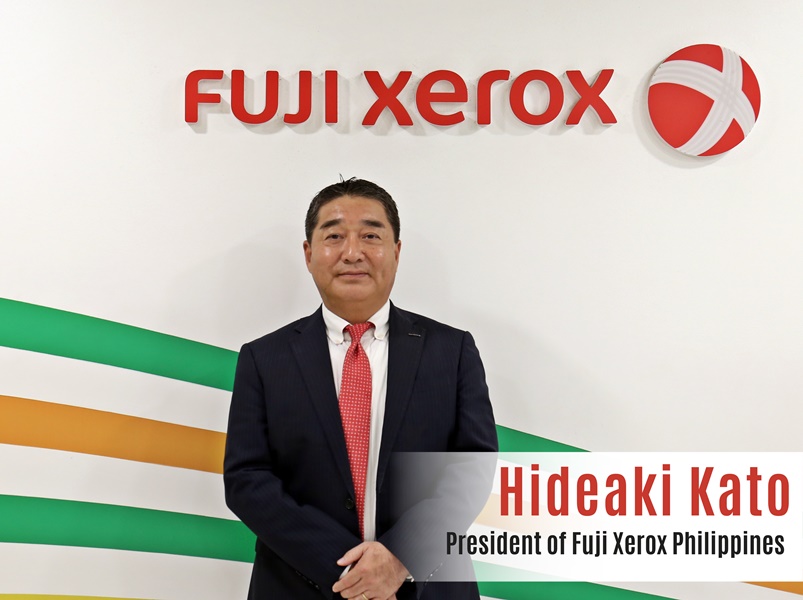 Could you tell us about your business in the Philippines?
We offer multifunction devices, document solution software and digital press machines to our valued customers in the Philippines to make their business more efficient and more effective. We established the first overseas branch in the Philippines in 1965. Since then, our business has been growing always together with our customers in the Philippines. Although it was a tough time during the Asian financial crisis, our business has gradually expanded as the country grew.
The business growth in provincial areas like Clark, Angeles City, and Davao City is remarkable. The demand for black & white printers is still major but at the same time, color printers and maintenance service business have increased. We have to deliver consistent customer support to the whole nation under terrible traffic jam and insufficient logistics infrastructures, which is one of the big challenges for us.
How do you solve the challenge?
We just implemented e-invoice and e-payment services for our valuable customers. We also promote remote services of our multifunction devices, which enable remote monitoring and predictive support for customers.
What other plans do you have for the foreseeable future?
As we promote a new service called "Managed Print Services," our customers can realize the most suitable printing environment and uncover hidden costs for printing. With graphic design and digital technology, we would also like to deliver added value to the Philippine printing industry.
How did you get into the industry?
I was born in Niigata Prefecture, raised in Tokyo, and enrolled at Meiji University. Working part-time in the hotel industry in Tokyo, I had many opportunities to talk with people from other countries. Because of this experience, I came to think that I would like to work using English. Japanese manufacturing industries had strong influences, so I got a job with Fuji Xerox in 1986.
What role did you take after joining the company?
I worked in sales for five years in Tokyo and then moved to the domestic sales planning department.
After that, how did you go on your career path?
I worked in Shanghai, covering the whole market in the Asia Pacific. China was a huge market with 30 branches and 2,000 dealers. I felt the Chinese people often strongly expressed their opinion, which was a good attitude that helped me work and cooperate with them easily. Then, I moved to Myanmar.
Could you tell us about your experiences in Myanmar?
I resided in Myanmar for five years from 2013 and studied the law and the tax system on establishing a new branch. Japan placed emphasis on cooperation with Myanmar. Myanmar saw a high market growth, which advanced annually at 6 to 8 percent. The number of Japanese companies registered in the chamber of commerce increased from 80 to 400 during my stay.
What is your principle in business?
When doing business in foreign countries, we have to show our respect and gratitude for the local society. The differences in culture are not the measure of good or bad and strong or weak
What do you do in your free time?
I usually play sports, like golf and jogging with my family, travel, and take a walk. As we have eight branches and many channel partners in the Philippines, we sometimes travel on business.
What is your favorite quote?
My favorite is an ancient quote regarding Japanese leadership: "You should do it yourself before him, you should tell him to do it, you should let him hear it, you should let him do it, and you should praise him, then, you let him do it." That's a good method of management.
What is your favorite book?
My favorite book is "The Art of War," ancient Chinese military treatise by Sun Tzu. I like this quote: "If you know the enemy and know yourself, you need not fear the result of a hundred battles." This quote is also applicable to planning a marketing strategy.
---
This first appeared in the Philippine Primer Magazine's August 2019 issue.