Business Talk with Filip Boyen, CEO of Forbes Travel Guide
Filip Boyen is the newly appointed CEO of luxury star rating service Forbes Travel Guide in 2018. Born in Belgium and currently based in London, Boyen has about three decades of experience in the luxury hospitality industry, starting as a commis chef before moving on to operations management.
Before his appointment with Forbes, he was the CEO of Small Luxury Hotels of the World.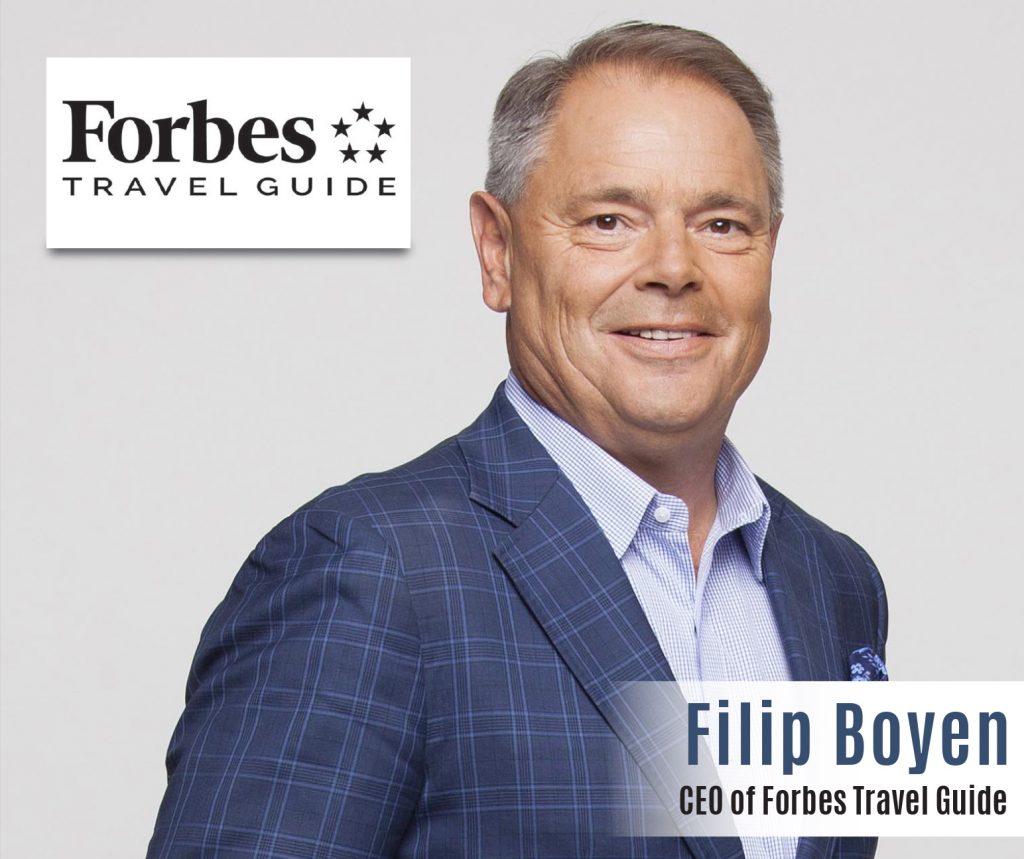 At Forbes Travel Guide, we verify luxury.
When did you take up the position as CEO and what does your role in Forbes Travel Guide entail?
I joined Forbes Travel Guide as CEO in 2018. In my role, I travel to all our Star-Rated locations and properties along with many destinations and properties that we want to include in the guide in the future. I also participate in public speaking engagements from the world's biggest brands, independent associations, universities, and tourism institutions.
How did you get into the travel/hospitality industry? Please tell us more about your beginnings.
I left school at 18 and happened to get into a job as a commis chef. I immediately knew that hospitality was what I wanted to do. The experience of working my way up through the ranks proved invaluable in my development.
Please tell us more about Forbes Travel Guide and its standards when rating hotels, restaurants, and spas.
At Forbes Travel Guide, "We verify luxury," and that means we champion, support and celebrate all those with a passion for extraordinary service.
Forbes Travel Guide awards three categories for hotels: Recommended denotes the property is excellent, one of the best in its destination; Four-Star honors are for hotels that are not only excellent but offer a particularly high level of overall luxury, convenience, and upgraded amenities; while Five-Star accolades are reserved for properties that consistently offer outstanding facilities and service that often will go above and beyond for its guests.
Have you inspected hotels/restaurants yourself? Can you share any interesting learning or discoveries from your own travels?
We employ extremely experienced evaluators to inspect luxury hotels, spas, and restaurants. First and last impressions are critical. When I arrive at a hotel and the doorman who opens the door of the car is welcoming,  engaging, and gives me a feeling that he really wants me to be at his hotel, chances are that I have arrived at a very good property. Hotels sometimes forget that the very first impression of their property is the hotel driver that transports the guests to the hotel. It is vital that they are knowledgeable, engaging, and that they speak English.
What are some of the biggest challenges you have faced with Forbes Travel Guide?
One of the challenges I faced is explaining to hotels that our ratings are not for sale and that our integrity is our most important asset. Engaging with our support services is no guarantee that the hotel will receive a Five-Star rating. Our ratings have to be earned by each and every hotel. In 2019, seven new Forbes Travel Guide Five-Star hotels earned their rating without buying any of our support services. If the hotel is exceptional, it will receive a Five-Star rating.
What plans do you have for Forbes Travel Guide in the near future?
I plan to fulfill our amazing potential in Europe, Asia, and the Middle East. I will also help build brand awareness through celebrating the Forbes Travel Guide-rated hotels, their achievements, and especially their excellent staff. I will continue to support and celebrate the very best hotels, restaurants, and spas in the world.

Have you traveled to the Philippines? Please tell us what you think about the tourism/travel industry in the Philippines.
I was in Manila in March for the first time and stayed at the wonderful Peninsula Manila, one of the new Forbes Travel Guide Five-Star hotels. I was privileged to attend an employee celebration of the Five-Star award. I was very impressed with the service culture as well as the joy and the love for life of the Filipino people. This is such a huge factor when successfully developing a luxury destination.
The Philippines has had a decade of +6.0% GDP year-on-year growth, making it one of the top countries in the world in terms of growth, along with Vietnam and Mongolia. Foreign investment and confidence have allowed industries and businesses to flourish, supporting a growing middle class and strong domestic consumption.
The Philippines stands strong to benefit from the trade war, as Inter-Asia companies invest in the Philippines for its educated, available and affordable labor, complemented with the warm hospitality spirit of its people.
Plus, a growing domestic middle class boosts GDP through real estate, demand for services, experienced and overall consumption.
What international destination would you recommend for Filipinos?
Japan is a very hot destination due to its history, amazing culture, and gracious hospitality. In Europe, Iceland is very attractive with its natural beauty and richness.
How would you describe your management style?
My management style is inclusive and direct. I like to get things done. Our amazing team is vital, and it gets the credit whenever it achieves. The development of our colleagues is an absolute priority.
Who are the people you look up to?
Horst Schulze, the creator of Ritz-Carlton, and Issy Sharp, founder of Four Seasons. I love the fact that both are still active and have an amazing vision and unwavering passion for extraordinary service.
Describe your typical day at work.
My priority is to ensure I make the effort to visit as many of our clients as possible. They are the reason why we exist! Since I started in late October of last year, I have visited more than 250 hotels, restaurants, and spas in the Americas, Europe, Asia, and the Middle East. I constantly ask for their feedback to ensure we stay relevant as a company and that we meet their needs.
---
This first appeared in the Philippine Primer Magazine's July 2019 issue.