Business Talk with Daisuke Tonai, Executive Director of Japan National Tourism Organization (JNTO)
Business Talk with Daisuke Tonai, Executive Director of Japan National Tourism Organization (JNTO)
A native of Fukuoka Prefecture, Daisuke Tonai graduated from Sophia University's Department of Russian Studies. He joined the Japan National Tourism Organization (JNTO) in 1993, working to attract overseas visitors to Japan. Tonai accumulated his experience in the United States and has been engaged in the promotion of Japan's tourism for many years. He stayed in Los Angeles twice for a total of eight years and has served as an executive director.
It was in October 2018 that JNTO opened its Manila office, with Daisuke Tonai as the Executive Director.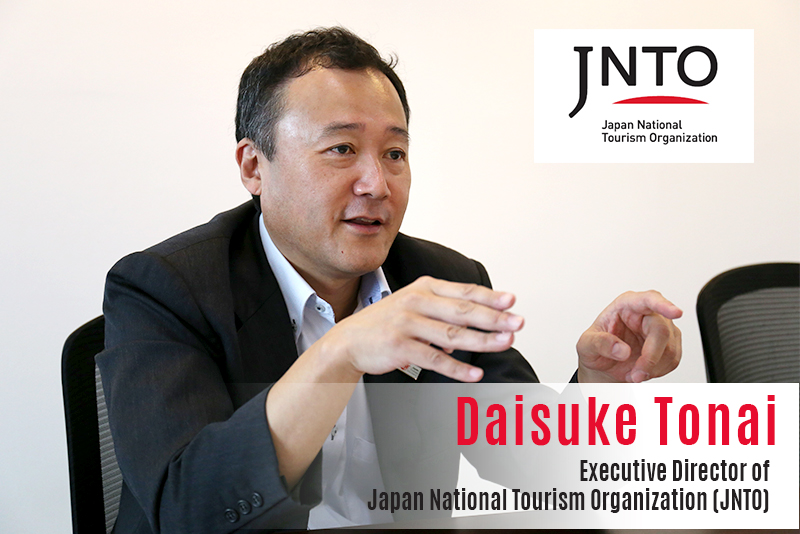 Please tell us about yourself.
I was born in Fukuoka Prefecture in July 1970. I grew up and studied until high school in Fukuoka, and in 1989, I went to Sophia University's Foreign Language Department. Because my father went to Germany as a judo leader, I was interested in foreign countries. I thought vaguely in the future that I would like to work internationally.
How was your job hunting?
Because I liked writing, I longed to be a newspaper reporter. When I found JNTO's posting at the job hiring section of the university, I thought it would be more directly related to overseas work rather than reporting. Since I also wanted to work overseas, I decided to join the company.
What were you in charge of in JNTO?
When I joined in 1993, I engaged in attracting international conferences and gained experience in the accounting department.
In 2001, I started working in Los Angeles. I arrived in May, and then the terrorist incident happened in September. People developed a fear of riding airplanes at that time, so it became my important mission: how can I help recover the travel demand that had fallen? Fortunately, in 2003 in Japan, which was under Prime Minister Junichiro Koizumi, the revitalization project, Visit Japan Campaign, began and I was able to focus with enough budget.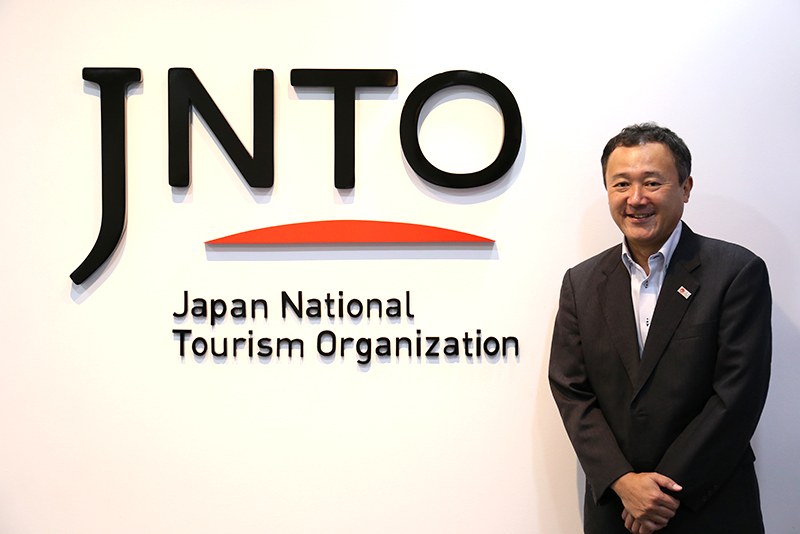 Where did you transfer after you were assigned in the United States?
In 2005, I returned to JNTO headquarters. I returned to Los Angeles in 2011 as my second appointment.
When the Great East Japan Earthquake happened in 2011, I was still in our office in Japan. There was much staff who cannot return, and neither telephone nor internet can connect. But I think it was important that I could share what I had seen and experienced in the tragedy in the USA. Immediately after the disaster, Japan was thought to be in a terrible state, but as people recovered little by little and talked about their experiences, people in the USA could understand. I was assigned back to Japan in August 2015 and worked at the headquarters.
What kind of work did you do then?
I was involved in establishing offices. In 2020, in order to achieve 40 million inbound visitors to Japan, we decided to establish seven new JNTO offices. We decided to have an office in Manila, but due to difficult procedures, we first set up a preparatory office in March 2017.
We finally opened an office in October 2018. First of all, I was very thankful to the Secretary of Tourism of the Philippines who visited our opening ceremony.
Are there many Filipinos who visit Japan?
In 2012, there were 80,000 visitors. In 2017, it increased to 420,000. By 2018, as of November, it is about 450,000, already exceeding the previous year, which is the highest ever. The reason behind it is that visa rules were relaxed and the Open Skies agreement was concluded between Japan and the Philippines in 2013, and low-cost carriers (LCC) can now fly directly to Japan.
Is there any change in the characteristics of the tourists?
According to a survey of the Ministry of Tourism, the purpose of sightseeing suddenly increased from 2014. Before then, around 30% of the visitors went to Japan for sightseeing, but in 2017, it increased to 80%. In addition, the number of returning visitors is also increasing due to the relaxation of the visa requirements.
What kind of places do returning tourists visit?
Looking at the statistics, there are still many who go to Tokyo and Osaka. In addition to that, we try to disseminate information in cooperation with local governments in other regions. It is also important to provide information to Philippine travel agencies. Moreover, it is necessary to strengthen the system of accepting tourists in Japan, such as setting flexible group rates.
As for Filipinos, what do they like in Japan?
Eating Japanese food, shopping, and picture-taking are very popular activities. Since Japan has four seasons, different sceneries can be seen and that also attracts the tourists.
What words do you live by?
We have gone through ups and downs since I was appointed in the Philippines. It took only one and a half years to establish an office, so I want to continue working tenaciously in the future.
---
This first appeared in Philippine Primer English Magazine's February 2019 issue.