Business Talk with Chikara Mochihara, Branch Manager of Japan Airlines – Manila Office
Business Talk with Chikara Mochihara, Branch Manager of Japan Airlines – Manila Office
Born on 1963 in Katsushika Ward, Tokyo, Chikara Maochihara initially worked with Japan Airlines (JAL) at Haneda Airport, where he was transferred to Osaka and Sapporo to work at the sales department.
In 2014, he was transferred to JAL Tokyo head office, where he worked in the public relations and web sales department. When JAL made a capital investment to their Loyalty Marketing, he was temporarily assigned to work as a Director.
Mochihara became the branch manager of JAL's Manila office in August 2018. They are opening a new route, Haneda-Manila, in February 2019.
Besides business travelers, the number of tourists is increasing due to the economic growth. Mochihara is hoping to catch up to the ever-growing airline activities.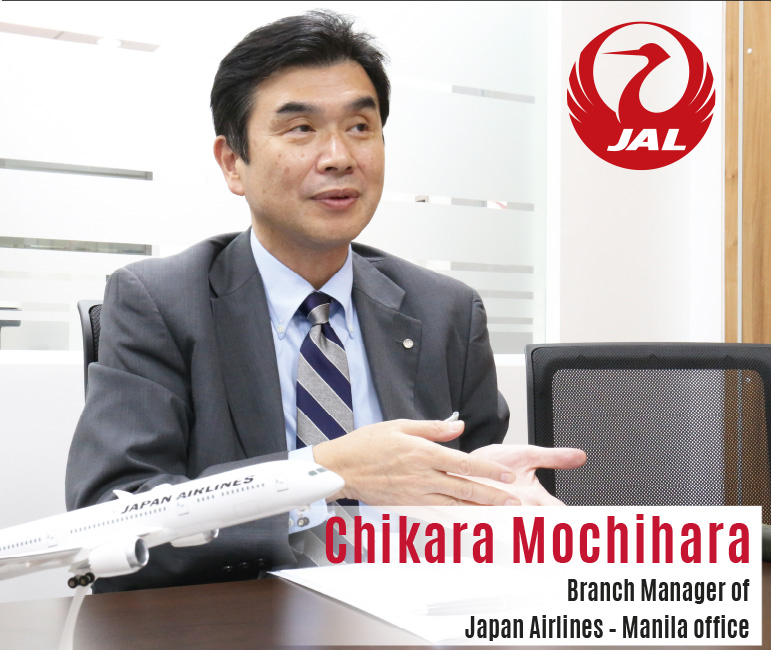 What made you join JAL?
Since my childhood, I have always liked airplanes. I wanted to get a job in an international company or a job that relates to airplanes, so I had a vague idea that an airline company would be good for me. Looking back, it was rather a dream-like-feeling. An airport has an extraordinary, special atmosphere, and I felt that even when I was a child. I joined JAL, but I did not really study the company before I joined them.
What did you do when you first joined JAL?
My first job was at Haneda Airport, and I did check-in related work for three years. After that, I did sales in Sapporo and Osaka. My experience at the airport involved dealing with customers, and it was useful for my later experience doing sales. After that, I was transferred to a travel agent to JAL Group.
Then, you were transferred to the headquarters?
Yes. In the public relations department, my job was to deal with the media. It was 2004, the dawn of the online advertising. TV and newspaper were still a stronger form of media advertisement. It was an experimental phase to know how effective the internet/social media would be for advertising. Yet, I felt that a new wave for media was definitely coming.
Where did you go after that?
I returned to Osaka and did sales work again. JAL filed bankruptcy in 2010, so we had to reduce our routes; it was a very tough time. We felt keenly that airline companies can only do business if you have networks. The bankruptcy gave us the opportunity to reflect what we had been. Was our customer service good enough? Were we only thinking about profit? Or, did we outsource too much? We learned the best lesson in the hardest way! What we learned then made us what we are today.
Is there any tale that you want to share during the bankruptcy?
At that time, our chairman, Kazuo Inamori, advocated the reformation of "heart" and "soul" daily. Based on the philosophy, he brought awareness raising and liquidation systems to each department. Two years and eight months after the bankruptcy, we re-listed in the First Section of the Tokyo Stock Exchange, and on this occasion, Inamori delivered a message to all employees: "Be humble, avoid arrogance, and continue to extend efforts." Currently he says, "Today is the fruit of your past efforts, while the future depends on the efforts you make from this point onward," because we may sometimes get carried away with our success, and this must be strictly controlled. This was very memorable.
What happened after that?
The web sales department was newly established and I was there for three years since 2011. My main job was to deal with online travel agent (OTA). I was developing online products and managing them; it was called "dynamic change," where the package included everything, like airline tickets, hotels, and rental cars. Dynamic package had a new feature, it was unique to the internet–the prices changed greatly depending on the supply and demand balance.
What did you do from 2014?
I was temporarily assigned to Loyalty Marketing, Inc. as a director. They have a universal loyalty card system, "Ponta." I was sent there because, in autumn 2014, JAL made a capital investment in them. The company analyzes what consumers buy in convenience stores and use that data for marketing. I never worked in this field before, and I learned a lot from this.
After that, you came to the Philippines. So, how do you like Manila?
Very well. It is different from what I expected in a good way. I've been here for three months and never felt social security is an issue. People are friendly and cheerful! This is my first assignment abroad, so I appreciate these things.
In JAL, how is the Philippine project positioned?
In 2017, we celebrated the 50th anniversary of the Manila-Tokyo route. In JAL, there aren't many routes that go over 50 years, including Filipinos. Because we are a Japanese airline, most of our passengers used to be Japanese. But due to the recent recent economic growth of the Philippines, as well as diversified travel purposes such as business trips and tourism, demands from Filipinos are increasing, and I think it will stay that way. I would like to improve our website for Filipino users, as well as offering better promotions.
At present, there are more Japanese passengers, but it is true that rich Filipinos are choosing the business class more and more. In Manila, the Sakura lounge was renovated in September 2017. We are actively engaging to satisfy our customers.
More Filipinos are visiting Japan. Why do you think that is?
It is due to diversified interests in Japan. Not only Japanese cuisine and traditional culture but also anime and subculture are becoming exceedingly popular. And Japan has four seasons. I think these attract people.
In February 2019, the Manial-Haneda route will open. You already have the Manila-Narita route. How different will this new route be?
We have 34 route in Haneda Airport, so it is the biggest airport hub in Japan for JAL. The new route departs from Manila at 23:50 and arrives in Haneda at 4:55–this is a convenient time for the passengers to catch a domestic flight. Currently, tourists are concentrated in Tokyo and Osaka but with this new route open, tourists can visit other places too. By taking JAL's domestic flight, it is possible to go to Chitose and come back from Hakodate.
More low-cost carriers are connecting Japan and the Philippines. What is JAL's strength?
We target different kinds of customers, so it is not necessary to consider them as competitors. When airline demands expand, it is important that we work together and develop the market.
Tell us about future prospects.
With the new route open, and the convenience of Haneda, I would like people in the Philippines to know more about Japan. With more people traveling between the countries, it would be nice if I could be a part of the friendship between the Philippines and Japan, and the economic growth.
Also read: Business Talk with Patrick Paul Tan, CEO of Skyjet Airlines
---
This first appeared in Philippine Primer Magazine vol. 33 December 2018 issue.