Business Talk with Antonio Turalba, CEO and Chairman of Active Group of Companies
Antonio A. Turalba, Sr. is the founder and chairman of the Active Group of Companies. He holds a degree in Architecture from the University of the Philippines and placed fifth in the 1970 licensure examination for architects.
He is a noted environmental planner, holding the distinction of being the first private sector representative to the Housing and Urban Development Coordinating Council in 1978. He is a recipient of the U.P. Alumni Association Award in Architecture (1989) and was named "Outstanding Professional in Architecture" by the Professional Regulatory Commission (PRC) in 1996. He is also Fellow of the United Architects of the Philippines, the country's leading association for architects, and is a past president for the Chamber of Real Estate Brokers Associations (CREBA) and Rotary Club of Makati East.
How long have you been involved in real estate? How did you get into architecture?
I've been in real estate for 48 years, with our 50th anniversary coming up in 2020. Initially, the University of the Philippines (UP) College of Architecture used to be a part of the UP College of Engineering, alongside Civil Engineering. With that exposure, I pursued a degree in architecture. As far as business goes, I've been in business since I was 13 years old. I've been involved in many kinds of businesses like buy and selling.
What separates the Active Group of Companies from other real estate developers in the country?
I think what separates us is our experience. If you look at the competition, we've lasted longer than any of them. The Active Group was started by me and my wife.
I've been in business since I was 13, received a degree in Architecture, and have received many awards through the course of my career, especially from the university (UP) and regulatory commission (PRC). These already separate me and my company from other businesses.
Some businessmen hire architects, while others hire business consultants. They might hire those with postgraduate degrees (Master's degree and Ph.D. holders), but I have the option of not doing so. I've been exposed to both sides (architecture and business) that even if I do hire someone, I can still share my experience with them and guide them in improving our business.
IMAGE Mount Malarayat Golf & Country Club website
Tell us more about Mount Malarayat Golf and Country Club.
We came up with that project because of the qualities of the site. When we were offered the property, we saw its potential as a golf course. The cool climate and topography made it ideal for golf. The quality of the soil and the constant source of water made it easy to maintain, and the breathtaking backdrop of Mount Malarayat made it all the more special. Being architects, we took full advantage of what the site had, and, as a businessman, I converted it into a business venture.
The way you see it now in terms of natural beauty, it reflects how it came about from the get-go. It shows how it has been managed from the beginning. We did not need to do any major interventions or alter the landscape in any way; all we did was work with what nature had provided and improve on it.
It is also a testament to how we run the business. Imagine how much the landscaping, specifically the plants, cost our company; that money can already go towards building another golf course!
We're proud to call Malarayat the first all-weather course in the country. Other courses that came after us may claim to be all-weather courses, but Malarayat was the first. You can play even after a heavy downpour, and it has been proven. We invested in the well-constructed drainage system that lies beneath the course, which has made this possible. The result is that members and guests can play on the course in mere minutes after a downpour. Walking on the course after the rain will not leave a single patch of mud on your shoes.
We have even issued a challenge to anyone who plays at Malarayat. We will waive your green fees if you play and get mud in your shoes after it rains on our course. This challenge still stands to this day, and it hasn't been taken advantage of since.
What were some of the challenges you faced while developing Mount Malarayat?
We didn't have any partners for Mount. Malarayat Golf and Country Club. It was a joint venture, but there were no major partners for the development of the course. We've had to finance that project using our own resources. There were still other variables to consider like the design, but having to fund the development by ourselves proved to be the biggest challenge.
We were also hit by the Asian Financial Crisis in 1997. We were almost done with construction when that happened. We formally opened the golf course in 1998 even as we faced the tail end of the financial crisis. To have Malarayat be the way it is now was the biggest challenge we've ever faced.
What about as the Active Group Chairman?
Being the chairman is challenging in itself. You have to come up with the direction of the entire group. You also have to make sure that everybody is happy, as well as ensure that the company goes on even after I'm gone.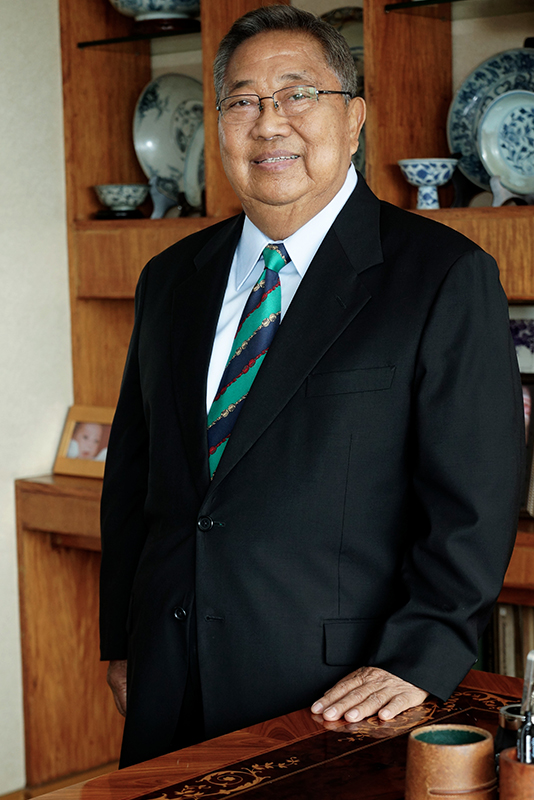 What are your plans for Mount Malarayat and the Active Group for the foreseeable future?
The Active Group has a big project that it will be taking on within the next two years. Our 50th anniversary is just around the corner and we're looking to celebrate it with something big. We can't say much, but we're preparing for that right now.
Malarayat, on the other hand, will be celebrating its 20th year and we're preparing activities for both members and guests this October. It's a way for us to show guests that we're still the best course in the country and that they are assured of having the best, even if it is for a price. We want to continue to deliver a quality of life that goes beyond shelter and beyond golf.

IMAGE Mount Malarayat Golf & Country Club website
How would you describe the way you manage the Active Group of Companies?
Each of our companies may have its own head, but I still check in from time to time as the chairman of the Active Group. I always keep my guard up.
I also made sure that my children will be exposed to the company at a young age. Most of them are already involved in real estate. Only one of my children, my youngest, didn't follow in my footsteps and is now a physician in the United States. They're also supported by some of the best and most experienced people I know. I want to make sure that the quality of our work remains at its highest level even without me being directly involved.
What moment has made the biggest impact in your career as an architect and businessman?
The most memorable, by far, is where the company is right now. At this point, we're practically debt-free. To me, that is the biggest. We've been through many ups and downs. We've faced three global financial crises in the history of our company.
The way I've looked at things and how I achieved what I have has been through hard work and focus. The most important things for me have always been honesty, integrity, dedication, and sincerity. These are the things that will help you sell. People will know who you are and will only lend you something if you have these qualities. That's how I grew myself and the Active Group to what it is today. My friends have helped me along the way because of my integrity.
If your clients see how sincere you are in doing your job, you will survive. We do not want to lose face if we don't deliver on our promises, something that's very Japanese.
---
This first appeared in Philippine Primer Magazine's October 2018 issue.