Business Talk with Antonio L. Tiu, Chairman and CEO of AgriNurture
Antonio L. Tiu founded AgriNurture in 1997 just one year after he acquired his Business Management Degree from De La Salle University. It is a publicly listed company that takes the role of a bridge between farmers and consumers, duly fueled by his desire to uplift the Philippines' agricultural sector. He is presently focused on bringing in technology from Europe to Asia, and Asian products to Europe and North America for that same reason.
Fateful as it is, Fujian-rooted Tiu has been the CEO of the company for twenty years now despite the patch of time he left the country in an attempt to lead a simple life with his family in Europe, continuously going down the purposeful path he started AgriNurture for.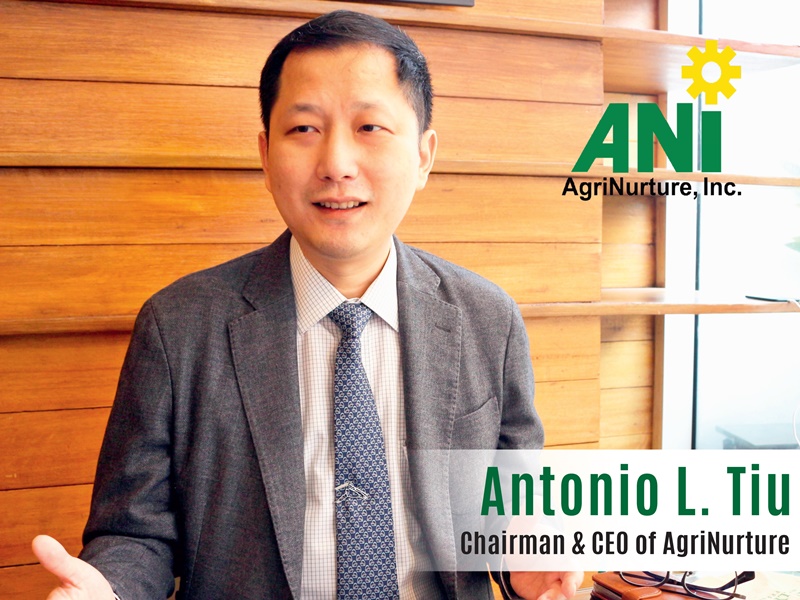 Please tell us about the businesses and industries that you have ventured into.
The agricultural sector is my passion. My businesses all surround the agri sector except my recent venture into the subway or the mass transport system. Whether it's AgriNurture, or Greenergy, or the Agricultural Bank of the Philippines, or Big Chill—it's all about food and agriculture. 
Greenergy is renewable energy, but I started Greenergy because I was consolidating agricultural waste and turning them into biomass energy. This has 90% of my focus. I prefer to be called an agri-entrepreneur. I prefer that I spend most of my resources and time trying to make a difference in the sector.  
What are the issues that you want to address in the agri sector?
The Philippines' agricultural problem is that we are fragmented because the agrarian reform was not successful. There's distribution of the land but there's not enough support afterwards. Without the microfinance support, there will be no input, which equals to no output. Out of the country's 7,107 islands, there are probably about 2,000 islands that have economic activity or farming activity, and 99% of the farmers are unserved—not underserved but unserved—by the banking sector. Our law even has to come up with the agri-agra loan where the banks are mandated to lend 25% of their loan portfolio to the agri-agra sector. Unfortunately, the banking sector prefers to pay the penalty rather than supporting the farmers. Not because they do not have the heart but because there was a logistics problem, and it's a big nightmare for them to organize. 
So what we will be doing is trying to solve the inefficiencies of the agricultural sector of the Philippines and make the most out for the stakeholders. 
Tell us more about AgriNurture
AgriNurture is basically a consolidator. We act as the only bridge between farmers and consumers. Year 2020 will be a very exciting year for AgriNurture because we're going to use technology to disrupt the agricultural sector. We will use technology to uplift the lives of our Filipino farmers. From the microfinance aspect, we will adopt fintech. From a marketing perspective, we will adopt e-commerce. And we will also improve the logistic inefficiencies by means of technology.
The face of all AgriNurture's subsidiaries is Big Chill and Tully's. What is AgriNurture, nobody knows. We're bringing in a lot of rice, we are exporting a lot of fruits, we're processing a lot of coconut water for North America and the Middle East, but nobody knows. However, everybody knows Big Chill, Tully's Coffee, because they are the retail front. Soon, we will be launching our vegan, plant-based meat.
Tell us more about your venture into the mass transport system
Philippines' InfraDev is the holding company that owns the Makati City Subway Incorporation. So it is a consortium that I put together and they are about to undertake the construction and development of the first mass transport underground in the CBD, which is Makati. And we expect the commencement of the tunnel boring anytime this year. And it will be completed by 2025. 
Eventually, it will interconnect with a lot of other cities by subway extension, by tram, or by other modes of mass transportation system. 
Where is your passion coming from?
When my father died a year before I graduated, it disrupted my life. That year, 1995, I turned myself into a vegetarian because I didn't want to have cancer. At the same time, I had the insecurity that I needed to make money. I turned from a happy-go-lucky young man into a serious person trying to find ways to make a living because of the insecurity, and I never stopped since then. When my wife started complaining about my excessive work, we finally decided to slow down and migrate. 
I was brought back to the country in 2014 when I had to fix a lot of issues. However, I believe because of those challenges, I have an agri fintech now. I have the subway project. I have the plant-based meat product. I have the sparkling coconut water. 
There are two things that I embrace from Japanese culture: kaizen and ikigai. In our management team, we should seek to improve every day, even if it's just 0.001. If you multiply that by 0.001, it will keep growing. I keep on requiring myself to be better today than yesterday. 
What plans do you have for your company?
There are many other interesting things that we want to introduce slowly, like we may combine tourism with agriculture. It would be very nice to have agri-tourism. Farm tourism. Farmers make very minimal money, but if the farm can become a tourist attraction like in Japan—experiencing how to plant and how to harvest, enjoying fresh fruits and vegetables, etc.—I think that's one approach we can create value for farmers. 
Another one is to go organic. Organic has a bigger value and it's better for the environment. We have to learn from the Japanese, Korean, Taiwanese, where small farmers can actually become wealthy because of high-value output. 
Do you have a particular place in mind you want to pioneer?
There are a lot of interesting places where you can do agri-tourism. Tagaytay, for example—after the volcanic eruption, the soil will be more fertile. And then, you can grow organic vegetables. 
Tagaytay, Baguio, or Antipolo—these are nearby areas where you can capture local or international tourists for agri-tourism. You can go a little bit farther if you want to do some large-scale tourism projects. There's Bulacan, Batangas. You can do island hopping and enjoy agri and fishery tourism like in Bohol and Davao. There are many beautiful places in the Philippines where we can combine tourism with agri. 
Can you describe your typical work at work?
I try to learn from the farmers, so I try to start my day early. The alarm clock is set at 6, but my body wakes up before the alarm. I prepare my own food. I meditate. I exercise a little bit.
---
This first appeared in Philippine Primer's English magazine March 2020 issue.