Body Maintenance: The ways of KARADA
KARADA believes in Setai or Body Maintenance, combining massage and chiropractic techniques to not only relieve stress but improve overall health. Thanks to this approach, their services have earned a steady following both in Japan and in countries like the Philippines. We talked to KARADA Philippines' Master Trainer and Regional Manager, Hiroaki Naruse, to know more about how KARADA has been successful in offering its one-of-a-kind service.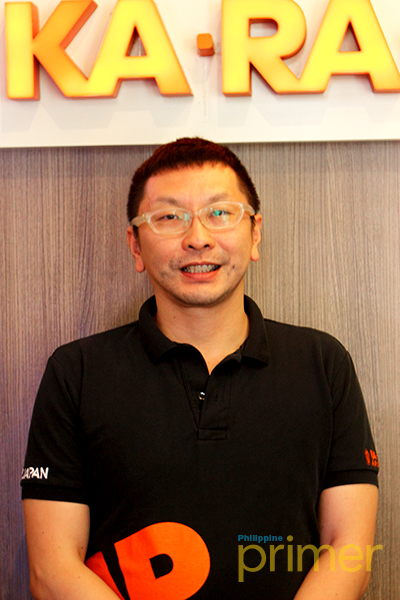 What did you do before working for KARADA? Why did you choose to work in KARADA?
I worked as a salesman for a pet food maker for 13 years. I would often go on business meetings with managers. I drove a car everyday during business trips, sometimes driving for 2-3 hours straight. I developed lower back pain because of those long drives, forcing me to resign.
I would often get a massage during those business trips. The massages cost me more than what I make, so I tried looking for places that provide body maintenance. One of my friends, a chiropractor, encouraged me to learn chiropractics instead and that's how I started with KARADA.
What makes KARADA different from other spas or massage clinics?
Massage parlors in the country specialize in relaxing massages or reflexology. Ours is different: we focus more on body maintenance. Our services are therapeutic, not for relaxation.
We also communicate more than other places that specialize in reflexology. For us, consultation is the most important part of our service. We profile our clients and give them suggestions based on their medical history. We're not experts, so we recommend you get a check-up before you go to KARADA.
We follow a step-by-step process to determine what treatment will best suit your needs: consultation, assessment, treatments (skull, muscles, bones), and rationalization. Every treatment we do is tailor-made to the client's needs and what they want to achieve.
MASTER TRAINER HIROAKI NARUSE with Greenbelt Radisson's KARADA Body Trainers
What made you decide to open a branch in the Philippines?
When we opened our branch in Taiwan 5 or 6 years ago, we had a client who loved our services. This client eventually recommended us to their Filipino friends. They, in turn, tried and loved our services, so they asked us if they can start KARADA in the Philippines. They thought that the unique service we provided (body maintenance) would do well in the Philippines since no one has done it before.
[It was fortunate because] At that time, we were already looking for someone to talk to and expand our business outside of our branches in Japan, Taiwan, and Thailand. These countries had KARADA branches, but the one here is a franchise.
KARADA Factory was the original name of the company. However, when we opened our first branch in Glorietta, we thought of removing "Factory" from the name because it didn't carry the same meaning in the Philippines. This is why it's just KARADA, which means body. We now have 13 branches in the Philippines.
KARADA is set-up as a franchise in the Philippines. The franchise is under Technolux Holdings, so they are the ones who manage KARADA in the country. As a representative of KARADA from Japan, we assist them in training the staff.
As master trainer, what is your approach to training KARADA's therapists?
Everyone at KARADA starts from zero, even if you're a licensed physical therapist. All of our trainers are Filipino, including the head trainer. Strictness is needed because it's dangerous to make mistakes when you're dealing with the body. We also encourage our applicants to train even after work hours [so that they can continue to improve].
I don't focus on training applicants right now, though I did train the first batch of KARADA therapists. We sent them to Japan, where they received strict training for KARADA's techniques. I still have the final say if they will qualify as therapists, though.
What has made the most impact in your role as KARADA's Master Trainer and Regional Manager?
For me, it's having responsibility and pride as a mentor for KARADA. We started with nothing in the Philippines [and built it up to what it is now]. I may not be the owner, but I feel like I am because I was part of the team that started KARADA in the Philippines.
What is your motto?
Ichigo ichie (one time, one meeting). I want to give clients, especially new clients, the best service they can get right from the start. I give my best the first time I meet a new client.
Hiroaki Naruse was born in Hiratsuka, a city in Japan's Kanagawa Prefecture. He holds a degree in Agriculture and Veterinary Medicine from Nihon University. After graduating, he entered Nippon Pet Food where worked as a sales manufacturer for 13 years. After leaving Nippon Pet Food, he joined KARADA as a part-time therapist. After that he served as an area manager of Tokai & Kanto area, and transferred to the International Division from 2012. He was appointed to the Philippines in May of the same year.
For the full interview, please get a copy of Philippine Primer's February issue.