Shake Shack Teams Up with Toyo Eatery for a Filipino Salo-Salo This 11.11
Get ready to embark on a mouthwatering journey of hearty Filipino-inspired snacks as New York City's iconic burger sensation, Shake Shack, teams up with the Filipino culinary gem, Toyo Eatery, for an unforgettable one-day salo-salo on November 11, 2023 at Central Square in BGC!
With Filipinos' love for food and the joy of sharing meals together, a salo-salo, where people gather for scrumptious food and refreshing drinks, becomes a heartwarming tradition that brings families and friends together to create lasting memories.
IMAGE from Shake Shack Philippines
One-Day Salo-Salo Menu at Shake Shack
Within Shake Shack and Toyo Eatery's exclusive salo-salo menu, you'll find a variety of delectable snacks, including the all-natural Chicken and Cheek BBQ, featuring crispy and oh so tender chicken thigh, hand-breaded with Panaderya Toyo's sourdough batter.
The crispy chicken is then topped with Toyo Eatery's pork jowl and BBQ sauce, adding smoky flavors to the burger ensemble. A pickle medley of Filipino ingredients including atsarang papaya (pickled green papaya), burong mangga (pickled green mangoes), aruy-uy (sweet pepper), red onions, and cucumber also add a level of tangy appeal as they are sandwiched between sumptuous potato buns.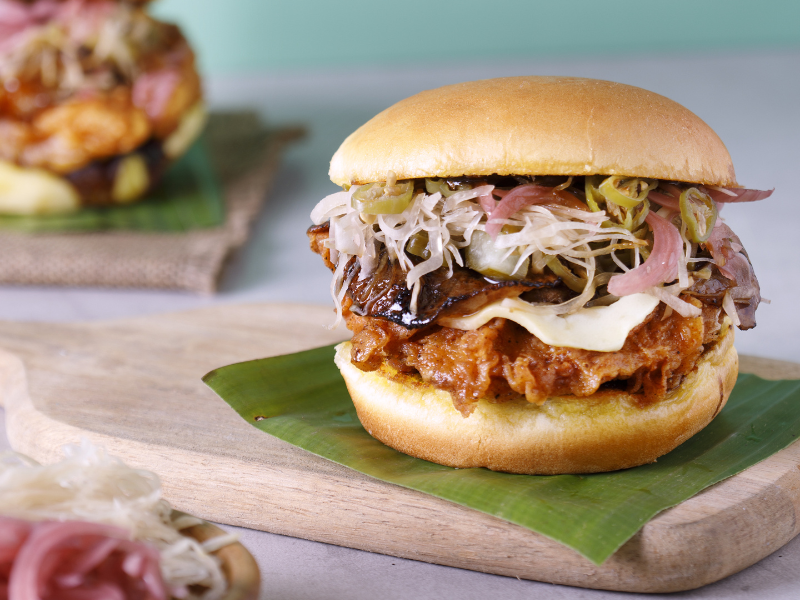 Chicken and Cheek BBQ (Php 595) / IMAGE from Shake Shack Philippines
Of course, what is burger without the fries? Fortunately, you can pair their Chicken and Cheek BBQ Burger with Inasal Fries! What perhaps makes it so special is its special inasal mayo topped with garlic chips, drizzled over crinckle-cut fries.
If you're wondering what makes it "inasal", the subtle taste of ginger and lemon grass makes you think of marinated inasal (chargrilled) chicken. The Inasal Fries comes with a fresh calamansi and vinegar chili dip, a genius condiment that adds a mildly spicy and sour kick to the snack.
Inasal Fries (Php 325) / IMAGE from Shake Shack Philippines
Partner this unforgettable pairing with Rosella at Lambanog Lemonade, the first boozy lemonade at Shake Shack Philippines! The concoction blends Toyo Eatery's rosella syrup and tagay or shot-glass portion of lambanog, a traditional Filipino liquor made from distilled fermented coconut sap.
For those who worry about alcohol content, the citrusy lemonade balances out the lambanog shot, creating a mild cocktail-lemonade drink that is as refreshing as it is exciting!
Rosella at Lambanog Lemonade (Php 275) / IMAGE from Shake Shack Philippines
For those who want to sit out on the boozy fun, you may cap off your meal with the Tsokolate at Tostadong Bigas Concrete, featuring frozen chocolate custard blended with Toyo Eater's classic toasted rice pudding, candied Palawan cashews, and cacao nibs.
The frozen custard is made with real cane sugar, cage-free eggs, and milk, while the toasted rice is made with local organic black rice from Capas, Tarlac.
Tsokolate at Tostadong Bigas Concrete (Php 355) / IMAGE from Shake Shack Philippines
Limited Edition Merch
To further celebrate Shake Shack Philippines and Toyo Eatery's first-ever Chef collaboration, the duo prepared some surprises for its customers on 11.11! The first guest will receive an exclusive Shake Shack x Toyo Eatery merch, while the first 30 dine-in guests will receive a limited edition bucket hat.
Don't miss the opportunity to grab Shake Shack x Toyo Eatery merchandise, available on the day of the event only!
IMAGE from Shake Shack Philippines
A Pairing to Remember
As Shake Shack's Culinary Director Mark Rosati became captivated in the celebration of Filipino tradition and cuisine, he thinks it is only appropriate to join forces with no other than Chef Jordy Navarra of Toyo Eatery.
"We have been humbled by Shake Shack's reception in Manila and couldn't be more excited to work with Jordy for our first-ever chef collaboration," says Culinary Director Mark Rosati. He adds, "Toyo Eatery is not merely a place to eat. It is a celebration of Filipino cuisine, culture, and the art of storytelling through food, where tradition meets innovation."
Culinary Director Rosati also praised Chef Jordy's "creativity in reimagining Filipino food", something that Toyo Eatery has been doing since its inception in March 2016.
Toyo Eatery in Makati has been a favorite by many for combining the flavors and traditions of Filipino cuisine with quality products to make delicious dishes. Even with Chef Jordy's extensive experience in international kitchens, he has remained deeply rooted in Filipino culinary traditions such as kamayan, a communal-style buffet, perfect for salo-salo or gatherings.
IMAGE from Toyo Eatery's Facebook page
With Shake Shack and Toyo Eatery's shared sense of community, the collaboration not only caters to the evolving tastes of Filipinos but also supports local farmers and producers, reduces carbon footprint, and preserves the heritage of the country.
Also Read: Toyo Eatery in Makati: Presenting the Essence of Filipino Flavors in Unique Ways
---
Featured image from Shake Shack Philippines