ZIPAIR to Launch Service between Tokyo Narita and Manila in July 2023
ZIPAIR Tokyo, a subsidiary of Japan Airlines (JAL), has announced the launch of a new service between Tokyo Narita and Tokyo Narita and Manila International Airport starting July 1, 2023. Reservations and tickets will go on sale today, April 28, 2023, at 11:00 A.M. (Philippine Time).
IMAGE from Japan Airlines
This move is aimed at enhancing the connectivity between Japan and the Philippines, as well as providing travelers with more options for affordable and convenient air travel.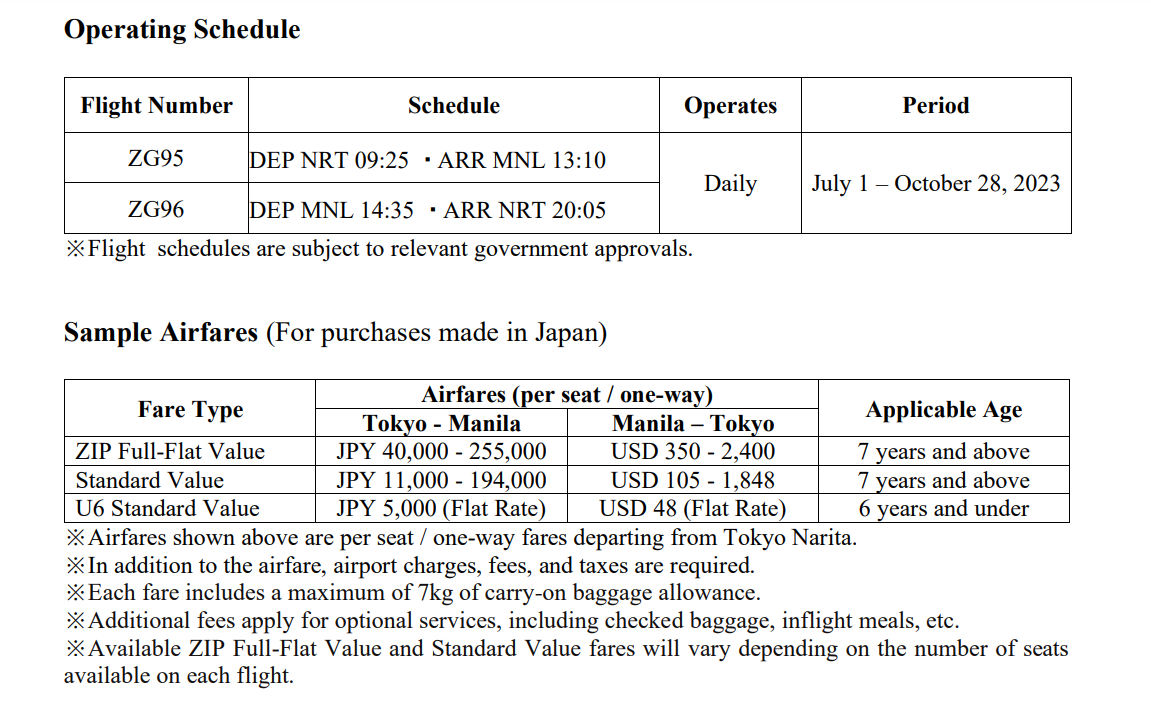 With the launch of this new service, ZIPAIR will be the only airline offering non-stop flights between Tokyo Narita and Manila. This is expected to attract a large number of travelers, including business travelers, tourists, and overseas Filipino workers, who will now have a more convenient and faster option for travel between the two cities.
The airline's new service between Tokyo Narita and Manila is a welcome development for travelers between Japan and the Philippines. The non-stop service is expected to provide a faster and more convenient option for air travel between the two nations, while also boosting tourism and strengthening economic ties. With the aviation industry slowly recovering from the COVID-19 pandemic, ZIPAIR's new service is timely and is expected to meet the growing demand for air travel between different countries.
For more information, visit ZIPAIR's website.
About ZIPAIR
ZIPAIR is a Japanese low-cost airline that was founded in 2018 as a subsidiary of JAL. As a low-cost carrier, the brand's focus is on providing affordable air travel to its customers while maintaining high standards of safety and comfort. The airline offers a range of services on board, including a selection of meals and beverages for purchase, as well as in-flight entertainment to enhance the travel experience.
ZIPAIR's commitment to safety and customer satisfaction is reflected in its use of modern aircraft and its attention to detail in ensuring a smooth and enjoyable flight experience. Overall, Zipair provides a convenient and cost-effective option for travelers looking to fly to popular destinations in Asia from Tokyo.
---
Featured image from Japan Airlines