LIST: Adjusted Operating Hours of Select Shops in Metro Manila this Holy Week 2023
The Philippines is a predominantly Catholic country, and the Holy Week is a significant religious observance for many Filipinos. That's why most of the establishments typically adjust their operating hours to accommodate the traditions and practices of the faithful. For those planning to go out or unwind during this period of reflection, we've listed down the adjusted operating hours of select restaurants, shops, clinics, and the like in Metro Manila this Lenten season 2023.
P.S.
We've also added the adjusted operating hours of some businesses in select locations in the Philippines.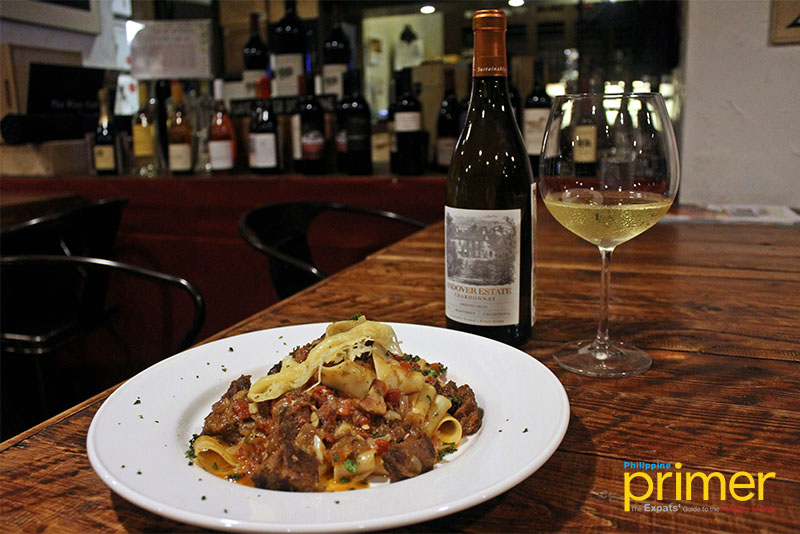 The Wine Club's Beef Cheek Pasta and Andover Estate Chardonnay
Restaurants and Cafes
Ippon Yari Japanese Restaurant (Various locations)
Alabang: Maundy Thursday (April 6, 2023) – 11 AM to 10 PM
Other branches: closed
Good Friday (April 7, 2023) – closed
All branches: Black Saturday (April 8, 2023) – Regular schedule
Easter Sunday (April 9, 2023) – Regular schedule
Mistuyado Sei-Men (Various locations)
Jupiter
Maundy Thursday (April 6, 2023) – 10 AM to 10 PM
Good Friday (April 7, 2023) – 10 AM to 11 PM
Black Saturday (April 8, 2023) – 10 AM to 11 PM
Easter Sunday (April 9, 2023) – 10 AM to 11 PM
Bluebay
Maundy Thursday (April 6, 2023) – closed
Good Friday (April 7, 2023) – closed
Black Saturday (April 8, 2023) – 10 AM to 11 PM
Easter Sunday (April 9, 2023) – 10 AM to 11 PM
Cebu
Maundy Thursday (April 6, 2023) – 11 AM to 10 PM
Good Friday (April 7, 2023) – 12 PM to 10 PM
Black Saturday (April 8, 2023) – 11 AM to 10 PM
Easter Sunday (April 9, 2023) – 11 AM to 10 PM
Mitsukoshi
Maundy Thursday (April 6, 2023) – closed
Good Friday (April 7, 2023) – closed
Black Saturday (April 8, 2023) – 11 AM to 10 PM
Easter Sunday (April 9, 2023) – 11 AM to 10 PM
Glorietta
Maundy Thursday (April 6, 2023) – closed
Good Friday (April 7, 2023) – closed
Black Saturday (April 8, 2023) – 10 AM to 10 PM
Easter Sunday (April 9, 2023) – 10 AM to 10 PM
Wooden Horse Steakhouse – Alabang 
Maundy Thursday (April 6, 2023) – 11 AM to 2 PM; 5 PM to 10 PM
Good Friday (April 7, 2023) – closed
Black Saturday (April 8, 2023) – 11 AM to 3 PM; 5 PM to 10 PM
Easter Sunday (April 9, 2023) – 11 AM to 3 PM; 5 PM to 10 PM
Taro's Ramen Food House – Makati
Maundy Thursday (April 6, 2023) – closed
Good Friday (April 7, 2023) – closed
Black Saturday (April 8, 2023) – Regular schedule
Easter Sunday (April 9, 2023) – Regular schedule
Pâtisserie BEBE Rouge – Makati
April 6 to 8, 2023 – closed
Easter Sunday (April 9, 2023) – 9 AM to 6 PM
La Cabrera – Makati
Maundy Thursday and Good Friday (April 6-7, 2023): 6750, Makati Branch – closed
Shangri-La branch: 11:30 AM to 10 PM
Ramen Ron – Makati
Maundy Thursday (April 6, 2023) – closed
Good Friday (April 7, 2023) – closed
Black Saturday (April 8, 2023) – Regular schedule
Easter Sunday (April 9, 2023) – Regular schedule
a Mano – Makati
Maundy Thursday (April 6, 2023) – closed
Good Friday (April 7, 2023) – closed
Black Saturday (April 8, 2023) – Regular schedule
Easter Sunday (April 9, 2023) – Regular schedule
Kobe Jones – Makati
April 5 – 11, 2023 – closed
Caruso Ristorante Italiano – Makati
Maundy Thursday (April 6, 2023) -Regular schedule
Good Friday (April 7, 2023) -Regular schedule
Black Saturday (April 8, 2023) – Regular schedule
Easter Sunday (April 9, 2023) – Regular schedule
Sekitori Japanese Restaurant – Makati
Maundy Thursday (April 6, 2023) – 11:30 AM – 2:30 PM; 5:30 PM – 11 PM
Good Friday (April 7, 2023) – 11:30 AM – 2:30 PM; 5:30 PM – 11 PM
Black Saturday (April 8, 2023) – 11:30 AM – 2:30 PM; 5:30 PM – 11 PM
Easter Sunday (April 9, 2023) – closed
Araw ng Kagitingan (April 10, 2023) – closed
I'm Angus Steakhouse – Makati
April 6-10, 2023 – closed
Chesa Bianca Swiss Restaurant – Makati
Maundy Thursday (April 6, 2023) – closed
Good Friday (April 7, 2023) – closed
Black Saturday (April 8, 2023) – Regular schedule
Easter Sunday (April 9, 2023) – closed
Araw ng Kagitingan (April 9, 2023) – Regular schedule
UNAKICHI – Makati
Maundy Thursday (April 6, 2023) – 11:30 AM – 1 AM
Good Friday (April 7, 2023) – closed
Black Saturday (April 8, 2023) – 11:30 AM – 1 AM
Easter Sunday (April 9, 2023) – 11:30 AM – 1 AM
Ramen Shimada – Makati
Maundy Thursday (April 6, 2023) – closed
Good Friday (April 7, 2023) – closed
Black Saturday (April 8, 2023) – Regular schedule
Easter Sunday (April 9, 2023) – Regular schedule
HIRO Japanese Yakiniku Restaurant – Makati
Maundy Thursday (April 6, 2023) – 11:30 AM to 11 PM
Good Friday (April 7, 2023) – 11:30 AM to 11 PM
Black Saturday (April 8, 2023) – 11:30 AM to 11 PM
Easter Sunday (April 9, 2023) – 11:30 AM to 11 PM
Tsukiji Japanese Restaurant – Makati
Maundy Thursday (April 6, 2023) – 11AM to 9 PM
Good Friday (April 7, 2023) – 11AM to 9 PM
Black Saturday (April 8, 2023) – 11AM to 9 PM
Easter Sunday (April 9, 2023) – 11AM to 9 PM
Kappou Nakaji Japanese Restaurant – Makati
Maundy Thursday (April 6, 2023) – 5 PM to 11 PM
Good Friday (April 7, 2023) – 5 PM to 11 PM
Black Saturday (April 8, 2023) – 5 PM to 11 PM
Easter Sunday (April 9, 2023) – 5 PM to 11 PM
Araya Ramen – Makati
Maundy Thursday (April 6, 2023) – 11 PM to 9 PM
Good Friday (April 7, 2023) – 11 AM to 9 PM
Black Saturday (April 8, 2023) – 11 AM to 9 PM
Easter Sunday (April 9, 2023) – 11 AM to 9 PM
Oden House – Makati and Pasay
Maundy Thursday (April 6, 2023) – 7:30 AM to 3:30 PM
Good Friday (April 7, 2023) – 7:30 AM to 3:30 PM
Black Saturday (April 8, 2023) – 7:30 AM to 3:30 PM
Easter Sunday (April 9, 2023) – 7:30 AM to 3:30 PM
EST Cafe – BGC
Maundy Thursday (April 6, 2023) – closed
Good Friday (April 7, 2023) – closed
Black Saturday (April 8, 2023) – 10 AM to 10 PM
Easter Sunday (April 9, 2023) – 10 AM to 10 PM
Manduca Taberna – BGC
Maundy Thursday (April 6, 2023) – 10 AM to 10 PM
Good Friday (April 7, 2023) – 10 AM to 10 PM
Black Saturday (April 8, 2023) – 10 AM to 12 MN
Easter Sunday (April 9, 2023) – 10 AM to 12 MN
Ogawa Traditional Japanese Restaurant – BGC
Maundy Thursday (April 6, 2023) – closed
Good Friday (April 7, 2023) – closed
Black Saturday (April 8, 2023) – Regular schedule
Easter Sunday (April 9, 2023) – Regular schedule
Yakiniku A5 Toku – BGC
Maundy Thursday (April 6, 2023) – 11:30 AM – 11 PM
Good Friday (April 7, 2023) – 11:30 AM – 11 PM
Black Saturday (April 8, 2023) – 11:30 AM – 11 PM
Easter Sunday (April 9, 2023) – 11:30 AM – 11 PM
Ishihara Japanese Restaurant – Parañaque
Maundy Thursday (April 6, 2023) – 11 AM to 10 PM
Good Friday (April 7, 2023) – 11 AM to 10 PM
Black Saturday (April 8, 2023) – 11 AM to 10 PM
Easter Sunday (April 9, 2023) – 11 AM to 10 PM
Araw ng Kagitingan (April 10, 2023) – 11 AM to 10 PM
April 11, 2023- closed
Genba Kappouryouri – Parañaque
Maundy Thursday (April 6, 2023) – 11:30 AM – 2 PM; 5 PM – 00:30 AM
Good Friday (April 7, 2023) – 11:30 AM – 2 PM; 5 PM – 00:30 AM
Black Saturday (April 8, 2023) – 11:30 AM – 2 PM; 5 PM – 00:30 AM
Easter Sunday (April 9, 2023) – 11:30 AM – 2 PM; 5 PM – 00:30 AM
Royal Sakura Japanese Restaurant – Malate
Maundy Thursday (April 6, 2023) – 11 AM – 2:30 PM; 5 PM – 11 PM
Good Friday (April 7, 2023) – 11 AM – 2:30 PM; 5 PM – 11 PM
Black Saturday (April 8, 2023) – 11 AM – 2:30 PM; 5 PM – 11 PM
Easter Sunday (April 9, 2023) – 11 AM – 2:30 PM; 5 PM – 11 PM
Massage Center
J&J Need Massage – Makati
Maundy Thursday (April 6, 2023) – Regular schedule
Good Friday (April 7, 2023) – closed
Black Saturday (April 8, 2023) – Regular schedule
Easter Sunday (April 9, 2023) – Regular schedule
Groceries and Wine Shops
New Hatchin Japanese Grocery – (Various locations)
April 6 to 8, 2023 – closed
Easter Sunday (April 9, 2023): Cartimar and Mabini branches – 8 AM to 5 PM
Makati and Katipunan branches – 8 AM to 6 PM
Darumaya Japanese Food Center – Pasay
April 6,7, and 9, 2023 – closed
Black Saturday (April 8, 2023) – Regular schedule
Araw ng Kagitingan (April 10, 2023) – Regular schedule
Asuka Trader – Pasay
April 6-9, 2023 – closed
Premium Wine Exchange – Makati
April 6,7, and 8, 2023 – closed
Easter Sunday (April 9, 2023) – Regular schedule
Araw ng Kagitingan (April 10, 2023) – Regular schedule
The Wine Club – Makati
April 6 – 10, 2023 – closed
Cellar Solutions Showroom – Makati
April 3 to 6, 2023 – open
Good Friday (April 7, 2023) -closed
Black Saturday (April 8, 2023) – closed
Regular operations start on April 10, 2023
Minnano Supermarket – Makati
Maundy Thursday (April 6, 2023) – 8 AM – 8 PM
Good Friday (April 7, 2023) – 8 AM – 8 PM
Black Saturday (April 8, 2023) – 8 AM – 8 PM
Easter Sunday (April 9, 2023) – 8 AM – 8 PM
fujimmak – Makati
Maundy Thursday (April 6, 2023) – 8 AM – 5 PM
Good Friday (April 7, 2023) – 8 AM – 5 PM
Black Saturday (April 8, 2023) – 8 AM – 5 PM
Easter Sunday (April 9, 2023) – 8 AM – 5 PM
Clinics
The Smile Bar – (Various locations)
Maundy Thursday (April 6, 2023) – closed
Good Friday (April 7, 2023) – closed
Tokyo Healthlink Medical and Diagnostic Center – Alabang
April 6-9, 2023) – closed
Araw ng Kagitingan (April 10, 2023) – 9 AM – 6 PM
Kobayashi Dental Clinic and Laboratory – Makati
April 6 – 12, 2023 – closed
April 13, 2023 – Regular schedule
Car Dealership
Toyota Sta. Rosa, Laguna – Laguna
April 6 to 8, 2023 – closed
Easter Sunday (April 9, 2023) – Regular schedule
Toyota Global City – BGC
April 6 to 10, 2023 – closed
April 11, 2023 – Regular schedule
Cleaning Services
EZY Lifestyle – Makati
Maundy Thursday (April 6, 2023) – 9 AM – 5 PM
Good Friday (April 7, 2023) – closed
Black Saturday (April 8, 2023) – closed
Easter Sunday (April 9, 2023) – 9 AM – 5 PM
Insurance Companies
Cotton and Diaz Cotton and Diaz Insurance Services – Makati
April 6, 7, and 10, 2023 – closed

HOKEN-NO 110BAN International Philippines Inc. – Makati
April 6, 7, and 10, 2023 – closed
PGA Sompo Insurance Corporation – Makati
Maundy Thursday (April 6, 2023) – Services available 24/7
Good Friday (April 7, 2023) – Services available 24/7
Black Saturday (April 8, 2023) – Services available 24/7
Easter Sunday (April 9, 2023) – Services available 24/7
IT Solutions
N-PAX – Taguig
April 6, 7, and 10, 2023 – closed
Rococo Global Technologies Corporation – Cebu
April 6, 7, and 10, 2023 – closed
Others
Jmaterials Corporation – Makati
April 6, 7, and 10, 2023 – closed
Summer Cruise Diving Resort – Batangas
Maundy Thursday (April 6, 2023) – 8 AM – 5 PM
Good Friday (April 7, 2023) – 8 AM – 5 PM
Black Saturday (April 8, 2023) – 8 AM – 5 PM
Easter Sunday (April 9, 2023) – 8 AM – 5 PM
Orange fitness Club – Makati
Maundy Thursday (April 6, 2023) – 8 AM – 5 PM
Good Friday (April 7, 2023) – 8 AM – 5 PM
Black Saturday (April 8, 2023) – 8 AM – 5 PM
Easter Sunday (April 9, 2023) – 8 AM – 5 PM
Read more: Adjusted Mall and Supermarket Operating Hours for Holy Week 2023