LIST: 7 Legazpi Village Restaurants Serving International Food
You don't have to look far to find an amazing restaurant in Legazpi Village, Makati. This sleepy neighborhood is packed with amazing food spots run by seasoned local and international chefs that offer some of the best chow this side of the CBD. Narrowing down the best international restaurants in town is not easy, but these are the places we think are worth visiting for great food and drinks, relaxing ambience, and outstanding service.
German Club Manila
IMAGE from the German Club Manila
For over 117 years, German Club Manila has been serving authentic German food that will surely take you to Deutschland. Aside from the usual beer, sausages, and cold cuts, this place offers spaetzle, schnitzel, and schweinshaxe, the German version of our very own crispy pata. It is also a favored venue for private and corporate events by the country's elite and foreign dignitaries.
GENERAL INFORMATION
Address: 5F, Eurovilla Ⅱ, V.A. Rufino St., Legaspi Vill., Makati
Contact number: 02-8817-3552 / 0966-985-4336
Website: www.germanclub.ph
Facebook: germanclub.ph
Instagram: germanclubmanila
Araya Ramen
IMAGE from Araya Ramen
Araya Ramen is a hole-in-a-wall restaurant along Dela Rosa St. that serves soul-warming ramen and other Japanese delights. The specialties of the restaurant are delicious and hefty portions of ramen, sushi, and sashimi, prepared by Chef Araya Ozeki, a Yokohama native who has been in the Philippines for 30 years. First-timers are highly recommend to start with Araya Special, a miso-based ramen packed with umami that is topped with seasoned boiled egg, chashu, ground pork, and narutomaki.
GENERAL INFORMATION
Address: Dela Rosa Street corner Dela Rosa Rd1, Legaspi Village 1223 Makati
Contact number: 02-8888-4422/0925-720-6342
Website: araya.ph
Facebook: ayara.ramen.DelaRosa
Mantra Indian Kitchen & Bar

IMAGE from Mantra Indian Kitchen & Bar
An Indian restaurant located on the first floor of the Grand Midori, Mantra Indian Kitchen & Bar specializes in northern Indian cuisine. Enjoy curries, tandooris, and biryanis–both regular and vegetarian–as well as some fun appetizers and refreshing drinks, make up Mantra's menu. Try its Chicken Makhani, a classic buttery chicken curry, and Rogan Josh, an aromatic curry made with goat meat.
GENERAL INFORMATION
Address: 1/F The Grand Midori G-7, Bolanos St., Makati
Contact number: 0926-049-9357
Facebook: mantrabistro
Instagram: mantrabistroph
Bondi & Bourke

IMAGE from Bondi & Bourke
Bondi & Bourke is an Australian restaurant that serves scrumptious and delightful offerings including classics such as meat pies, burgers, salads, and more. Steaks are popular options too, as the restaurant takes pride in its choice cuts such as USDA-certified Angus beef and A5 Wagyu beef. It also has an open bar with a great selection of wine Private rooms are also available for parties.
GENERAL INFORMATION
Address: Cattleya Condominium, Salcedo Street, Legaspi Village 1229 Makati
Contact number: 0998-840-6268
Facebook: bondibourkeph
Instagram: bondibourkeph
Tatatito
IMAGE from Tatatito
Tatatito is the new go-to place if you want Filipino food presented in a contemporary and refreshing way. It has an extensive menu filled with classic Filipino staples such as crispy pata, sisig, chicken inasal, and pancit. What sets it apart from other Filipino restaurants is that its staff cook and serve its rice offerings in bamboo, making them sweeter, stickier, and more fragrant. Tatatito also has an alfresco dining area where you can enjoy your meal in an open-air setting.
GENERAL INFORMATION
Address: OPL Building, Ground floor, 100 Don Carlos Palanca, Legazpi Village, Makati
Contact number: 02-8809-8055
Website: menu.tatatito.
Facebook: Tatatito
Instagram: tatatito.ph
Green Bar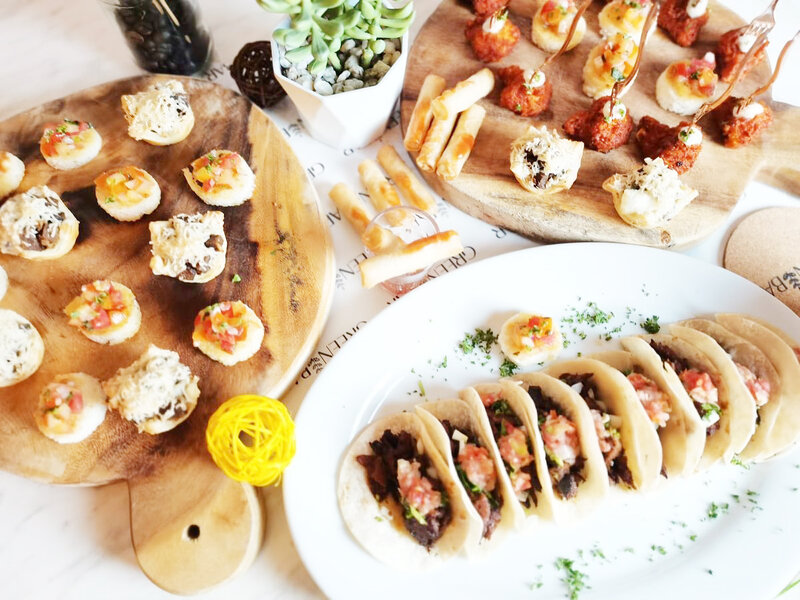 IMAGE from Green Bar
If you are looking for meatless goodies, Green Bar is the place to go. This is a deli-style restaurant that has a diverse, plant-based menu. Here, you can munch on chickpea omelets, barbecue tofu sandwiches, vegan wraps, and many more. Its desserts are plant-based too. Green Bar even offers vegan wine and beer!
GENERAL INFORMATION
Address: 106 Aguirre Street Greenbelt Radisson Building Legaspi Village, Makati
Contact number: 0917-808-2506
Website: greenbarmanila.com
Facebook: GreenBarCafe
Instagram: greenbar_cafe
Chang Thai
IMAGE from Chang Thai
If you love Thai food, you should visit Chang Thai. This is a restaurant being helmed by chef Aof Suwannalert, who has been busy promoting Thai food in the Philippines, specifically at the Legazpi Sunday Market, since 2013. You will be in for a wonderful treat with its Thai-level spice and flavors from everything in its menu, including the good old pad thai and tom yum goong. Spicy food lovers should try its larb moo and green curry with chicken for their intense, fiery hot flavor.
GENERAL INFORMATION
Address: 108 Benavidez St. Legazpi Village, Makati
Contact number: 0917-538-6408
Facebook: changthaiph
Instagram: changthaiph