Guidelines for 2023 Annual Report for Foreign Nationals
The Bureau of Immigration (BI) reminds all foreign nationals registered with the agency to file their annual report before March 1, 2023. All registered aliens must report in person to the immigration office of their locality.
Registered aliens reporting for annual reports shall secure an appointment online.
Annual Reports are something that every foreigner living in the Philippines has to go through. It's done within the first 60 days of the calendar year. If you don't comply, you will risk losing your visa or deportation.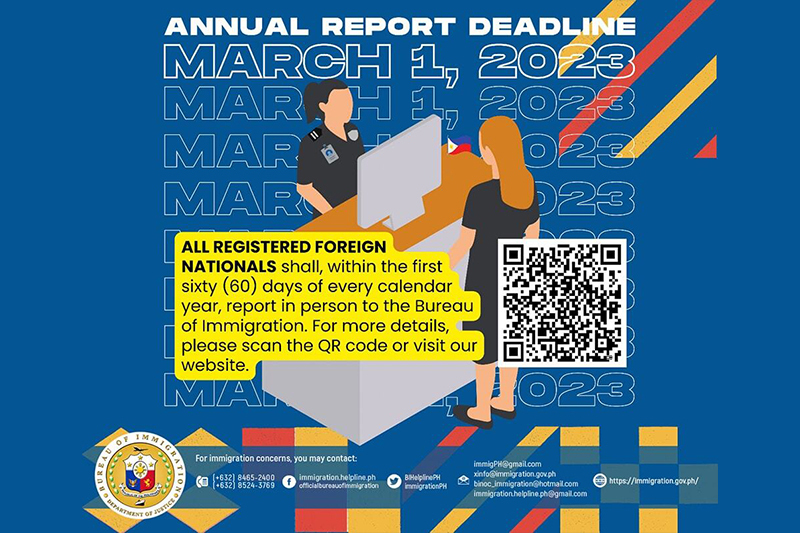 IMAGE from Bureau of Immigration
Anyone who's done it, foreigner or otherwise, knows it's a chore to go through the process, especially if it's your first time. To ease your frustrations, the Bureau of Immigration (BI) has released the guidelines for the Annual Report 2023, which can be seen here.  This reporting of aliens within the first sixty (60) days of every calendar year is required under the 1950 Alien Registration Act.
Also read: Expats' Guide: Annual Report for Foreigners
IMAGE from Bureau of Immigration
There are exemptions from personal appearance:
those below 14 years old,
those who are 65 years old and above,
those who are mentally or physically incapacitated with PWD ID presented,
and pregnant women who are confined with a medical certificate provided. A request for exemption must be presented one week in advance to the filing.
Reporting may be done at the BI's main office at Magallanes Dr., Intramuros, Manila or at authorized satellite/extension offices.
The BI guidelines for the 2023 annual reporting also included the list of requirements:
Personal Appearance

Original ACR I-Card or original paper-based ACR
Valid Passport
Re-stamping of the new RA7919 security visa imprint for RA7919 cardholders

Authorized Representative by Aliens Exempt from Personal Appearance

Original ACR I-Card or original paper-based ACR
Applicant's Valid Passport
Special Power of Attorney (SPA) with a valid government-issued ID of the legal representative
Applicant's PWD ID or medical certificate
The regular annual report fee is Php 300 plus a Legal Research Fee of Php 10. BI alien registration division chief urged foreigners to report early and avoid the deadline rush to avoid inconvenience.
A monthly fine of Php 200.00 for delayed Annual Report (reckoned from March 2 of the current year). Annual Report Fee is assessed once the arrival of the applicant falls on or before Nov. 2 of the preceding year.
For queries and other information, visit the Bureau of Immigration's website at www.immigration.gov.ph. 
---
Source: Bureau of Immigration
Featured image grabbed from Bureau of Immigration Facebook Page