LIST: Concerts and Music Festivals to Watch in PH this 2022
Live concerts are back, baby!
Once again, the biggest music halls and grounds are opening their doors to local and foreign acts as the country began hosting live acts and shows since the onset of the COVID-19 pandemic in 2020. Below, you'll find some of the hottest and most in-demand artists and musicians who will be performing in the Philippines throughout 2022.
Begin Again: KPOP Edition
IMAGE from Araneta City
Happening on May 29, 2022 at 5 p.m., the concert will feature South Korean artists NCT Dream, SHINee's Key, WEi and ALICE in a night that starts the return of live KPOP entertainment in the Philippines.
Fans are in for an entertainment treat as they would have the chance to interact and see their beloved KPOP idols face to face once again in this spectacular event. Catch these four talented KPOP acts in this much-awaited entertainment event, and be part of the historic return of live international entertainment at the Smart Araneta Coliseum.
'Begin Again: KPOP Edition 2022' is brought to us by CDM Entertainment in partnership with BRODYWORKS. Tickets are available online here and at all Ticketnet outlets nationwide.
Aurora 2022: Clark Hot Air Balloon & Music Festival
IMAGE from Visit Clark Facebook Page
Two days of fun hot air balloon, food, and music festival featuring with the country's top talents. Catch Ben & Ben, December Avenue, Arthur Nery, Unique Salonga, and more at Aurora 2022: Clark Hot Air Balloon & Music Festival on June 10-11, 2022.
Tickets now available at all SM Tickets/SM Cinema nationwide or buy it online here.
Tugatog Filipino Music Festival 2022
MNL48, ALAMAT, BINI, BGYO, and more are coming together for the Tugatog Filipino Music Festival 2022, which will be held on July 15, 2022.
This festival will highlight the music, culture, and identity of Filipinos, highlighting the performers that define the peak of Filipino music at a certain time. To those who are interested, you may get your tickets here.
All Time Low
IMAGE from SM Tickets
It is just the perfect time for All Time Low to be back in Manila 5 years since their last solo concert in the country. All Time Low Live in Manila with special guests CHICOSCI, is happening on August 15, 2022, at the Mall of Asia Arena.
Fresh from the win of "Monsters", their highest-charting single featuring Blackbear, as the Alternative Song Of The Year at the 2022 iHeartRadio Music Awards, the American pop-punk band is now gearing up for a return to the Asian live music scene. Filipino fans are in for a treat as the Philippines will be the band's only Southeast Asian stop outside of their appearance at the Summer Sonic Festival in Japan.
You may get your tickets here.
The Maine
IMAGE from SM Tickets
The long wait is over for the fans of The Maine as they return to the country for a one-off show titled The Maine Back in Manila on August 27, 2022, at the Skydome, SM City North EDSA.
Celebrating their 15th anniversary this 2022 and the release of their 8th studio album XOXO: From Love and Anxiety in Real Time last July 2021, the band is now more eager to perform their new songs in front of a live audience. Fans can look forward to an incredible setlist following the success of their latest single, "Sticky", hitting No. 19 on Billboard's Alternative Airplay chart and the release of their collaboration song "Loved You A Little" with Taking Back Sunday and Charlotte Sands.
Boys Like Girls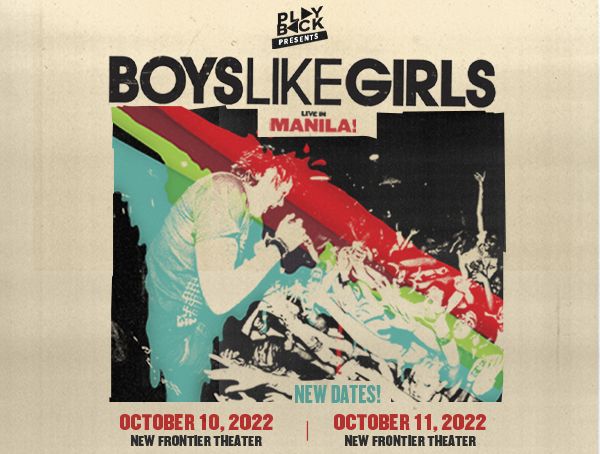 IMAGE from SM Tickets
If "Thunder" had been your anthem in high school, then you'll be glad to know that the Boys Like Girls' Manila concert is still pushing through on October 10-11, 2022, at the New Frontier Theater. Meanwhile, their concert in Sky Hall Seaside Cebu has been moved to Oct. 12, 2022.
Tickets go as low as Php 2,415 and up to Php 4,200 for their Manila concert, whereas tickets for their Cebu concert start at Php 2,650 for general admission and Php 3,710 for VIP.
Avril Lavigne Head Above Water World Tour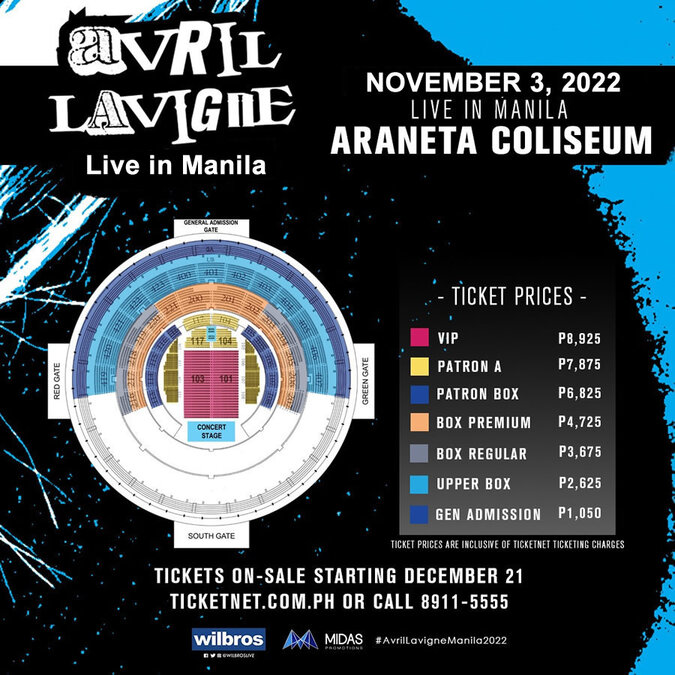 IMAGE from Ticket.net
Avril Lavigne's Live Concert in Manila will now be on November 3, 2022 at the Smart Araneta Coliseum. The pop punk sensation's world tour is for her sixth studio album, 'Head Above Water,' which was released in early 2019. This would mark the 'Complicated' singer's fifth concert in the country, having first performed in Manila in April 2005 for her Bonez Tour. Tickets are on sale, with level 7 tickets around the ballpark figure of Php 1,000 and level 1 price tickets at Php 8,295.
For more information, go here.
Russ The Journey is Everything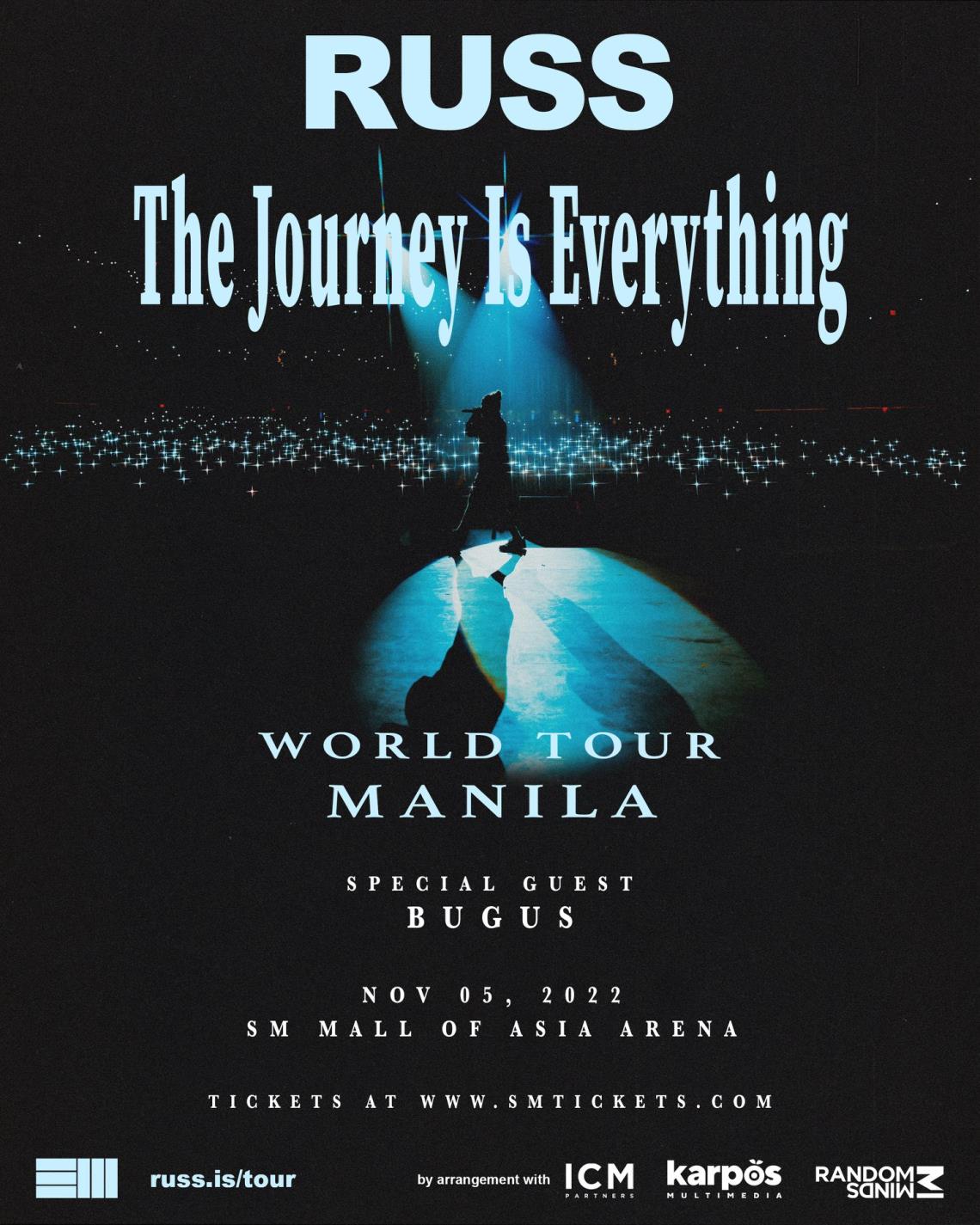 IMAGE from SM Tickets
Russ is coming to Manila on November 5, 2022! Tickets are priced at Php 1,500 (Upper box), Php 2,500 (Lower box), Php 3,500 (Patron), and Php 4,500 (VIP Standing).
Get your tickets by clicking on this link.
Alanis Morissette 2022 World Tour
IMAGE from SM Tickets
Alanis Morissette fans, rejoice! The seven-time Grammy winner was supposed to grace the stage of the Mall of Asia Arena back in April 2020, but like many concerts happening then, her performance was rescheduled not just once, but twice. The 'Ironic' singer's World Tour concert has now been moved to Nov. 18 and 19, 2022, which by then would be the 27th year of her breakthrough album 'Jagged Little Pill' that shot her to stardom in June 1995.
General admission tickets are up for grabs for Php 2,870, whereas patron to SVIP tickets will set you back around Php 10,280 to Php 13,460. For more information regarding ticket prices, go here.
Slipknot Live in Manila (TBA)
IMAGE from Ticket.net
#SLIPKNOTLiveInManila ticket holders, the show has been postponed. Organizers will finalize the new show details and announce them as soon as possible.
You may hold on to your tickets as it will still be valid on the new show date that will be released in the future. But for those who wish to refund tickets purchased via SM Tickets, kindly refer to the guidelines here. To refund the tickets purchased via TicketNet, RedTix, and Platinumlist.ph, please stay tuned for further details and process.