COMELEC: SM Supermalls, Ayala Malls Set Up Satellites for Voters Registration
The Commission of Election (COMELEC) tied up with SM Supermalls and Ayala Malls to open satellites for voters registration. As the public urged the COMELEC to extend registration beyond September 30, the decision is already final.
Last month, COMELEC decided instead to collaborate with the biggest malls in the country to compensate and to provide easy access for voters registration. In addition, the COMELEC offices extended their operating hours from 8 a.m. to 7 p.m. from Mondays to Fridays, and 8 a.m. to 5 p.m. on Saturdays and even holidays.
IMAGE from COMELEC
SM SUPERMALLS
Last August 27, 2021, the COMELEC and SM Supermalls officials inaugurated and signed a Memorandum of Agreement at Level 2 South Entertainment Mall of SM Mall of Asia. They opened satellite registration centers in SM Supermalls nationwide that give the public a safer, more convenient option amidst the prevailing Covid health crisis.
Currently, there are 47 SM Supermalls across the country that will participate in this project.
IMAGE from COMELEC
IMAGE from SM Supermalls
To check the complete list, click here.
AYALA MALLS  
Meanwhile, the Ayala Malls Corporation is providing voter registration booths in 22 malls nationwide. The partnership was formalized at a virtual Memorandum of Agreement signing ceremony, which was attended by COMELEC Chairman Sheriff Abas, COMELEC Commissioner Antonio Kho, Jr., COMELEC Executive Director Bartolome Sinocruz, Jr., Ayala Land President and CEO Bobby Dy, Ayala Land Malls President Christopher Maglanoc, and Ayala Land Malls Vice President AC Legarda.
IMAGE from Ayala Malls
"We are bringing this valuable service closer to our communities by designating venues in 22 of our malls across the country for the satellite voter registration. With this, we hope to encourage more of our kababayans to register safely and conveniently—thereby allowing them to vote in the 2022 National Elections, and making their choice count," Dy said.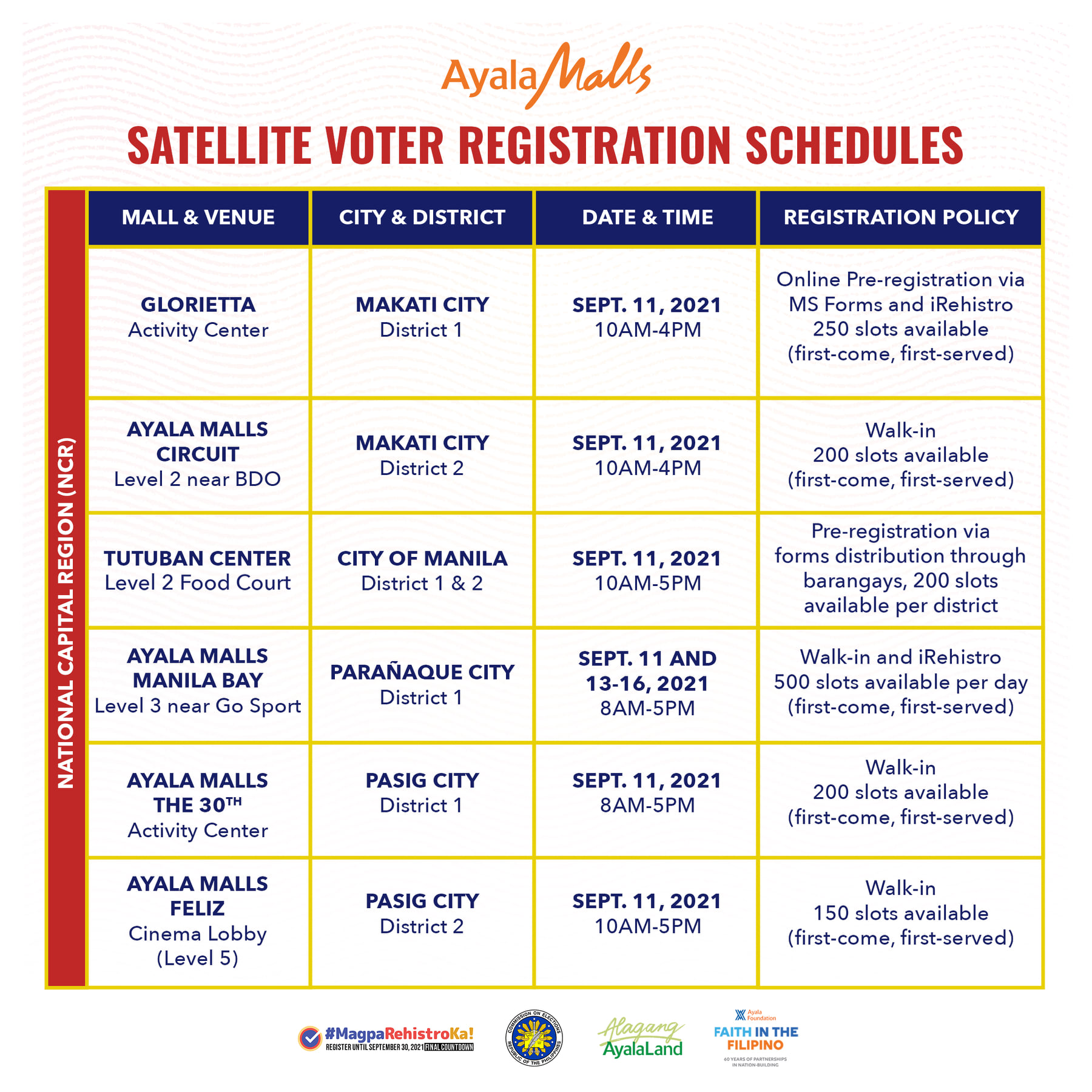 IMAGE from Ayala Malls

IMAGE from Ayala Malls 
Today, there are 22 participating malls in total, with 12 Malls in NCR located strategically throughout the region.
To check the complete list, click here.
***
REMINDER
1. Voter registration in the Office of the Election Officer, including satellite registration, is suspended in ECQ areas, and will automatically resume once the quarantine status is downgraded to MECQ, GCQ, MGCQ or any lower quarantine status.
2. Only applications from residents of the locality where the mall is located, or from those intending to transfer their registration record to the locality, will be accommodated. Ex: Glorietta will cater only to residents of, or transferees to, the 1st District of Makati;
3. Limited number of slots in consideration of mall hours and strict adherence to health protocols;
4. Application forms are available for free at the booths. Forms may also be downloaded at comelec.gov.ph, or accomplished online at irehistro.comelec.gov.ph. For application forms filled out via the mobile app, just present the QR code; and
5. Bring at least one valid ID and your own ballpen.
---
Source: COMELEC, Ayala Malls, SM Supermalls 
Written by Cedie Salido