#SarapMagingPinoy: DOT Pushes Food Tourism Amid Pandemic
The Department of Tourism (DOT) pushes Food and Travel Tourism through its new campaign #SarapMagingPinoy.
With more than 35 million views since it was launched on June 1 on Tiktok, many Filipinos joined the craze of the said campaign.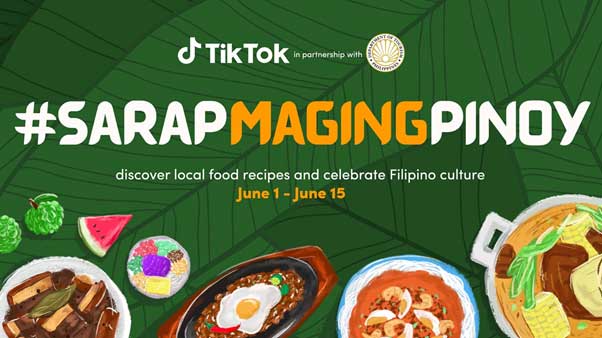 IMAGE from the Department of Tourism
The campaign aims to showcase Filipino cuisine at its finest with the help of our fellow countrymen from all over the country by sharing clips of their homemade recipes and dishes on TikTok.
"Food is an integral part of Filipino culture, it reflects our history and our diversity. More importantly, food is what binds us together with our family, friends, and community. Whenever we travel, we travel for food," said Tourism Secretary Berna Romulo-Puyat said.
According to the DOT, the #SarapMagingPinoy is a way to have food mapping in the Philippines. Food, as we know, is and has always been associated with travel. By associating food with culture and a specific destination, it will create compelling stories for a traveler's journey.
The #SarapMagingPinoy challenge is until June 15. And DOT invites everyone to participate in this challenge.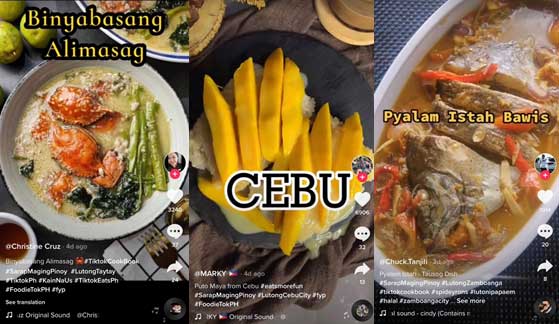 IMAGE from the Department of Tourism
Here's how you can participate.
The video introduction should include the campaign's thematic messaging of showcasing Filipino pride, and mention the key line, 'Sarap maging Pinoy.'
In the video caption, users must include the hashtag #SarapMagingPinoy, along with a hashtag that indicates your city of origin, using the format #Lutong(city), for example, #LutongCebu or #LutongDavao. 
"The DOT continuously pushes its food tourism initiatives, and it will always be open to partnering with various innovative and engaging platforms such as TikTok to constantly promote and remind our people about how special our cuisine is to our nation," Puyat ended.
Screenshot from the Department of Tourism's Tiktok account 
As of today, the #SarapngPinoy gained 74.6 million views on Tiktok.
Celebrate Pinoy pride, and share your best #SarapMagingPinoy dishes on TikTok. Download TikTok on your iOS and Android devices today. Follow the official TikTok account of the DOT: @tourismphilippines.
To view the campaign, visit https://vt.tiktok.com/ZSJHQf25c/ 
---
Source: Department of Tourism 
Written by Cedie Salido