Fashion Amid Pandemic: The Style of #NewNormal
There are plenty of things we sorely miss doing during this pandemic, such as hanging out with friends and dressing up. While the government is doing their best to expedite the vaccine rollout, many of us are looking forward to seeing things we've taken for granted return to normal once again. Fashion-wise, let's compromise by living the #NewNormal while prioritizing our and other people's health. Let us find the perfect balance between style and safety. That's why we requested netizens to flaunt their best COVID-19 outfits that showcase their unique and stylish personalities and protect them against the virus.
SENSE AND STYLE (From L to R) Kanna-chan, Shigeji-san, and Miyahara-san 
Kanna-chan, Alabang
I like the designs of the local store Kultura, especially the Filipino woven mask that I bought there. In order to highlight the beauty of the mask's design, I keep my style simple and chic. And I make sure to match the colors of my outfit to have balance and unity.
Shigeji-san, Makati
I have masks that I bought from the clothing section of Adidas. It's already hot here in the Philippines, so I make sure to choose light color, especially white. I also played with colors like pink aside from the classic black and white. For the final touch, I wear a white magnetic bracelet the same as professional golf player Hideki Matsuyama.  

Miyahara-san, Makati
I'm always torn between mixing and matching the design between Normcore and sportswear. After that, I go after the color of the sneakers that fit my look.
***

WOMAN OF SUBSTANCE (From L to R) Ito-san and Miles DC
Ito-san, Santa Rosa
My go-to fashion is clothes that are casual down but can be worn in the office.
Miles DC, Makati My look
usually revolves around statement pieces and anchored around them. It can be as small as a unique ring or in these photos, this skirt with an Alice in Wonderland print and I'm matching it with my mask which has the same heart print on it. I keep the other parts of my outfit as complementary (for example, in this photo I only pair it with a white top) but I also like to feel and look sexy or sensual in what I wear, so for this outfit, the top is an off-shoulder. I usually top off a look with or add something retro or vintage-inspired. In this look, I wore the black patent T-strap platform mary jane shoes. It gives you comfort and sexy appeal at the same time. And to give contrast, a vintage men's watch will do.
***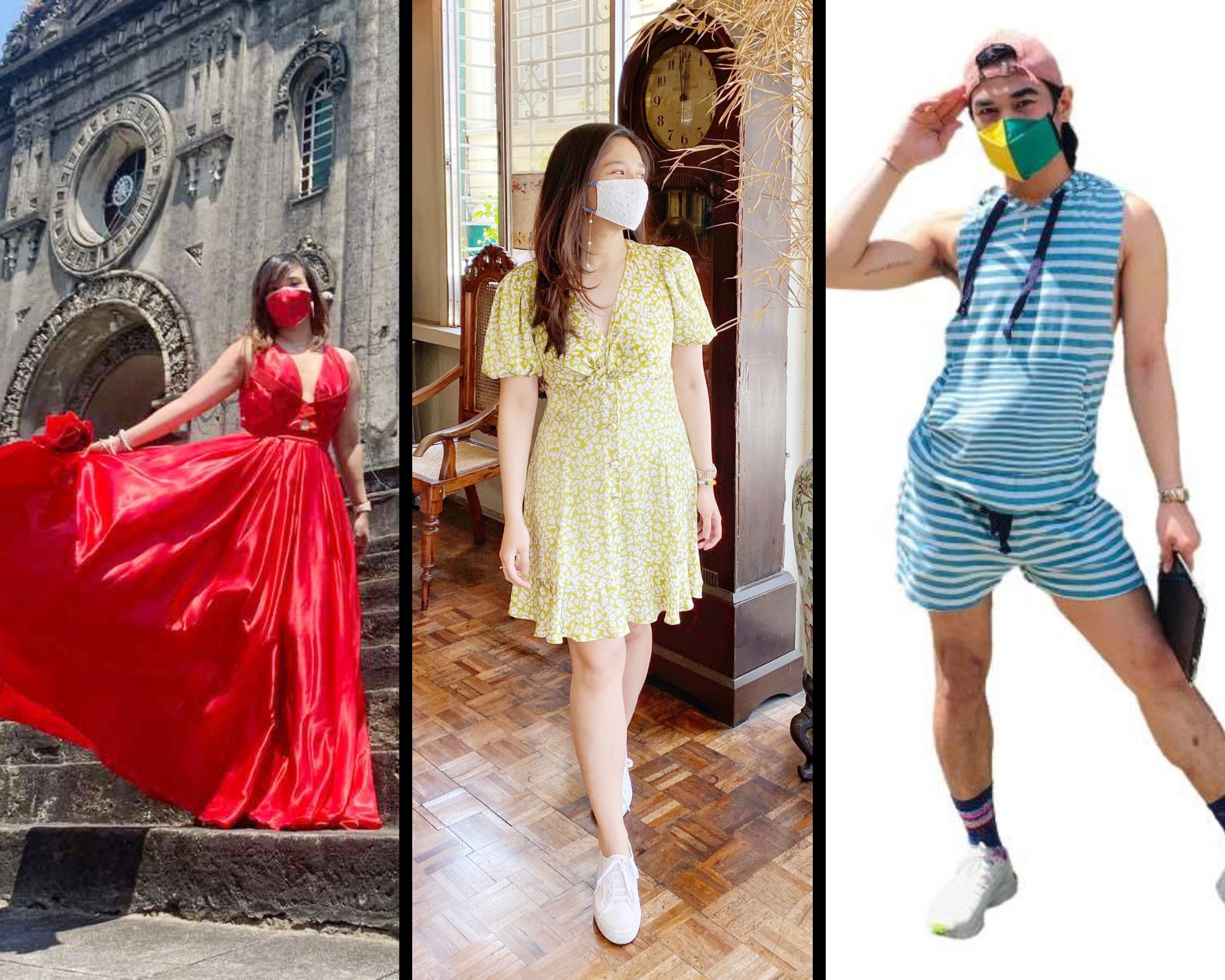 FASHION FORWARD (From L to R) Anj, Ara, and Stanley
Anj, Manila
I often buy my clothes online these days. And currently, my favorite online store is Shein. The gown, on the other hand, is from Moda Myracle.
Ara, Liliw, Laguna
Wearing a fashionable mask is now an important piece of my outfit. This helps me to protect not only myself, but the people around me. It also gives me the sense of helping my community while being fashionable at the same time. 
Stanley, Manila
I always prefer to wear Athletic clothes or sportswear for dance activities. I mostly wear comfortable and breathable outfits along with my face masks.
***
SIMPLE YET ELEGANT (From L to R) Patricia Adiaz, Nyka, and Yuka-san
Patricia Adiaz, Makati
I usually wear clothes that match my mood for the day. I have broad shoulders, so I go for pieces that have a nice silhouette.
Nyka, Makati
Because of the pandemic, we were all confined to our houses for months. When restrictions eased up and I was able to go back to work, I took advantage of the opportunity to dress up again. It keeps me happy and motivated to push through, especially during these hard times.
Yuka-san, Bonifacio Global City (BGC)
I dress neatly at work, so I choose colorful masks when I go out.
---
This first appeared in Philippine Primer's Japanese Magazine June 2021 issue.