The Latest In Travel And Tourism News For The First Week Of March 2021
It's been over a year since the world seemed to stop due to the devastating effects of the COVID-19 pandemic. While the business and tourism sectors have borne most of the brunt, those under these have adapted to the new normal by planning and implementing precautionary health and safety measures to make it possible to operate again, just like the management of various tourist sites did when they reopened last month.
And as we continue living our lives under the new normal, the Philippine Primer will continue giving updates concerning COVID-19 as well as news on community quarantine levels that will affect the public and the sectors and businesses that depend on them.
Metro Manila, 9 other areas still under GCQ until March 31
President Rodrigo Duterte has approved the recommendation of the government coronavirus task force to keep Metro Manila and nine other areas under general community quarantine (GCQ) until March 31.
Presidential Spokesperson Harry Roque announced on state-owned People's Television Network that Manila, Apayao, Baguio City, Kalinga, Mountain Province, Batangas, Tacloban City, Iligan City, Davao City, and Lanao del Sur will remain under GCQ from March 1 to March 31.
The rest of the country will be under the more relaxed modified GCQ (MGCQ).
Cinemas in GCQ areas to reopen on March 5
The Department of Trade and Industry (DTI) has issued Memorandum Circular (MC) No. 21-08 permitting cinemas in general community quarantine (GCQ) areas to reopen starting March 5. It stipulates that cinemas in GCQ areas are only allowed to operate up to 25% capacity.
Uptown Cinema/IMAGE from Uptown Mall Facebook page
However, moviegoers are not allowed to eat and drink and will be required to wear face masks at all times inside the cinema. A one-meter physical distance on all sides will also be imposed. It also permits the operation of libraries, archives, museums, and cultural centers at 50% capacity in GCQ areas, and 75% in MGCQ areas. The same operation capacity will also be enforced for game arcades, and tourist attractions such as parks, theme parks, natural sites, and historical landmarks.
The meetings, incentives, conferences, and exhibitions (MICE) industry is also allowed to reopen starting this Friday at 50% capacity in GCQ areas and 75% in MGCQ areas, except for limited social events which are allowed at the lower capacity of 30% in GCQ areas and 50% in MGCQ areas.
National Museum starts gradual reopening
The National Museum of the Philippines (NMP) reopened its gates to the public on March 2 after stopping its operation due to the COVID-19 pandemic.
The Natural Museum of Fine Arts/IMAGE from The National Museum of the Philippines Facebook Page
In an official statement released on March 1, NMP said that the National Museum of Fine Arts, Anthropology, and Natural History will be open from Tuesday to Sunday, excluding holidays. It will have morning sessions from 9 a.m. to 12 noon and an afternoon session from 1 p.m. to 4 p.m.  However, the National Planetarium will remain closed until further announcement.
Note that only those 15- to 65-years-old would be allowed access, while a maximum of 5 persons per group would be permitted to enter, and they would only allow a maximum of 100 visitors per session.
Interested visitors are required to book online on NMP's website before visiting the museum due to the safety precautions imposed due to the COVID-19 pandemic.
Intramuros Administration prepares for Lent
Intramuros Administration (IA) chief Guiller Asido said Intramuros is currently in talks with stakeholders to create additional measures for the Lenten season and the possible reopening of more churches inside.
IMAGE by Philippine Primer
Asido said that their first priority is to identify the carrying capacity of the entire Intramuros based on Lent season last year with record-breaking 1 million visitors in 2019, during which 9 churches and chapels were opened to the public. Other options are being entertained as well, like having "Online Visita Iglesia."
Meanwhile, the Department of Tourism Bernadette Romulo-Puyat expressed her confidence that Intramuros is ready and prepared for the new phase of tourism, especially this coming Lenten season.
"Intramuros is ready and prepared for its reopening following the easing of quarantine restrictions and the minimum health and safety standards set for parks, plazas, open spaces, heritage sites, and museums," she said.
Visitors are required to register their visit on Staysafe.ph app before entering any Intramuros site for contact-tracing purposes.
Also read: Intramuros Administration Prepares Over Holy Week Influx
Cebu to launch Lent tour packages to boost tourism
The provincial government of Cebu will launch Holy Week tour packages as a way of revitalizing its tourism industry, the Capitol announced on March 3.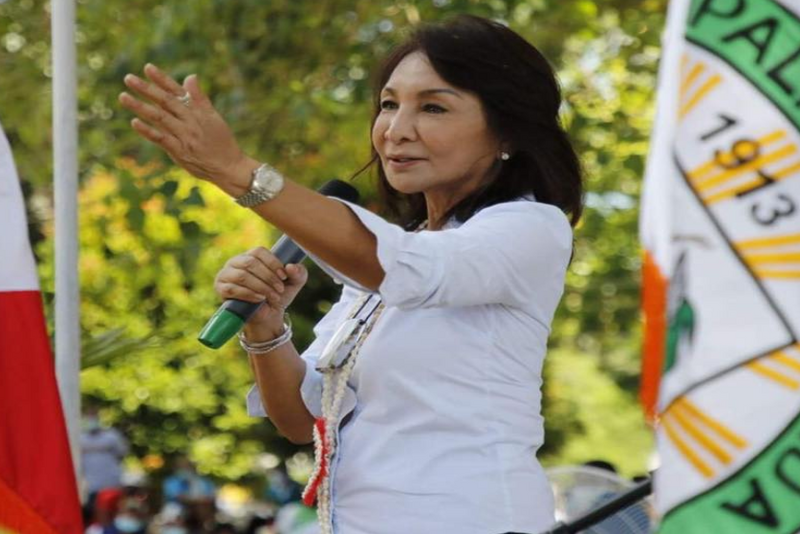 Governor Gwendolyn Garcia/IMAGE from Cebu Provincial Government Facebook page
Governor Gwendolyn Garcia said the tour packages are now being planned and will be launched before the Holy Week from March 28 to April 3.
Garcia stated that they have partnered with private tour operators and other tourism industry players, noting that airlines are also joining for this project.
This plan was incepted after the provincial government further relaxed entry requirements for tourists visiting Cebu.
Based on the latest executive order that Garcia issued, only a valid medical certificate and proof of pre-booking at a resort or hotel within the province are required from tourists entering Cebu.
The governor had also issued executive orders requiring mandatory health guidelines for tourism activities such as canyoneering, whale-shark watching, trekking, swimming, and diving, to prevent further spread of COVID-19 while revitalizing the industry.
Cebu is the first province in the country to take decisive steps to revive the tourism sector since August 2020.
---
Source: Philippine News Agency, National Museum of the Philippines