What to Expect in Manila International Auto Show Wired 2020
Since its first run in 2005, the Manila International Auto Show (MIAS) has gathered hundreds of thousands of visitors every year through the strong support of almost a thousand local and international partner brands and associations.
So what's in store for everyone this year in Manila International Auto Show Wired 2020? Read on below!
Among the highly-anticipated highlight is the annual tradition of unveiling new car models that will hit the road soon. These car launches had been highly anticipated by the local car communities and even gets heaps of attention from the media.
Featuring the top car brands such as BMW, Changan, Chery, Chevrolet, Dodge, Foton, Geely, Hyundai, Jaguar, Jeep, Land Rover, Mercedes-Benz, MG, Nissan, RAM, Subaru, and Suzuki. MIAS car launches give you the experience even in the comfort of your own home.
Die-hard car enthusiasts won't miss out this 2020 as the MIAS Classic and Custom Car competition is back, MIAS WIRED guests will be in for a treat as the best modified and vintage cars will be on full digital display at the event.
Manila International Auto Show 2019
From off-road vehicles to stock cars, classic cars from the '60s to best automobiles of the 2000s, the creme de la creme of the Philippine customized car circle will be showcased in the inaugural virtual event. Industry experts will then judge the most stunning classic and bespoke automobiles in the country based on their paint, interior, and exterior display. 
Gracing us again this year is the 25th Automotive Association of the Philippines (AAP) Driver of the Year Award to be presented by none other than AAP President, Mr. Gus Lagman. This prestigious award given to the top-notch quality drivers gives prestige to the event as it is hosted exclusively at MIAS.
Along with this activity is a fresh roster of highlights from other partners such as the Formula V1 Virtual Cup and Formula V1 Fantasy League which caters to our automotive gaming community who found a way to share the same excitement as of the real races brought to them by a virtual racing platform.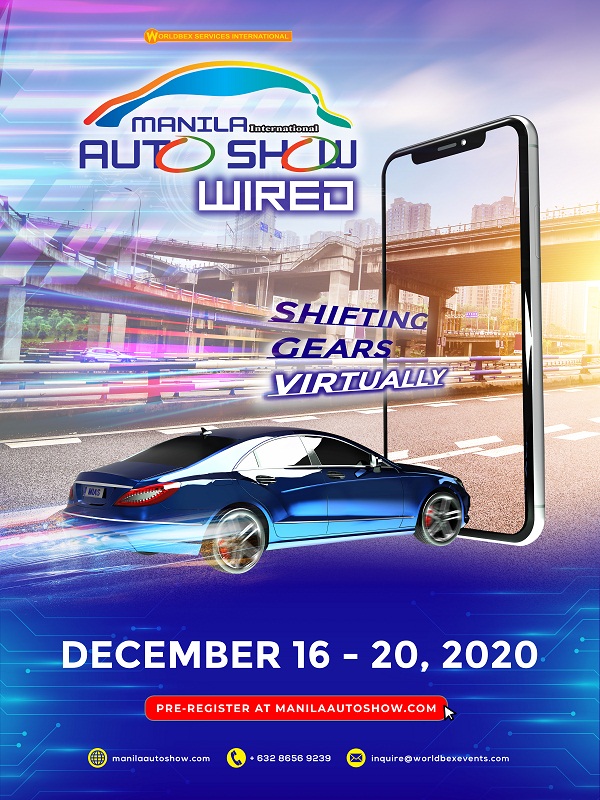 Other event highlights include Road Safety Academy by JP Tuason, Virtual Booths, 3D Showrooms, and many more. 
This virtual event brings together the biggest automobile brands and car enthusiasts in showcasing the latest updates in the automotive industry as well as to serve as a platform for possible partners and connections in the automotive industry.
MIAS WIRED as an online event happening on December 16 to 20, 2020. Pre-register here.
Also read: The Manila International Auto Show WIRED Launches This December
---
This is a press release. Minor edits were made prior to publishing.