Local Airlines Resume Commercial Flights This June
President Rodrigo Duterte, with the recommendation of the Inter-agency Task Force (IATF), has put the National Capital Region together with Davao City, Cagayan Valley, Central Luzon, Calabarzon, Pangasinan, Albay under general community quarantine (GCQ) last June 1. The GCQ entails more relaxed quarantine measures that allow nonessential businesses to operate in the hopes of restarting the country's economy and aiding the workers who lost their jobs with the crisis.
With this, local airline companies will be gradually resuming their commercial flights after two months of temporary stopping operations due to the COVID-19 threat.
In a press release, AirAsia announced that they will be resuming services in the Philippines starting June 5 with key domestic routes and will gradually increase to include international destinations by July 1.
Select flights are open for booking via the airasia.com website and mobile app.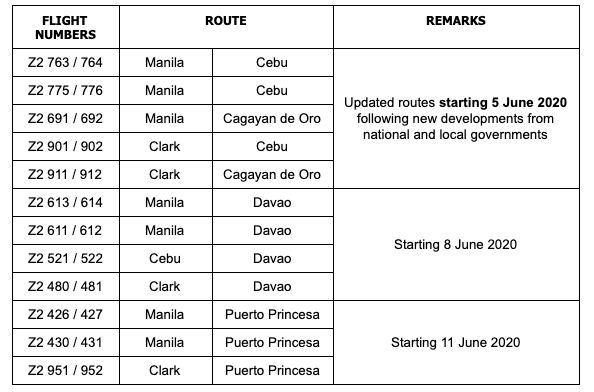 Additionally, guests are informed that operations for domestic flights will be temporarily moved to Terminal 3 of the Ninoy Aquino International Airport from its previous location at Terminal 4. For more details on AirAsia's resumption of services, you may check their Facebook page.
Frequently Asked Questions: Precautionary measures before you fly with AirAsiaAs AirAsia gradually resumes services,…

AirAsiaさんの投稿 2020年6月2日火曜日
Cebu Pacific (CEB) has also resumed its operations last June 3 with flights to General Santos City, Cagayan de Oro, Naga, and Cebu. With regards to international destinations, CEB stated on its website that the matter still depends on travel regulations in each international destination.
"We look forward to flying guests to international destinations when government authorities lift travel restrictions and travel demand resumes," CEB added.
#DayJuan THANK YOU to our guests, frontliners and operations teams, for ensuring a smooth DAY 1 of Cebu Pacific…
The airline is coordinating closely with the IATF and other national and local government authorities on regulations and requirements to be able to resume more flights in other local destinations. Be sure to visit CEB's Facebook page and website to get the latest updates on available flights.
Philippine Airlines (PAL) marked the resume of its operations with the first post-lockdown flight by a Filipino airline—a flight from Manila to San Franciso—on June 1. Following this is a number of flights that will operate on selected international routes this June except for the following: Auckland, Bali, Bangkok, Beijing, Brisbane, Busan, Fukuoka, Guangzhou, Hanoi, Macau, Melbourne, Phnom Penh, Perth, Port Moresby, Quanzhou (Jinjiang), Sapporo, Seoul (Incheon) and Shanghai.
On the other hand, the operation of selected domestic flights will begin on June 5. You may check the complete and updated schedule of domestic and international flights here.
PAL: The mission continues Happy to restart our network with PAL's first regular flight to/from the USA. In the coming…
In a press release, PAL President and COO Gilbert F. Santa Maria assured travelers that they can fly safely and with confidence with PAL. "PAL is taking every precaution to protect our passengers and our crew against biosecurity risks, through safety measures, stronger practices and protocols, effective equipment and the specialized training and expertise of our crew members and all personnel," he added.
All the airlines will be imposing enhanced safety measures to maintain the safety of their passengers and crew members.
---
Sources: newsroom.airasia.com, cebupacificaircorporate.com, philippineairlines.com