Reliable Sites and Database for Updates on COVID-19
The news may be overwhelming right now with all the information on the pandemic coming from various sources including news sites, government pages, and even close friends regarding the 2019 Novel Coronavirus or COVID-19.
Philippine Primer has listed down the official and technical sites from reputable medical organizations that are actively researching and assessing the pandemic.
Philippine Department of Health (DOH)
Paano Malalabanan ang COVID-19

PAANO NATIN MALALABANAN ANG COVID-19?Bakit ba natin kailangan ng community quarantine? At ano ba ang mangyayari kung hindi natin ito sinunod? Para saan ba ang lahat ng mga ito?Panoorin ang video na ito at alamin ang kahalagahan ng social distancing measures na ipinapatupad ng ating pamahalaan!#BeatCOVID19#WeHealAsOne#COVID19PH

Department of Health (Philippines)さんの投稿 2020年3月25日水曜日
Site: www.doh.gov.ph/2019-nCoV
The landing site includes a count for the laboratory status of patients in the Philippines with the number of confirmed cases, cases tested negative, and cases pending results. You can also track here the global situation and the latest DOH press releases.
Site: ncovtracker.doh.gov.ph
You may visit this site for a more detailed local COVID-19 tracking. It includes the number of cases per hospital or facility, by residence, by age group, and by classification which includes cases within the country, overseas Filipinos, and foreign nationals.
site: www.doh.gov.ph/2019-nCov/advisories
Check for official guidelines on COVID-19 health measures, when and how to visit the hospital to be tested, the guidelines on handwashing and proper disinfection, and more. DOH has been publishing advisories since January 2020 and these are all available for download.
site: www.doh.gov.ph/2019-nCov/infographics
For official infographics on health advisories, information and frequently asked questions, decision tools, cough etiquette, and home quarantine reminders, the DOH has provided a database of both English and Filipino infographics for the public to use and share.
Food and Drug Administration Philippines (FDA)
site: www.fda.gov.ph/covid-19-fda-updates/
The FDA in coordination with DOH is in charge of regulating the medical devices our medical frontliners are using now to test individuals as well as the drugs being used to cure those infected by COVID-19. Here they release press statements and announcements on the approved test kits.
StaySafe.ph
site: www.staysafe.ph/
Site visitors can contribute to the fight against COVID-19 by reporting the health conditions of their respective family members without disclosing sensitive information. This will help the private sector and local government units (LGUs) attend to immediate assistance needed by employees or locals under their jurisdiction—making it easier to track COVID-19 on a national basis.
Upon registration in the website, users will be requested to record their medical statuses in the household based on the COVID-19 symptoms listed, after which they will be classified as individuals in good health, or experiencing mild symptoms or severe conditions.
The reports submitted will then be added to the "heatmapping" dashboard of the admin, which will visually show the areas with increasing or improving the rate of COVID-19 cases. The admin, whether from the public or private sector, will be notified of the 'severe conditions' reported and will be able to reach out to those who have submitted them.
World Health Organization (WHO)
site: www.who.int/emergencies/diseases/novel-coronavirus-2019
WHO's official COVID-19 homepage includes their latest live press conferences and media briefing videos, situation reports, travel advice, and mythbusters- correcting the public from spreading false information.
site: experience.arcgis.com/experience/685d0ace521648f8a5beeeee1b9125cd
On the other hand, the WHO Covid-19 situation dashboard highlights the international count of confirmed cases, deaths, and countries and territories with cases.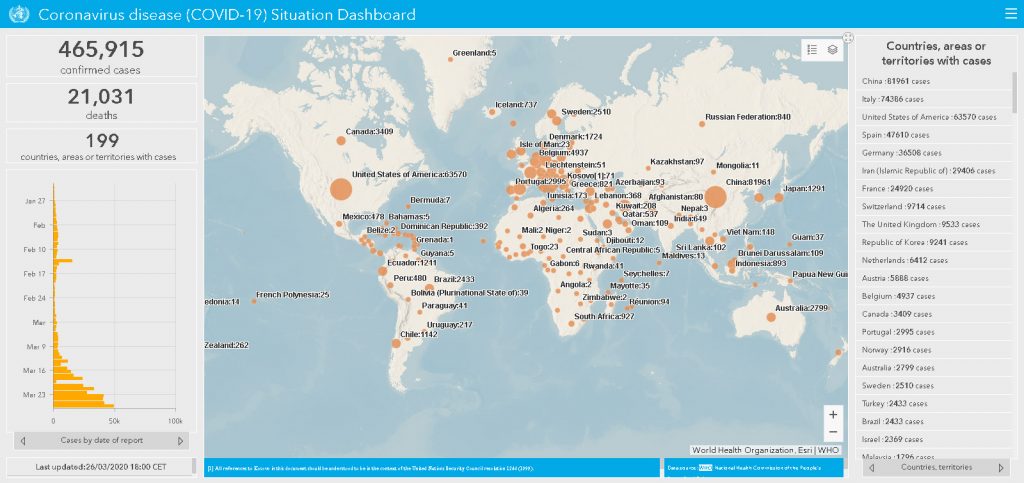 site: www.who.int/emergencies/diseases/novel-coronavirus-2019/advice-for-public
Avoid believing anything you read on social media and follow guidelines from official sources. This WHO database includes their general advice to the public with materials regularly updated in accordance with new scientific findings as the epidemic evolves.
Not only does the site include general advice to the public, but they also have infographics that are available for download and sharing as well as international donation partners for the Solidarity Response Fund for the organization to support countries to prevent, detect, and respond to the pandemic.
Centers for Disease Control and Prevention (CDC)
site: www.cdc.gov/library/researchguides/2019novelcoronavirus/databasesjournals.html
For technical research on the 2019 Novel Coronavirus, the CDC has dedicated an online library of official research papers, journals, and scholarly articles that are being updated weekly as the medical research continues. All documents are open access.
Also read: