Psychological Association of the PH Reminds Us to Take Care of Our Mental Health
Psychological Association of the PH Reminds Us to Take Care of Our Mental Health
Those experiencing mental health problems may find that the outbreak of COVID-19 causes more fear, anxiety, and stress for both adults and children. As everyone reacts differently to stressful situations, how you respond can help you cope and also make you stronger.
The Psychological Association of the Philippines on March 20, 2020, released a reminder on how we should care for our mental health, lessen stress and anxiety to better care for ourselves and others in the time of the nation's enhanced community quarantine.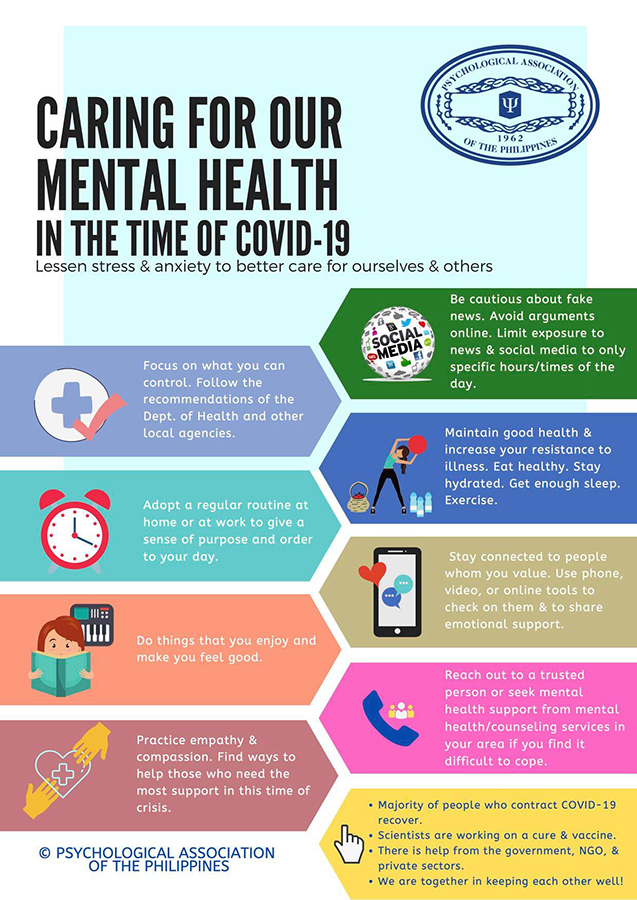 Philippine Mental Health Association, Inc.
Firstly, people with preexisting mental health conditions should continue their treatment and be aware of new and worsening symptoms. Be in touch with your psychiatrist/s and follow their instructions.
Otherwise, reach out to the Philippine Mental Health Association, Inc. online through their social media accounts from Monday to Saturday, 8 a.m. to 5 p.m. Know more about their online mental health support and service through their Facebook page.
Focus on What You Can Control
Withdraw yourself from continuously checking all the COVID-19 news and updates on the internet and television. Hearing about the pandemic repeatedly will not help your situation and instead, focus on what you can control such as your actions during the day.
Watch a movie, read a book, do a puzzle, start an online course, or learn a new recipe. Or if you must, get updated only through the official, reputable sources and government agencies for updates such as the World Health Organization, Philippine Department of Health, and DOH's Healthy Pilipinas.
Keep to Your Routine
Stay close to your routine and adapt it to staying at home. If you are required to work from home, designate a space in the house where you can isolate yourself from 'home' and avoid distractions without intruding on the other people of the household.
Also read: 7 Tips for Making a Productive Work from Home Environment
Wake up, shower, eat, and sleep at the same time of the day as you would on a normal day or before the quarantine. Just because we are under quarantine does not mean we should give everything up. Instead, figure out a new way to do them.
Do Things You Enjoy
Take this time to finally accomplish things you may have been meaning to do but haven't had enough time. Explore the many artistic individuals and groups that have started online classes and seminars for free!
This also applies to health care workers to better maintain their mental health while also getting good rest between shifts during this health crisis.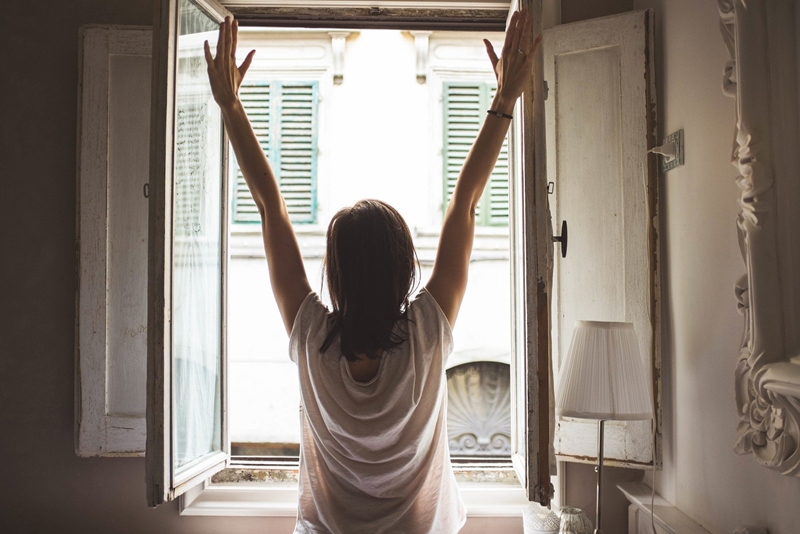 Practice Empathy and Compassion
If you are able to, there are many ways now to help the community and especially the health care workers caring for COVID-19 patients at this time. There is a call for the need for Personal Protective Equipment (PPE) daily sets, food, and housing.
Among others, the Vice President of the Philippines Leni Robredo has started a donation and fundraising campaign to provide shuttle buses, daily PPEs, temporary housing, and meals for both health workers and indigents.
Also read: Where to Donate Protective Equipment and Other Aid for Frontline Health Workers
Maintain Good Health
While mental health is important, it also can be affected by your physical health. Maintain proper posture while working from home and regularly shift from sitting, standing, and walking.
As always, follow the proper procedure of proper sanitation such as washing your hands for 20 seconds more often than usual, avoid touching your face, and dispose of face masks and tissues properly.
Also read: Ways to Be Safe From COVID-19 Pandemic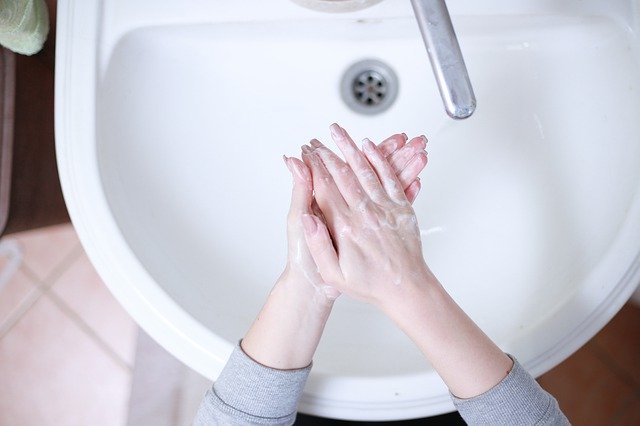 Stay Connected
As mentioned, be in touch with your psychiatrist but also your friends and family through telephone or social media but talk less about the crisis and more of the positives such as plans once the quarantine is lifted or the new hobbies and activities you have started doing at home.
In this stressful time, we can work better with company and support.
Reach out to support
While we are feeling stressed, others may feel worse and vulnerable; especially children and the elderly. Be aware of what they are reading or learning about the pandemic. Convince them to only rely on the official sources to avoid over-exposure and sensitization.
Just as you need to destress, so do they. Be honest with the facts and engage in a way that is appropriate for them.
---
Sources: Mental Health Foundation, Department of Health, Philippine Mental Health Association, Inc.