5 Boutique Hotels Around the Metro for a Restful Staycation
There are times when we tend to feel the desperate need to recharge and get away from the daily hustle of work. Now, it has become more accessible than ever because of boutique hotels sprawled across the metro.
Boutique hotels may not be as big as traditional hotels but what they can offer does not fall short on what chain hotels can provide—upscale accommodation, intimate space, and homelike atmosphere. 
Luckily, Manila has the finest boutique hotels there are, whether you are seeking for a restful weekend staycation or just taking a time off from work.
The Henry Hotel Manila
What was once a post-war mansion with adjoining cottages was turned into a warm nostalgic hotel in 2014 that exudes old-world flavor combined with modernism. The Henry Hotel Manila is not your usual boutique tavern in the heart of Manila.
Adorned with worldly and sophisticated ambiance, this modern vintage hotel features five Liberation style houses with 35 unique rooms of four types: Classic Room, Garden Suite, Suite Room, and Owner's Suite.
Owner's Suite
Apart from the hotel itself, the garden area is one of the hotel's stellar features which was designed by Ildefonso P. Santos, National Artist for Landscape Architecture.
Also read: The Henry Hotel Manila in Pasay City: Nostalgic Post-War Mansion Turned Hotel
Address: 2680 FB Harrison St., Pasay City
Contact: 02-8807-8888
Check-in: 2 pm; Check-out:12 pm
Website: manila.thehenryhotel.com
Facebook: facebook.com/TheHenryHotelManila
Hotel Céleste
Strategically located near San Lorenzo Village and Ayala Center, Hotel Céleste is a go-to place for travelers and business people alike who desire a leisure exploration in the city.
It is known as the first-ever boutique hotel built in the city and is recognized as the crown of business travelers who desire of most serious leisure in the metro.
This hotel offers 25 Deluxe (Php 12,000) and 5 Suite rooms (Php 14,000), with no two rooms alike. Each room is as opulent as it gets with a European-inspired design accompanied with flashes of old-world ornaments and color palette of royal shades.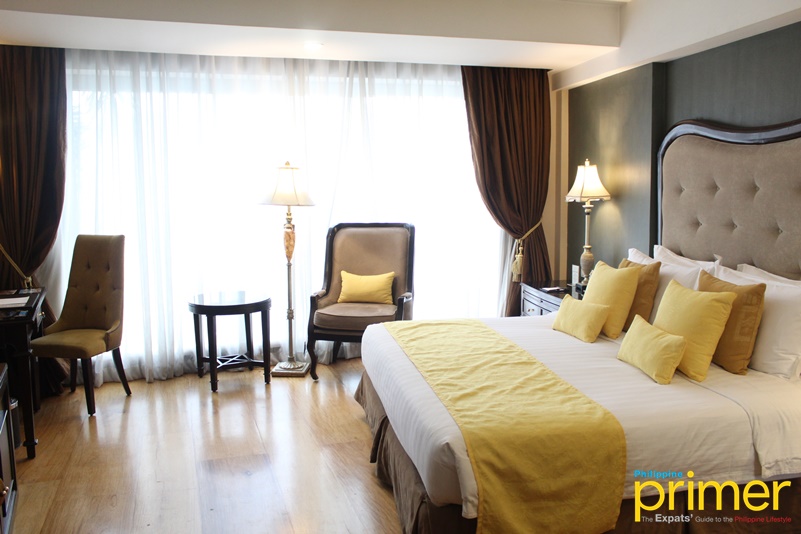 Deluxe (Php 12,000)
Also read: Hotel Céleste in Makati Offers a Royal-Like Stay in the Metro
Address: 02 San Lorenzo Drive cor. A. Arnaiz Ave., San Lorenzo Village, Makati City
Contact: 02-8887-8080
Check-in: 2 p.m.; Check-out: 12 p.m.
Website: hotelceleste.ph
Facebook: facebook.com/HotelCelestePHL
Element Boutique Hotel
Element Boutique Hotel is a chic lifestyle boutique hotel designed and managed by Franco Filipino.
The unique space embodies a passion for utmost comfort, food, and traveling that is clearly seen in its overall appearance that takes the shape of an urban oasis featuring a warm and modern design using wood and plants.
In The Air with Balcony (Php 7,398)
This lifestyle boutique hotel brings hospitality and fresh creativity to everyone as it offers six types of rooms, all custom-designed with elegant raw materials combined with a modern aesthetic.
Also read: The Element Boutique Hotel in Makati: An Escape from the Urban Jungle
Address: 4950 Guerrero St., Brgy. Poblacion, Makati City
Contact: 02-8805-1360 / 0917-505-7500
Check-in: 2 p.m.; Check-out: 11 a.m.
Website: elementboutiquehotelmakati.com
Facebook: facebook.com/elementboutiquehotel
The Picasso Boutique Served Residence
An art lover's dream haven, The Picasso Boutique Serviced Residences at Salcedo Village in Makati City is a first of its kind hotel in the country where art and committed service meet.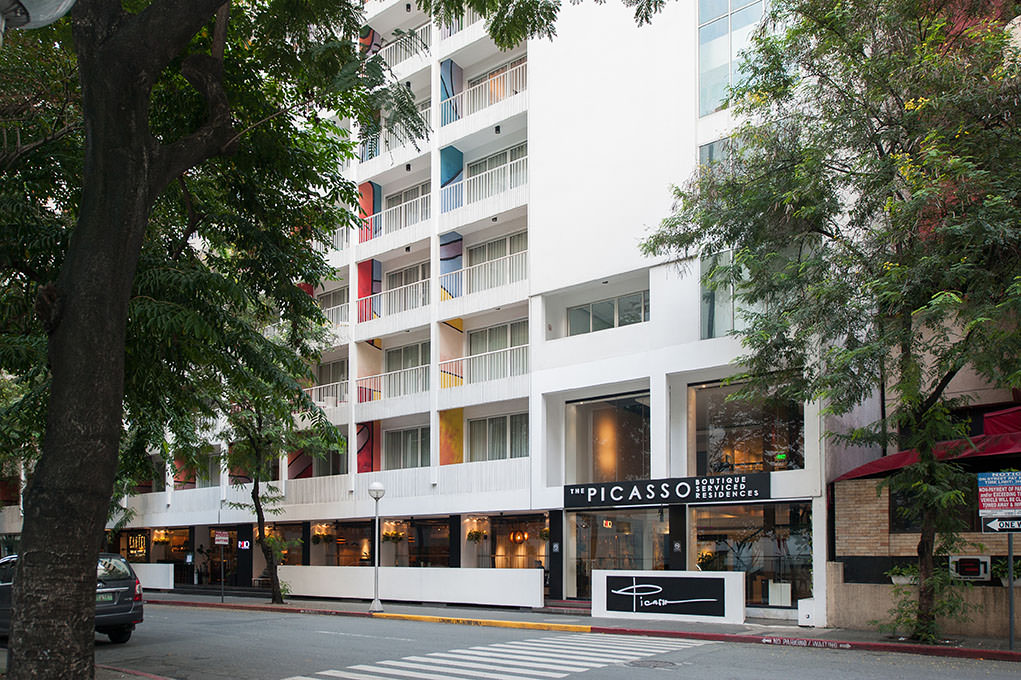 This nine-story building is inspired by the art of famous Spanish painter and sculptor Pablo Picasso. Taking inspiration from Picasso's life, its overall look is basically an ode to the famed painter's life in an art form.
It houses six different types of rooms designed with a flair of stunning canvas of lines, patterns, and palettes. One of which is the Malaga Superior Studio, a chic and modern space inspired by the artist's well-known monochromatic paintings in hues of blue and blue-green.
Malaga Superior Studio
Also read: The Picasso Boutique Serviced Residences in Makati: Where Art Meets Committed Service
Address: 119 L.P. Leviste St., Salcedo Village, Makati City
Contact Information:  02-8828-4774
Check-in: 2 p.m. ; Check-out: 12 p.m.
Website: picassomakati.com
Facebook: facebook.com/thepicassomakati
Instagram: instagram.com/thepicassomakati
Rizal Park Hotel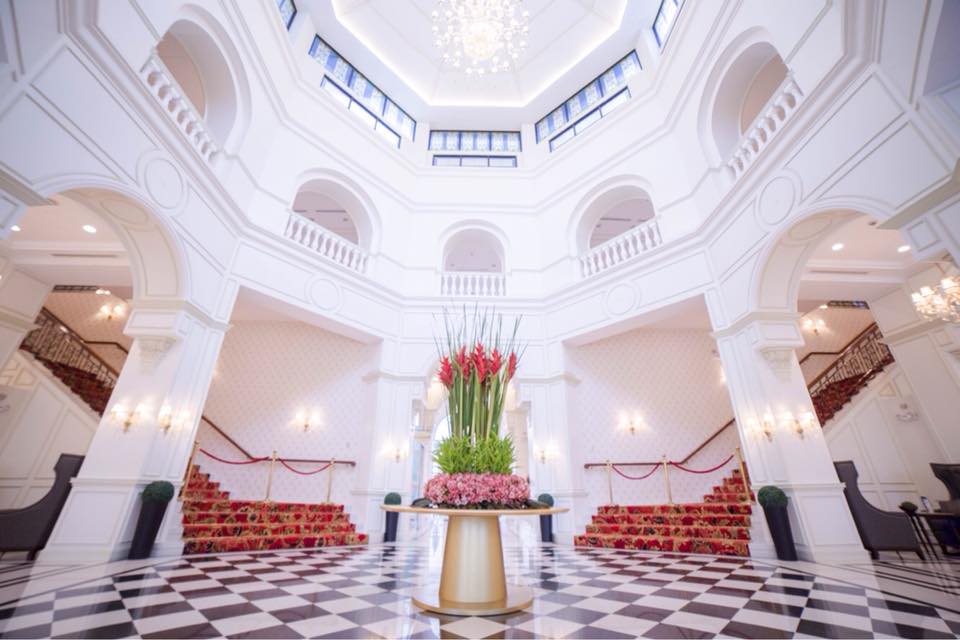 Originally built in 1911 for the Manila Army and Navy Club, Rizal Park Hotel is now Manila's 5-star boutique hotel service whose tale spans from its restoration back in 2014 to the present time.
Considered as one of the Philippines' national pride and history, the hotel sustained the building's original character and added a touch of modern vibe through its facilities and amenities available to the public.
Army Navy Club Suite
The hotel has 110 rooms of four types that were made and preserved in colonial-era looking rooms. Families, celebrities, or diplomats on business meetings can book the Army Navy Club Suite, which is equipped with a spacious and stylish anteroom connecting the two rooms.
Also read: Rizal Park Hotel in Ermita Lets You Experience History in Style
Address: South Rd. Dr., T.M. Kalaw Ext., Ermita, Manila
Contact: 02-8804-8700
Check-in: 2 p.m.; Check-out: 12 p.m.
Website: rizalparkhotelmanila.com
Facebook: facebook.com/RizalParkHotel
Which of these boutique hotels got your interest for a quick weekend staycation? Share it with us on the comments below!