Coffee Tonya Unveils Italian-Inspired Restaurant in Poblacion
If you are looking for a one-stop spot for all your coffee needs, Coffee Tonya in Makati is the best place to go. Their store offerings range from coffee making equipment and raw beans to special coffee blends.
And if you need another reason to drop by, you'll be happy to know that they just formally opened their Italian-inspired restaurant complete with a beer bar!
Coffee Tonya in Angono St., Makati
The grand opening ceremony happened last February 28 with the attendance of Coffee Tonya's executives both from Japan and the Philippines.
(L-R) SVP-HR Magna Mercado, SVP-Admin Emily Gepilano, Chairman Edilberto Bravo, Chairman Mitsuo Sato, and Consultant Keichi Izawa
Coffee Tonya is a partnership between longtime friends Edilberto Bravo, Mitsuo Sato, and Keichi Izawa. The brand originally hails from Yokohama, Japan and was brought here in 2016.
Also read: Coffee Tonya in Poblacion: Every Coffee Afficionado's Heaven
Unique to Coffee Tonya is its selection of more than 60 different coffee beans. They have variants sourced from foreign countries such as Colombia, Brazil, Indonesia, India, Haiti, and Mexico, to name a few.
Philippine coffee beans are also available, including Barako, Benguet, and Bukidnon coffee.
"[In] other places, you only drink coffee there … they brew it. But here, we roast it then we brew it, and you drink it," said Chairman Edilberto Bravo when asked about what sets Coffee Tonya apart from other coffee shops in Makati.
Coffee Tonya's latest expansion is an Italian-inspired restaurant with a mix of Japanese and American, boasting their fire brick oven pizzas and fresh pasta dishes that are just too good to resist!
During the grand opening, Philippine Primer got the chance to chat with Coffee Tonya's Head Chef Athena Tuble to know more about the concept behind the restaurant's menu.
Chef Athena Tuble, Head Chef of Coffee Tonya
 According to Chef Athena, the place was an Italian restaurant before the renovation happened.
"We wanted to incorporate some of the items from the previous menu back here and then introduce new items in line with the coffee and also the Japanese theme," she added. "What we have is a mix of Italian and Japanese with a little bit of American here in the restaurant."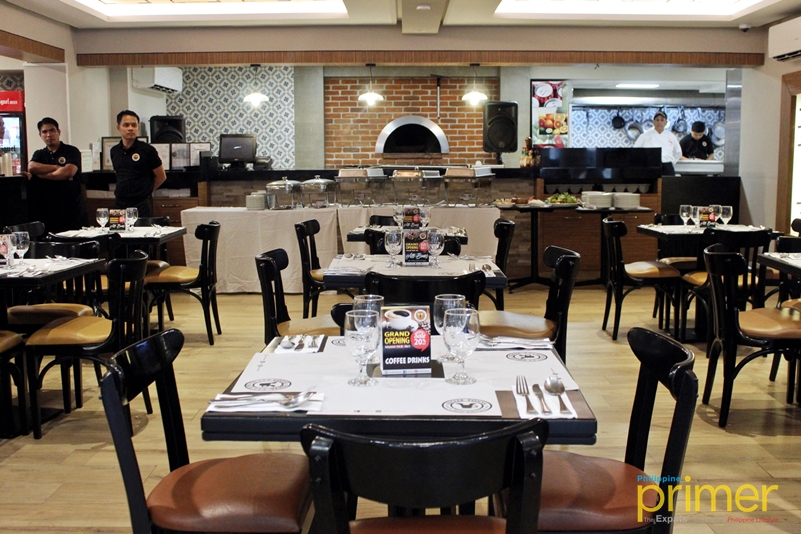 And since they are located right beside the Makati City Hall, they made sure to make their menu items accessible to many, especially to the employees working in the area.
"We wanted to be affordable for them, but at the same time, we want to provide a quality that maybe a higher end restaurant would offer," she added.
If you're planning to visit soon, Chef Athena highly recommends you to try their fire brick oven pizzas that are made from scratch—from the dough to the sauces to the toppings. Their pasta dishes are also a must-try!
Pizza Bravo and Seafood Pasta
Vongole, Frutti De Mare, and Truffle Mushroom Pasta
All in all, Coffee Tonya's food is meant to be the best partner for their coffee.
"What we noticed is that people come here to do business, to have a break and maybe have a good time. All of these three we want to provide here with food accompanying our coffee," Chef Athena remarked.
Coffee Tonya is located at 1331 Angono Street, Poblacion, Makati City. They are open Mondays to Saturdays from 10 a.m. to 8 p.m. Soon, they will be serving breakfast offerings at the restaurant so keep your eyes peeled for that!
For more information about Coffee Tonya and their products, you may visit their website at coffeetonyaph.com and follow their Facebook page.