Raffles Makati Brings Japanese Springtime Closer with Their Sakura Afternoon Tea Set
Beginning March 2 until May 31, you may ceaselessly bask in the comfort and romantic atmosphere of springtime without having to fly all the way to Japan!
This is all thanks to Raffles Makati's The Writers Bar for introducing their Sakura Afternoon Tea set, where teeny eats are not only reminiscent of the lovely pink landscape brought by the cherry blossoms but are definitely oozing with the sweetness mirroring the season's vibe in food form.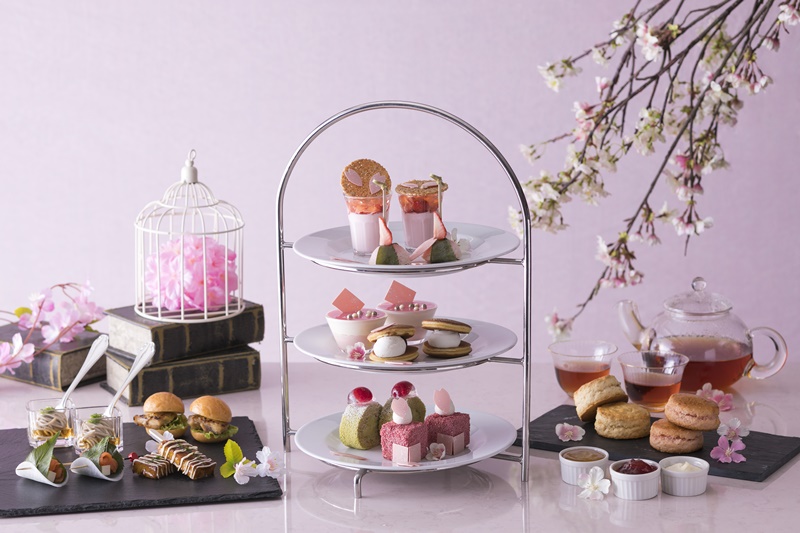 These three layers of sweet and savory delights are molded by Chef Yuki Nakamura, Pastry Sous Chef of Swissôtel Nankai Osaka, who intricately embedded the essence of the Sakura flower into every bite.  
Chef Yuki Nakamura (L) and Chef Matsuda (R) posing with the Sakura Afternoon Tea set featured at the entryway of The Writers Bar
For only Php 1,500, you and a friend or anyone you want to be with can already share an intimate afternoon meal over this newest set from The Writers Bar. This accordingly includes select TWG Teas on top of the food.
Sakura Afternoon Tea set
The topmost plate, for a start, is graced by the slightly less sweet bunch: the flimsy Sakura Panna Cotta topped by crunchy rice crackers, the soft Sakura and Tea Pound Cake enriched by the thin pieces of strawberry chocolate, and the mouthful Sakura Coconut Roche accented by a slice of strawberry on top.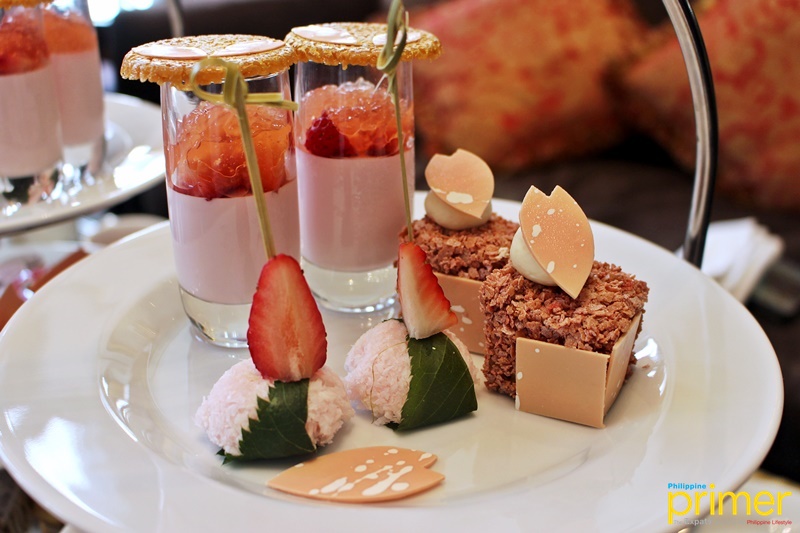 Sakura Panna Cotta (top left), Sakura and Tea Pound Cake (middle right), and Sakura Coconut Roche (bottom left)
The middle layer, whereas, is where utmost sweetness drips. We say it so because of the Sakura and Cream Cheese Mousse that will undeniably treat the sweet tooths out there with its smoothly intertwined layers of strawberry, cream cheese, and marbled-texture jelly on top.
Although not pink, both the Matcha Roll and the Dorayaki still boast of charms that bring delight to the palates—nothing short of the flavors of the others.
Sakura and Cream Cheese Mousse (top left), Matcha Roll (middle right), and Dorayaki (bottom left)
Finally, the last layer centralizes on the savory ones, providing a good balance through their collective piquant taste. This encompasses the Negi Miso Chicken Burger, Cold Soba Noodles, Sakura Smoked Salmon with Daikon Pickles, Okonomiyaki Stick, and Rice Cracker on the side.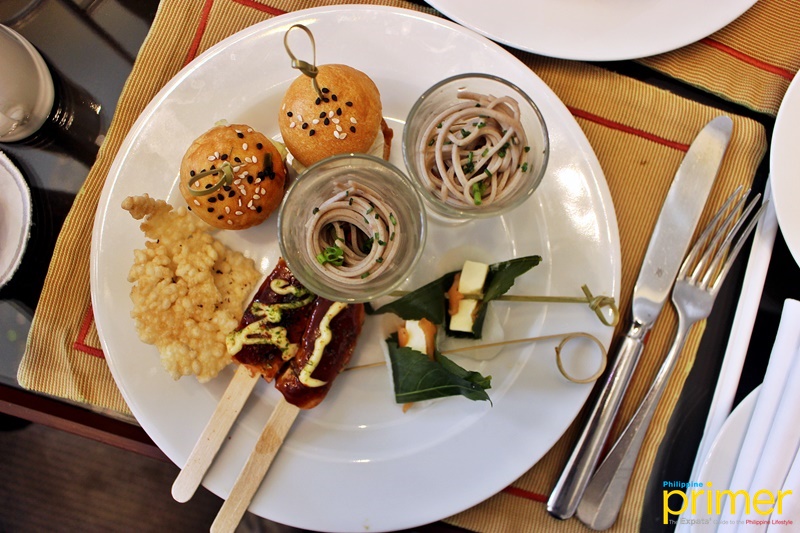 Negi Miso Chicken Burger (top left), Cold Soba Noodles (top right), Sakura Smoked Salmon with Daikon Pickles (bottom right), and Okonomiyaki Stick (bottom left)
But apart from the layered set, you can also enjoy the scones be it in its plain or sakura nature. Break it in half and graze it with whipped cream, strawberry jam, or lemon curd for that extra filling experience.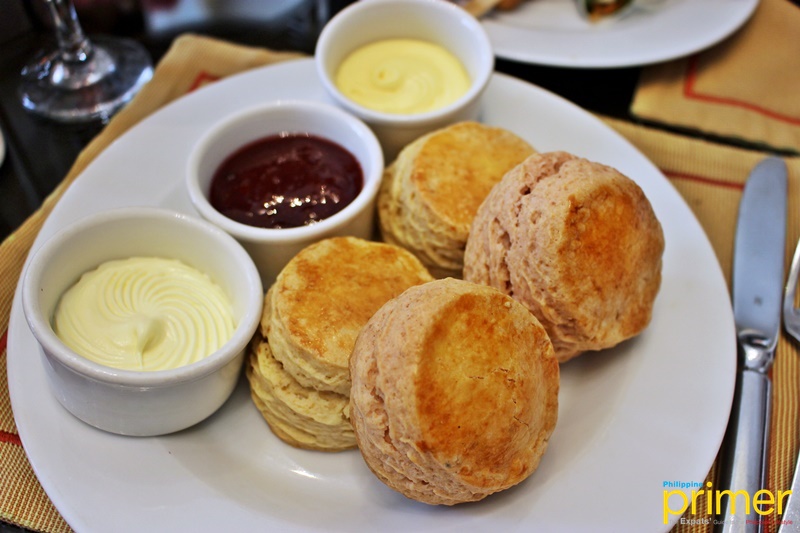 Sakura and plain scones with three accompanying dips
The Sakura Afternoon Tea set is available at The Writers Bar every day from 2:30 p.m. to 5:30 p.m.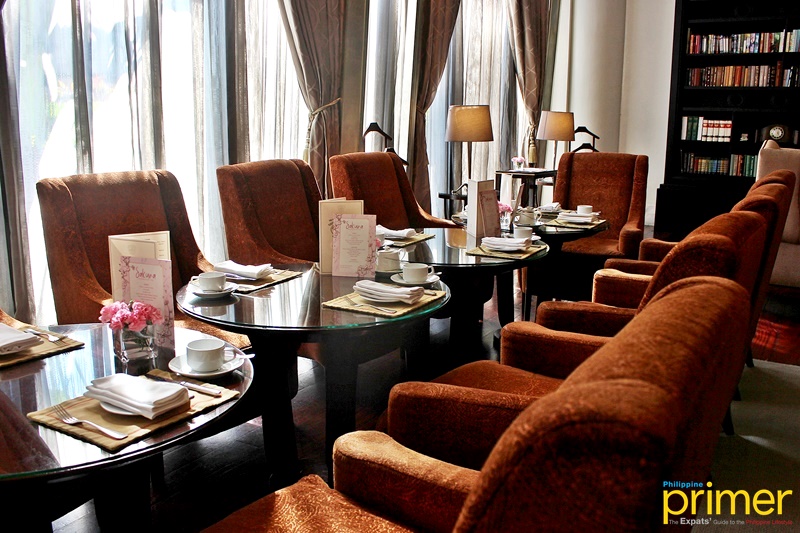 The Writers Bar is an opulent expanse located at the lobby of Raffles Makati
Also read: Starbucks Releases New Peach Frappuccino Blends and Cherry Blossom Collection
Raffles Makati is located at 1 Raffles Drive, Makati Ave, Makati. For more information, visit their website at raffles.com, call Restaurant Reservations at 02-7795-1840 or email dining.makati@raffles.com.