10 Romantic Restaurants for Valentine's Date 2020
Valentine's day is coming next week and for sure, you're thinking of a fine place to celebrate this special day. It only happens once a year so why not take your partner to a splendid date and collect good memories together.
Philippine Primer has listed 10 romantic places to visit on the 14th this month:
La Cathedral Cafe
La Cathedral Cafe is making sound on the internet lately. Yes, it deserves to be recognized as the restaurant in the historic area of Intramuros is a must-visit. What sets La Cathedral cafe is their roof deck space designed with hanging lights. Plus, it allows you to witness the beauty of the walled city—specifically Manila Cathedral.
Apart from that, have a taste of the cafe's hearty meals ranging from Filipino comfort food and pastries. For a more memorable date, walk along the streets of Intramuros with your partner as if you're in the Spanish era.
Address: 398 Greenfield Bldg Beaterio St., cor. Cabildo St., Intramuros, Manila
Contact Number: 02-701-7833
Business Hours: 8 a.m. to 11 p.m. (Ground Floor ); 4 p.m. to 11 p.m. (Roof Deck) daily
Facebook: facebook.com/lacathedralcafe
Gallery by Chele
Quality food and classy dining space? Gallery by Chele might be the space you've been wanting to visit this Valentine's. Recognized in Asia's 50 Best Restaurants 2017, Gallery by Chele provides a vast array of specialties that you can choose from. If you're spending Valentine's dinner with your friends, try out their course meals available in threes, fives, and nines.
Featuring its dim lighting and wooden interiors, this place is a must-visit if you're partner is someone who likes nature-inspired interior and a calm atmosphere.
Also read: Gallery by Chele in BGC: A Modern Twist to Local Ingredients
Address: 5/F Clipp Center, 11th Ave cor. 39th St., Bonifacio Global City, Taguig
Business Hours: 6 p.m. to 12 a.m (Mon to Sat)
Website: gallerybychele.com
Facebook: facebook.com/gallerybychele
Blackbird
For a gram-worthy restaurant, Blackbird takes pride in its Aviation-themed dining space, spearheaded by Chef Colin Mackay. Blackbird's set of the menu is completely diverse, which includes the Prawn Scotch Eggs and the Blackbird Burger.
Dine as if you're traveling the world with your loved one as the restaurant offers different international cuisines, which perfectly complements its airport theme. Exciting, right?
Also read: Blackbird in Makati

Address: The Nielson Tower, Ayala Triangle, Makati
Contact Number: 02-8828-4888
Business Hours: 11 a.m. to 11 p.m. (Sun to Thurs) / 11 a.m. to 12 a.m. (Fri and Sat)
Website: blackbird.com.ph
La Piazza Ristorante Italiano
Certainly, you will never go wrong with Italian specialties. La Piazza Ristorante Italiano is situated in the heart of Okada— Manila's biggest integrated resort. The Italian restaurant is suitable for couples who want to spend the special day at a fine-dining space. Additionally, enjoy the colorful fountain of Okada Manila!
Come in with your smart-casual attire and impress your date with the quality service and food offered by La Piazza Ristorante Italiano.
Also read: La Piazza Ristorante Italiano in Okada Manila: The Sweetness of Italian Dining at Its Finest

Address: Crystal Corridor, Upper Ground Floor, Pearl Wing, Okada Manila, New Seaside Dr., Entertainment City, Parañaque City
Business Hours: 11 a.m. to 3 p.m. (Lunch); 5:30 p.m. to 11 p.m. (Dinner)
Contact Number: 02-8555-5799
Website: okadamanila.com
Facebook: facebook.com/OkadaManilaPH
Ninyo Fusion Cuisine and Wine Lounge
This cozy restaurant located in Quezon City is perfect for those who are seeking for a romantic yet comfy spot. Ninyo Fusion Cuisine and Wine Lounge embrace a warm ambiance as the area is decorated with antique interior and blooming plants—suitable for couples who want to have a break from the busy life in the metro.
On top of that, Ninyo Fusion Cuisine offers Gazebo with Petal Candle set-up or balloon set-up for that extra romantic setting for your Valentine's date!
The restaurant also boasts its European-Asian fusion specialties. Devour these dishes while overlooking the charming garden.
Address: 66 Esteban Abada St., Loyola Heights, Quezon City
Contact Number: 0939-921-5881
Business Hours: 11 a.m. to 2 p.m. (Lunch), 6 p.m. to 10p.m. (Dinner)
Facebook: facebook.com/NinyoFusion
Mireio
Soak in the sunset vibes at the Mirèio Terrace this Valentine's Day.
Named after the poem of Frederic Mistral, Mirèio offers authentic Provençal and French cuisine, which highlights gastronomic specialties in France. In addition to that, its artsy and refined interior enhances the sophisticated atmosphere of the place.
Some of their signature dishes are Nicoise Salad and Grilled Salmon While enjoying Mirèio's dishes with your partner, catch a glimpse of the city's awe-inspiring view at the glass windows.
Address: 9th Floor, Raffles Hotel, 1 Raffles Drive, Makati Avenue, San Lorenzo, Makati City
Contact Number: 02-7795-0707
Business Hours: 6 a.m. to 10:30 a.m. (Breakfast), 12 n.n. to 2:30 p.m. (Lunch), 6 p.m. to 10:20 p.m. (Dinner)
Website: raffles.com
Elbert's Steakroom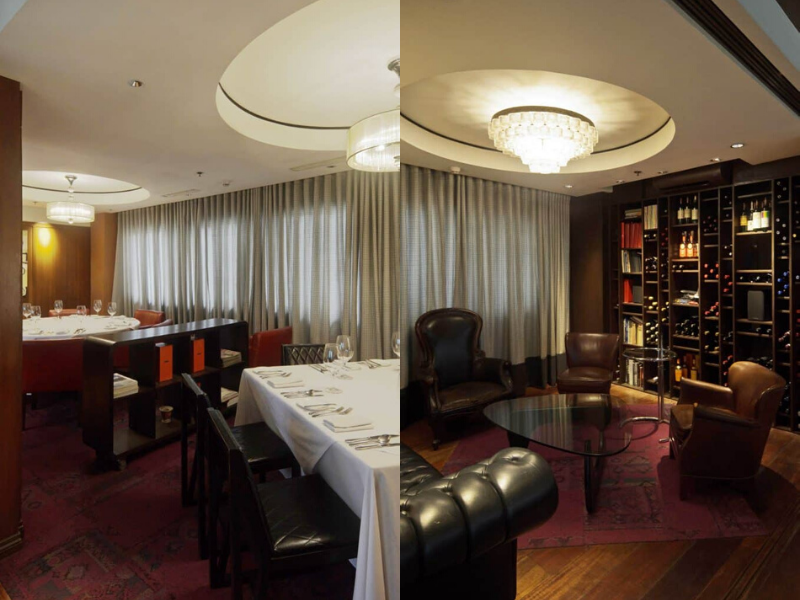 Popular for serving quality steak in the metro, Elbert's Steakroom highlights its Double Gold Filet Mignon, which can be paired up with their featured fine wines. Adorned with soft lights and appealing interior, Elbert's amiable atmosphere makes the dining place perfect for a lovely date.
Check out their dinner menu for Valentine's day, which includes Oyster Rockafeller, Cream of Smoked Tomato with Basil Foam and a choice of one of Elbert's best steaks.
Address: 3F Sagittarius Building III, 111 HV Dela Costa St., Salcedo Village, Makati
Contact Number: 02-8519-8665
Business Hours: 11:30 a.m. to 2:30 p.m. (Lunch), 6:30 p.m. to 11:45 p.m. (Dinner)
Website: steakroom.com/elberts-steakroom
Facebook: facebook.com/steakroom
Top of the Citi by Chef Jessie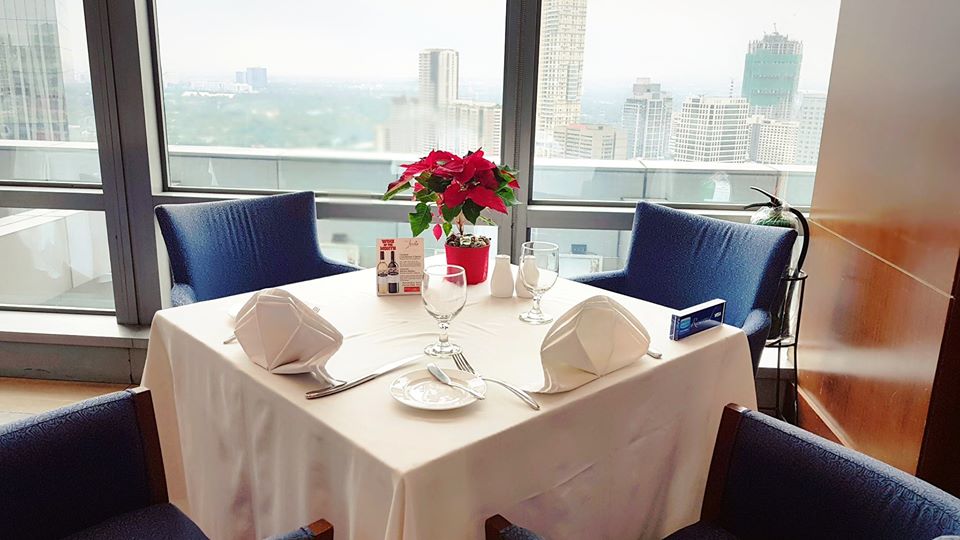 Located at Citibank Tower in Salcedo Village, catch breathtaking views of the metro at the Top of the Citi by Chef Jessie. This restaurant attracted a lot of guests as the place has two terraces where you'll be able to witness a 360-degree view of the city lights.
Spending Valentine's here is definitely worth it. Your partner will love the impressive view of the night sky as well as the well-curated specialties. Try out their appetizers such as Smoked Salmon and Caviar Pie and their wide selection of beef steaks wherein you can choose your preferred sauce.
Address: 34th Floor, Citibank Tower, 8741 Valero Street, Salcedo Village, Makati City
Contact Number: 02-450-2933
Business Hours: 11 a.m. to 10 p.m. (Mon to Fri)
Website: chefjessie.com
Facebook: facebook.com/topoftheciti
Lemuria Gourmet Restaurant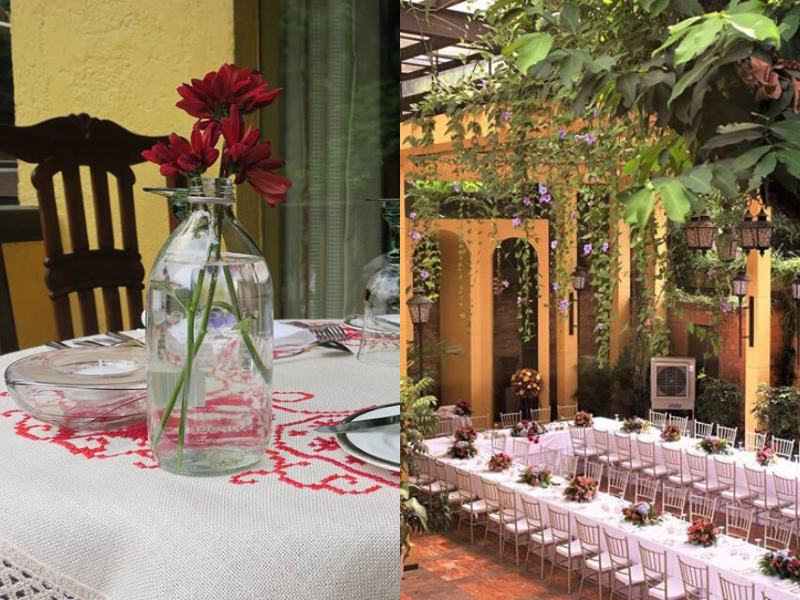 Garden restaurants are one of the most visited places, especially during Valentine's day. Hidden in Quezon City, Lemuria takes pride in its French Mediterranean cuisine, carefully made with natural ingredients and a wide variety of fine wines.
Lemuria naturally embodies a romantic ambiance, decorated with hanging plants and blooming flowers. The serene place is a nice place to catch up with your special someone while trying out their specialties included in Valentine's menu.
Address: Julieta Circle Horseshoe Village, Quezon City
Contact Number: 02-8724-5211
Business Hours: 6 p.m. to 10:30 p.m.
Website:lemuria.com.ph/horseshoe
Facebook: facebook.com/LemuriaGourmet
Which restaurant are you planning to visit this Valentine's day? Let us know in the comments below!