12 Mobile Apps to Help You Learn New Languages
To keep yourself busy and productive in the new normal, learning something new, say a new language, may be a good activity for you. With the convenience of smartphones, you can now learn things from your gadgets. Yes! That's right, even languages!
These language learning apps will not just be some past time but it could be turned into something useful. Knowing even the basics of any foreign language could always be an advantage in any kind of situation. Who knows, you might become fluent in French, Japanese, or any other language you would like to study when this health crisis is over!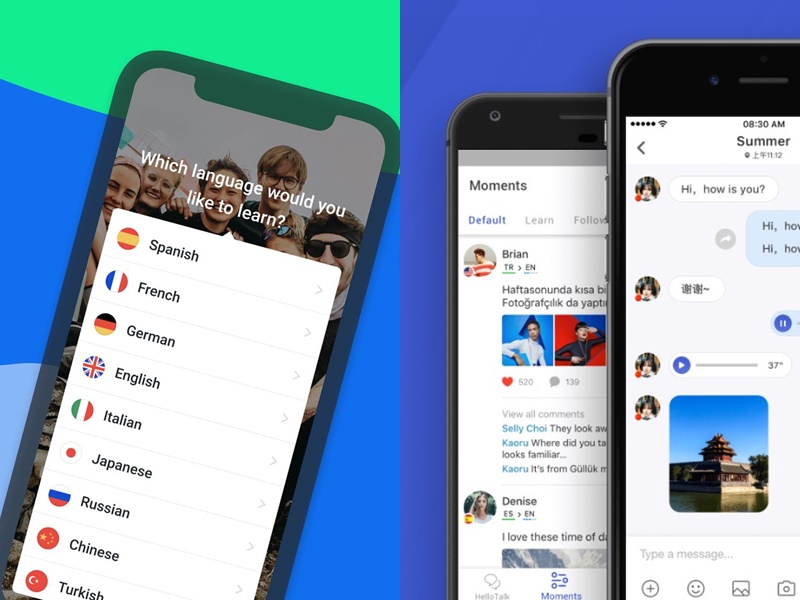 That's why Primer Philippines introduces you to these twelve mobile applications that can help you learn a new language or two while you're stuck at home.
Rosetta Stone
For over 25 years, Rosetta Stone has been known for its quality teaching of foreign languages. Before it became available in an actual app, the team started with online teachings and browser usage.
IMAGE from Rosetta Stone
The Rosetta Stone uses a cloud-based solution wherein students can learn reading, writing, and speaking. The choices of languages you can learn varies in over 30 options, including those that are endangered.
Duolingo
Duolingo, maybe just the right app you've been looking for as it offers free language learning, with no hidden fees and no premium services needed.
Other than the basic teaching techniques, Duolingo offers a variety of exposure of the language to the students. They offer in-person events, interactive stories, and podcasts. And to boost your confidence, the app lets you track your progress and gives you a mini reward within the app.
Memrise
Founded in 2010, Memrise still upholds its three principles: real-life language content, teaching with a combination of science and, technology, and creating fun in learning something new.
IMAGE from Memrise
Some courses from the app are downloadable that is why learning anytime and anywhere is made easier. The app also offers practice games to make learning more interactive for users.
Busuu
Busuu may be limited to 12 languages for now but it makes sure that they serve quality and effective teaching. This app promises that as you go through the classes, you don't just get to learn new languages—you will also fall in love with them.
Plus, the app has been rated by Google as the "Best App of 2015" and as a "Must have app."
IMAGE from Busuu
Internet connection is not needed when using their app, see the convenience? One of the best exercises they offer is submitting a written output to a fluent speaker in order to practice and put your skills to the test.
HelloTalk
If you are tired of always being the student, with HelloTalk you can be both a teacher and a student to other natives. Within the usage of the app, you can meet other natives who will help you learn a lot about their own language.
IMAGE from HelloTalk
With the app, you can also select your level and the app will pick a stranger available for you. This stranger will serve as your student and teacher, your levels are matched in order to have better teaching and learning opportunities that will benefit both of you.
Babbel
Similar to Rosetta Stone, Babbel is a subscription-based app that lets you try the first lesson for free. There are over 14 languages to choose from, whether it's Spanish or Indonesian they have it!
IMAGE from Babbel
To help the student in better learning of the language, Babbel recorded natives for the correct pronunciation of words and dialogue samples. They also offer tasks, you can choose between the flashcard method or writing method for your activity.
Beelinguapp
Beelinguapp is perfect for kids who want to learn a new language but want it in a fun way. Beelinguapp offers a sample story text in two languages that you picked, one could be your native language the other is what you want to learn.
At the same time, these stories are audiobooks that will let you hear and copy the words to make you sound like a true native of the language. Classic stories like Cinderella, The Three Musketeers, and the likes are available in the app.
Clozemaster
Clozemaster is a language learning app that teaches users vocabulary through cloze, a type of test in which paricipants fill in blank spaces in sentences with the right words.
After installing the app, users must choose what language they are learning and which one they already know and test themselves on the sentences through a fill-in-the-blank game.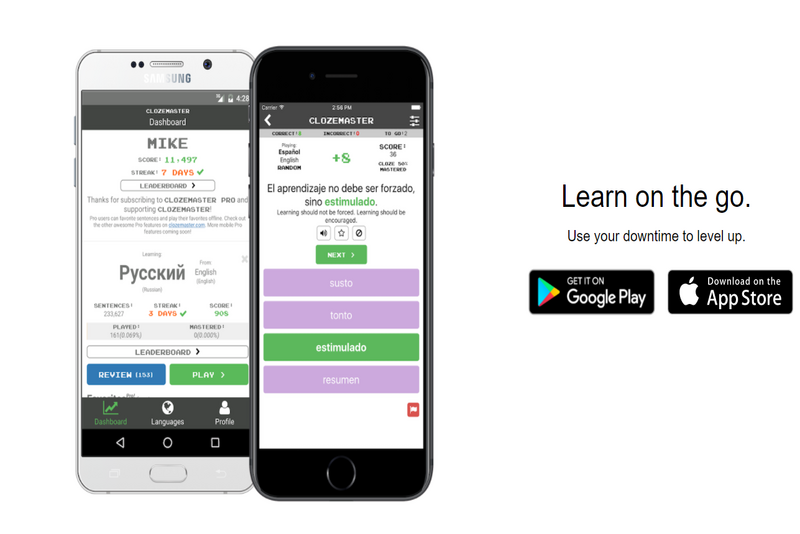 IMAGE from Clozemaster
In a sense, Clozemaster won't teach you a particular language from scratch, but it will give you relevant content that will help become more fluent in a particular language.
LinguaLift
Catering to the needs of serious learners, LinguaLift offers the ultimate language learning program with help of a tutor. They will answer your questions, help you improve your grammar, offer insights, and many more. They will even give and correct homework for those who want to go the extra mile.
IMAGE from LinguaLift
They also have a Facebook group called Language Learning Secrets that will surely help any language learner.
TripLingo
Planning to go to Brazil for a holiday break next week, but don't know how to speak Portuguese? Don't worry, TripLingo has got you covered! This app is made for travelers who need some language lessons before they embark on their adventures, intending to help them communicate with the locals with ease, understand culturally appropriate slang and more.
IMAGE from TripLingo
It even has a voice translator feature for instant translation if you ever find yourself in a pinch!
MosaLingua
MosaLingua utilizes a science-based learning method based on several cognitive science and psychology concepts such as active recall and the Pareto principle to make their language lessons easier to understand and remember.

IMAGE from MosaLingua
Learning is based on a self-assessed flashcard system that will make users remember words in various ways, asking them to record, speak out, and spell the words.
One has to pay to unlock the apps' resources, though. But the free version has enough resources to get you ready for your next trip.
HiNative
There's nothing better and more credible than getting answers straight from native speakers themselves. That's why HiNative brings language learners all over the world together, intending to make them help each other by allowing them to answer questions, translate languages, ask for feedback concerning pronunciation, and many more.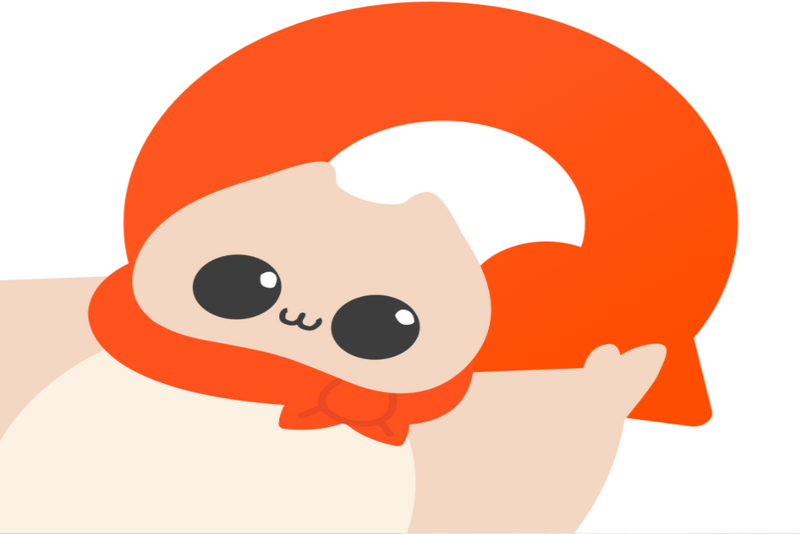 HiNative logo/IMAGE from HiNative Facebook page
In short, HiNative is an interactive app that lets you ask questions and the like to native speakers around the world and to do the same about your mother tongue in return.
Which of these apps are you excited to try? Let us know in the comments below.
---
Sources: Rosetta Stone, Duolingo, Memrise, Babbel, HelloTalk, Beelinuapp, Busuu, Clozemaster, LinguaLift, TripLingo, MosaLingua, HiNative