6 Bingsu Places Around the Metro
The next time you come across a nagging desire to eat something that will somehow uplift your spirits during the day, we recommend a particular treat that might do trick—Korea's popular dessert bingsu or shaved ice!
This is basically made of a mountain of finely shaved ice grazed by milk, which comes in a variety of flavors and toppings.
For the reference of the dessert aficionado in you, we listed down 6 bingsu places around Metro Manila that offer undeniably delightful variants.
Caffe Bene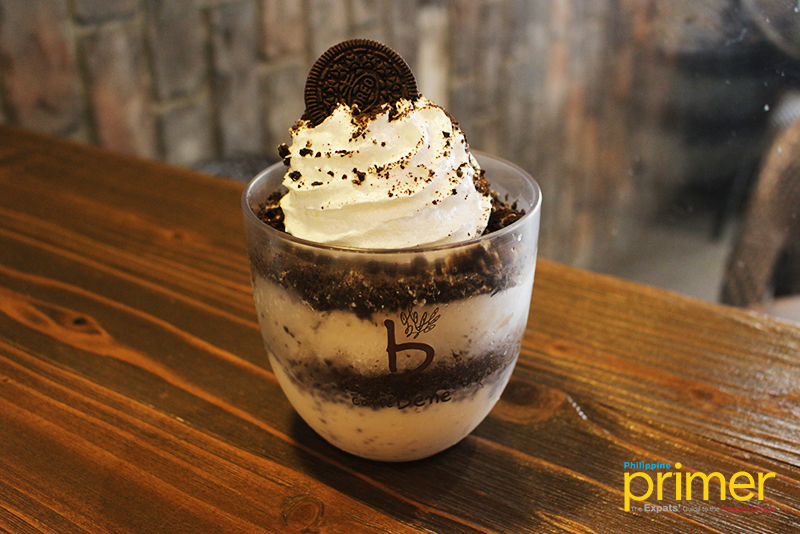 While it is foremost rooted in offering good coffee, Caffe Bene is a place that provides a selection of food that satiates dessert cravings as well. And of course, bingsu has its place on their menu—which particularly comes in flavors of red bean, strawberry, and cookies and cream.
What's more, the inherent sweetness of the cafe's coarsely shaven ice and fresh toppings are made even delightful to relish by the combination of cream cheese and gelato!
Branches: Multinational Bancorp Center, Makati City
Website: caffebene.com.ph
Facebook: facebook.com/caffebeneph
Instagram: instagram.com/caffebeneph
Cafe Seol Hwa
Can't handle the summer heat☀️? You know where to go! Visit us today to forget about the hoooooot weather! ❄️🍧 #cafeseolhwa #no1koreandessertcafe…..Photo credit to @cjnyanya ❤
There's really no need to look far and hard should you find yourself wanting to enjoy Korean-snacktime-staples because there's Cafe Seolhwa that will readily cater to your cravings.
If you are in the mood for some flavorful shaved ice, just remember that the shop's Mango Cheesecake Bingsu, Almond Brownie Bingsu, and Injeolmi Bingsu are not deemed as bestsellers for no reason.
Branches: The Forum, BGC; Watergarden Festival Mall; Noah's Place, Parañaque City
Facebook: facebook.com/seolhwabingsu
Price range: Php 210 to Php 380
Also read: Cafe Seol Hwa
Hobing Korean Dessert Cafe
you can enjoy this Salted Caramel Bingsu only at ❄️ Ayala malls The 30th in Ortigas❄️SM Marikina in Marikina…
A greatly visible testament to the quality of Hobing Korean Dessert Cafe's line of bingsu offerings might be the number of branches that grace almost every notable nook around Metro Manila—always present to pull you in delighting in some honest-to-goodness Korean grub.
And considering that their bingsu comes in a number of variants such as Kiwi Bingsu, Black Sesame Bingsu, Cheese Bingsu, and Salted Caramel Bingsu, it undoubtedly does most of the pulling.
Branches: Lucky Chinatown Mall, SM North Edsa, Banawe Lifestyle Center, Eastwood City Walk, Ayala Malls The 30th, SM Megamall, Glorietta 4, Jupiter St. Road Shop, Bonifacio Stopover, SM Aura, SM Marikina
Facebook: facebook.com/hobingkoreandessertcafe
Instagram: instagram.com/hobingkoreandessertcafe
Price range: Php 195 to Php 390
K Bingsu Cafe
38 degrees celsius outside? Take a break from the heat and eat our BUKO BINGSU! It will leave you feeling refreshed and happy!#bingsu#beattheheat #desserts#yummyph#wheninmanilafood
K Bingsu Cafe notably caters to events spearheaded by K-Pop fandoms here in the Philippines, where people who share a founded love for both Korean artists and bingsu convene. 
Among the cafe's offerings, be sure not to pass on their Buko Bingsu that is a pretty unusual variant!
Branches: Promenade Mall, Greenhills
Facebook: facebook.com/kbingsucafe
Instagram: instagram.com/kbingsucafeph
Price range: Php 200 to Php 395
Snow Panda 
With a variety of bingsu flavors that ooze with creamy delight, Snow Panda is a shaved ice place you would not want to simply pass by. This is especially applicable if you are a fan of anything taro-flavored because they serve bingsu in such flavor!
Notably, you may opt to take out your bingsu, and they will prepare it with some ice packs for utmost enjoyment even when eaten outside.
Branches: Ayala Malls Circuit, SM City Bicutan, SM Center Sangandaan
Facebook: facebook.com/snowpandaphilippines
Price range: Php 190 to Php 290
WooYoo!
What's in our premium milk frost? Try this perfect blend of milk frost, toppings, and pearls at WooYoo! – located at the Ground floor of Glorietta 3 activity center.

WooYooさんの投稿 2018年11月27日火曜日
When you can only spare an amount of time that is enough to purchase a bingsu excluding the time it requires for you to savor it, we recommend going to WooYoo!—a stall that readily provides an on-the-go shaved ice of your liking.
Available flavors include mango, strawberry, coffee jelly, and matcha. It is served on a cup, and you can even add toppings for just Php 10 per variant.
Branches: Glorietta 4 and Alabang Town Center
Facebook: facebook.com/WooYooPH
Price range: Php 95 to Php 120
Also read: Check Out These 6 Mango Desserts for A Sweet Treat
Which among these shaved ice places have you visited already? Share your experience in the comments below!
---
Photos used in the featured image courtesy of Cafe Seol Hwa and K Bingsu Cafe