Metrobank Art & Design Excellence Celebrates 35 Years of Fostering Filipino Creativity and Artistry
Metrobank Art & Design Excellence Celebrates 35 Years of Fostering Filipino Creativity and Artistry
The Metrobank Art & Design Excellence (MADE) awarding ceremony and exhibit opening was a night of honoring young Filipino artists and their contribution to the evolving art scene in the country, held last September 19, 2019 at Le Pavillon in Pasay City.
Metrobank Foundation, Inc. (MBFI) president Aniceto Sobrepeña in his welcome remarks explained how MADE became an extension of Metrobank's commitment to engage with communities, improve lives, and boost the economic growth of the country.
"Our founder Dr. George S.K. TY was not just a man who owned a bank, but an artisan of meaningful banking. He envisioned art as an asset to our democracy, and an important investment for economic development," Sobrepeña said.
This year, five artists were recognized for their beautifully executed artworks that carry a deeper meaning and commentary on today's societal woes and individual dilemmas. 
Jayme Emille Lucas, who hails from Tarlac, was the Grand Awardee on the Oil/Acrylic on Canvas Category with her work, Evanescing Lives from the Homeland.
The piece depicts three generations of farmers standing amidst stalks of sugarcane and displaying an almost provocative expression, as if ready to tell their plights to the viewers. 
Around them are apparitions of who might be those who came before them. The visual is deeply influenced by the kind of environment that the artist lives in and all other places she has been.
Evanescing Lives from the Homeland by Jayme Emille Lucas
The Grand Awardee for the Watermedia on Paper Category, on the other hand, is 23-year old Fine Arts graduate Christian Jame Maglente. 
His painting called Existence of Blue is a depiction of one of the pressing problems of the world that no one wants to talk about—depression.
A central figure is crouched on top of a pillar covered by a splatter of pigments, skulls, and skeletons, which may point to chaotic thoughts on life, death, and morality a person in a depressive state may have. 
There is also an occasional appearance of flames that one can take as both a sign of destruction or cleansing–like a phoenix rising from the fire. 
Overall, it tries to show the complexity of the struggle with the mind.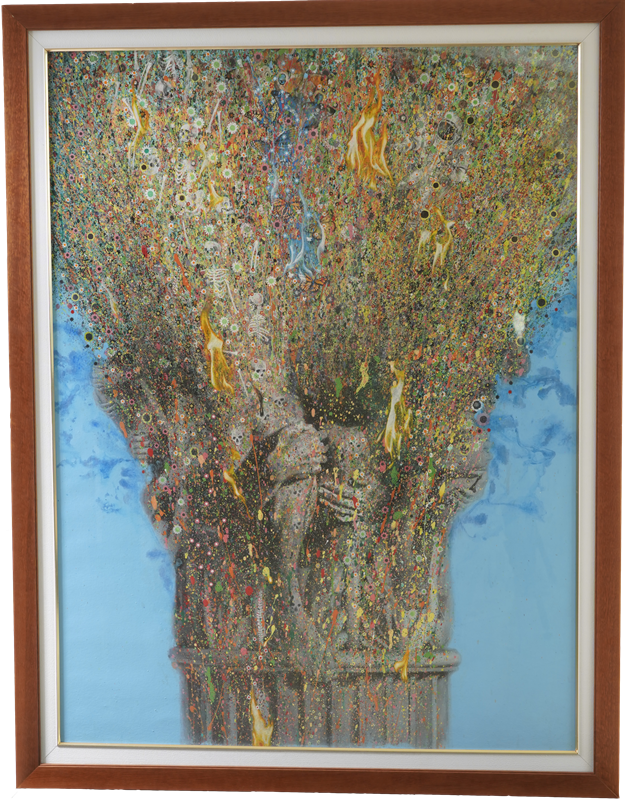 Existence of Blue by Christian Jame Maglente
Both Grand Awardees were given Php 500,000 worth of financial assistance and a "Mula" glass trophy designed by 2009 Metrobank Prize for Achievement in Sculpture (MPAS) awardee Noell El Farol.
Three other finalists were given Special Citations for their remarkable artworks.
25/7 by Christian Cedrick Dela Paz
Upuan by Dave Alcon
Walang Hihigit Pang Sandata by Arman Jay Arago
A distinguished board of judges headed by veteran artist Norberto "Peewee" Roldan determined this year's winners.
Another highlight of the event was the opening of the UNLEASH art exhibit. Artworks of this year's MADE semi-finalists and national finalists were showcased and up for sale during the exhibit.
Further, the night was dedicated to artistic performances by Daloy Dance Company as well as to commemorate MADE's colorful history for the past three decades.
MADE was founded back in 1984 by the late Metrobank Group founder and Chairman Dr. George S.K. Ty. 
By that time, the economic crisis and socio-political unrest consumed the nation, and Filipinos were in search of a source of meaning and hope. He saw art as a way for people to be heard aside from taking the advocacy to the streets. 
35 years after its foundation, MADE has awarded more than 400 Filipino artists.
---
Written by Teresa Gatmaitan