Cru Steakhouse Twists It up with Their New "Upside Down Dinner"
Manila Marriott's award-winning prime restaurant Cru Steakhouse twists it up a little with their new 4-course dining experience called the Upside Down Dinner. 
This unique dinner is set to confuse and excite its diners' palate as it breaks all the rules in the luxury of dining. Just imagine starting your dinner from the dessert, main course, soup, down to the appetizer. In short, it's dinner in reverse!
Your entire dining experience is well-orchestrated from the beginning to finish. From the time you enter the restaurant, you will be welcomed with a farewell gift—a box of handcrafted chocolate praline.
If it isn't weird enough, there are also two set-ups ready for diners, one is the standard Cru Steakhouse's table setting for those who will order only the a la carte dinner.
The Upside Down Dinner's slightly cluttered table set up
Meanwhile, the Upside Down Dinner setting comes with a clean yet a slightly cluttered table. This setup comes with a menu printed backward that can only be read through the reflection on the mirror.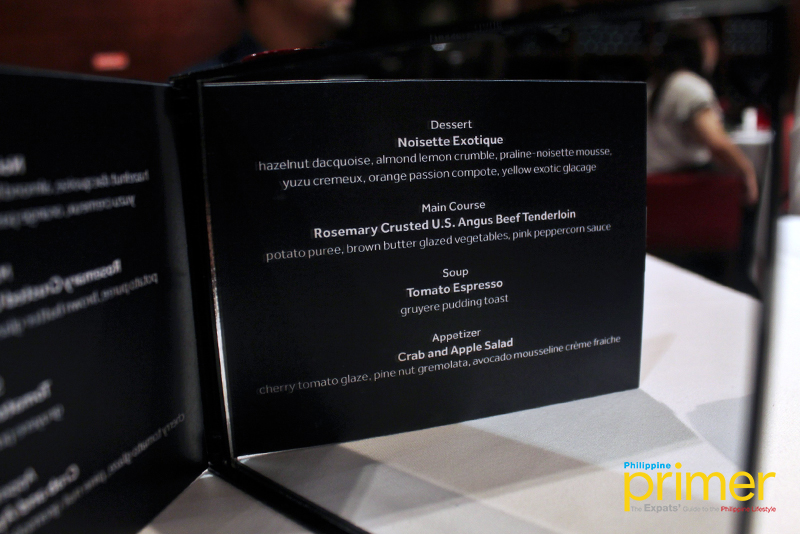 The Upside Down Dinner menu
Unlike a normal dinner, your bill comes first before everything else. Now, your topsy-turvy dinner begins!
You don't need to worry about losing your appetite with this unusual dining format. The sumptuous dishes will make you think twice (and your utensils busy) as you start with a sweet and tangy dessert! 
The Noisette Exotique, a dome-shaped hazelnut dacquoise covered with polished yellow exotic glacage, is as pleasing as it looks.
The raspberries, strawberries, and mango bits surrounding the cake add a bright citrus flavor to your palate, which goes perfectly well with the almond lemon crumble and sweetness of the praline-noisette mousse, yuzu cremeux, and orange passion compote inside.
Dessert: The Noisette Exotique
Don't get lost in your dessert yet because you'll surely find your eyes glued to the beautifully grilled Rosemary Crusted U.S. Angus Beef Tenderloin. A piece of this juicy steak smothered with light potato puree and peppercorn sauce is a flavor-packed bite!
However, if you're not fond of steak, you can opt for an equally flavorful alternative, the mild and succulent barramundi fish. 
Main course: Rosemary Crusted U.S. Angus Beef Tenderloin
Next to the main course is the Tomato Espresso, a warm soup served in a small cup replicating an espresso shot. It is served with a creamy and nutty gruyere pudding toast on the side—plus Cru's signature bread in tomato, spinach, and parmesan with herb butter and Davao cheese spread!
Soup: Tomato Espresso
If it was a normal dinner, everybody would say "Save some room for dessert!". Fortunately, with this unusual fare, it's "Save some room for an appetizer!".
The Crab and Apple Salad is a bite-size savory dish bursting with flavors. It is a cherry tomato stuffed with creamy crab salad served with pine nut gremolata, avocado mousseline, and crème Fraiche. 
Appetizer: The Crab and Apple Salad
To cap off your meal, the servers will introduce themselves to the guest—a cue that the Upside Down Dinner has come to an end.    
Isn't this bizarre dining concept interesting enough to spark your palate's curiosity? This 4-course meal is available at Cru Steakhouse in Marriott Manila for only Php 2,800 nett per person, every Thursday of July to December from 6 pm to 10:30 pm.
For more information, call them at 02-988-9999 or visit their website at www.manilamarriott.com. You may also follow their social media accounts on Facebook, Twitter, and Instagram.