Netflix Features Cebu Culinary Heroes in Street Food Asia
Netflix's newest docu-series called "Street Food Asia" is set to put a spotlight on the culture of street food across nine countries in Asia, including the Philippines' very own Cebu City.
On April 24, Netflix launched Street Food in Manila with an intimate salo-salo at Toyo Eatery bringing in Cebu's Culinary Heroes themselves to share their inspiring stories behind the popular dishes featured. 
Also read: Netflix's New Docu-series Features Cebu City's Popular Street Foods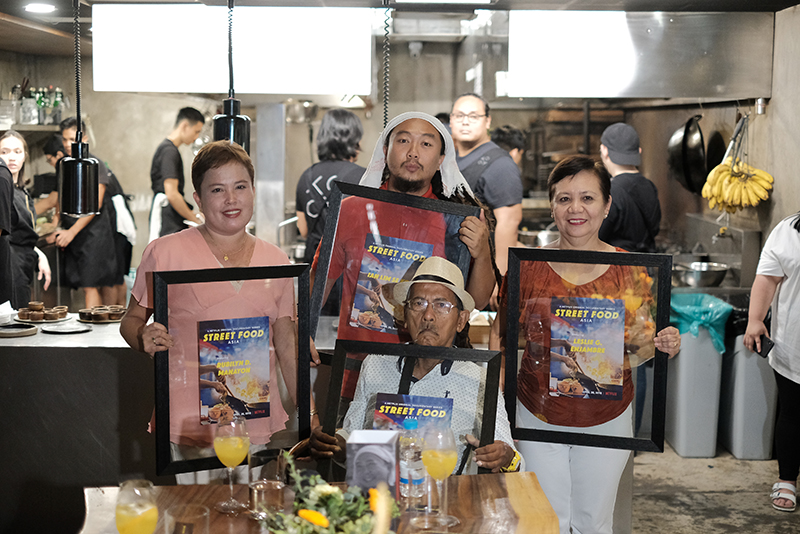 Leslie Enjambre, Ian Secong, Entoy Escabas, Rubilyn Marayon / IMAGE Netflix/Magic Liwanag
The four Cebuano culinary heroes collaborated with the young and passionate chefs from Toyo Eatery to create the special street food that has transformed the lives of their respective communities in Cebu.
Also read: Toyo Eatery Makes It to Asia's 50 Best Restaurants in 2019
Street Food Asia – Cebu City
For centuries, Cebu has been blessed with an abundant supply of the freshest seafood and produces from their mountains. But as a quarter of their population lives below the poverty line, it is a challenge for everyone to provide themselves the food to eat on a daily basis.
Thanks to Cebu's geographic location and their very own four culinary heroes, what was once a normal meal turned out into something extraordinary. Meet the culinary heroes below and their unique dishes that was given a different take by Toyo Eatery's young chefs!
Cebu's Culinary Heroes
Florencio "Entoy" Escabas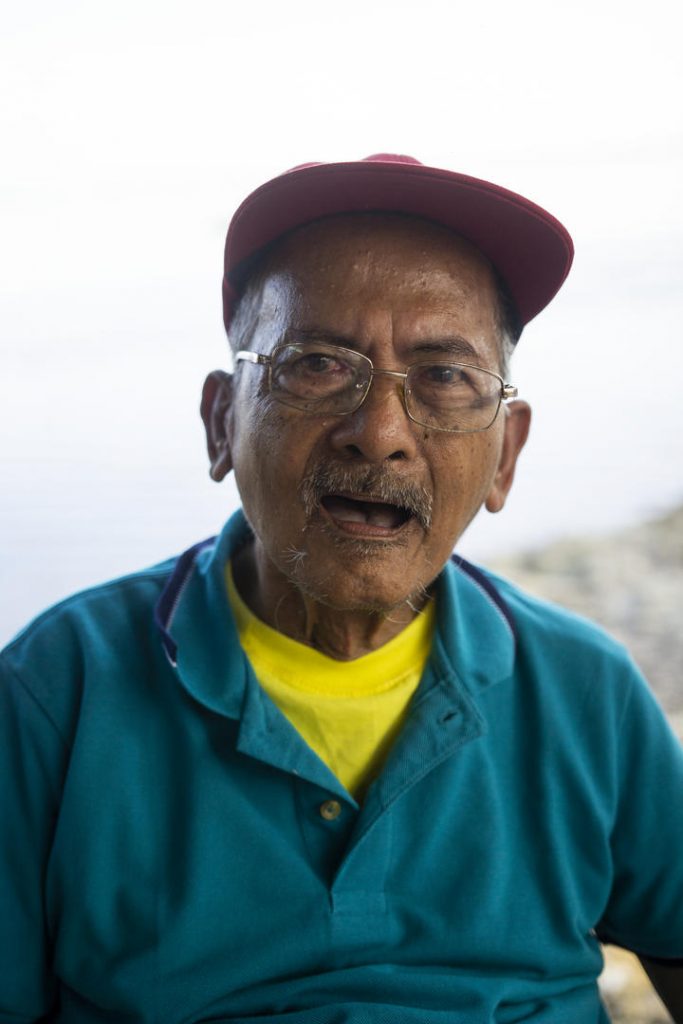 Since his community was one among who lives below the poverty line, his eatery helped not only his family but the community of fishermen as well, as he introduced "Nilarang Bakasi" or a soured stew made with reef eel.
At the Manila launch, Tatay Entoy's famous Nilarang Bakasi was given a different take by Toyo Eatery's Chefs. They served Sinugbang Hito with Sampaloc, kamias (bilimbi) and kamatis (tomatoes).
Toyo Eatery's own version of Nilarang is sinugbang hito with Sampaloc, kamias, and kamatis
They paired their version of Nilarang Bakasi with a dish that has been traditionally eaten for centuries called "Tuslob-Buwa" or a thick, bubbling gravy made with sautéed onions, garlic and pig brains. 
Ian Secong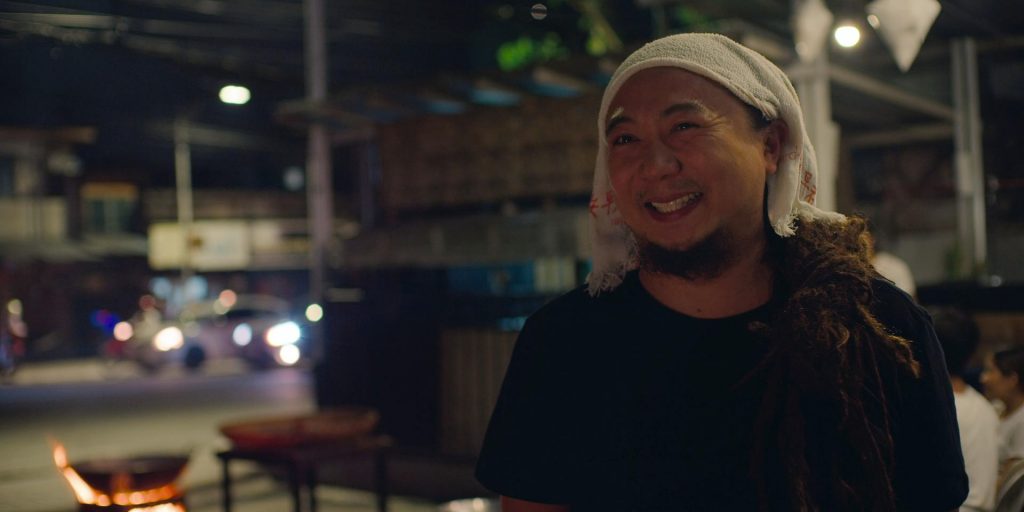 "Tuslob-Buwa" has been popular in Cebu for centuries especially to those who can't afford to buy meats and seafood. Since he wanted to continue the legacy of the dish, Ian Secong introduced this to the younger generation through a popular restaurant in Cebu called "Azul".
He even helped chefs from Toyo Eatery in creating their own version and incorporated the ingredients to fried sticky rice and stuffed it with pig's face and pork brain. It was served along with the Sinugbang Hito.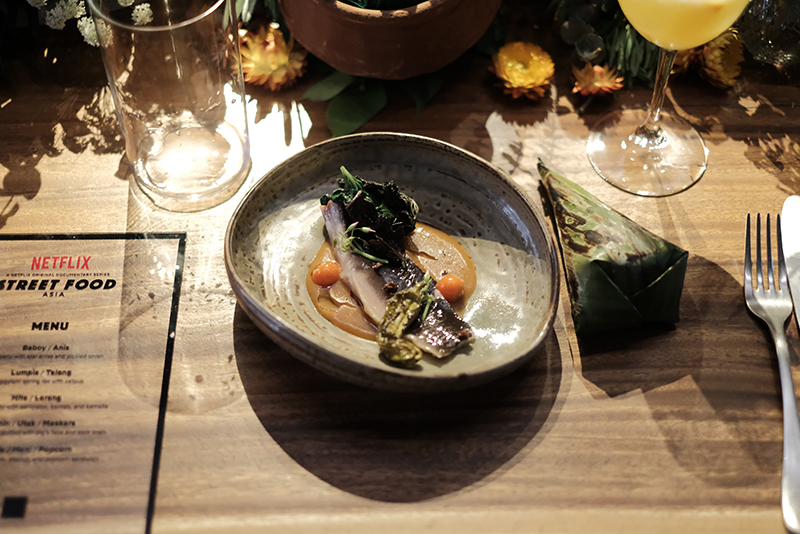 Kanin/Utak/Maskara or fried sticky rice stuffed with pig's face and pork brain/ IMAGE Magic Liwanag
Leslie Enjambre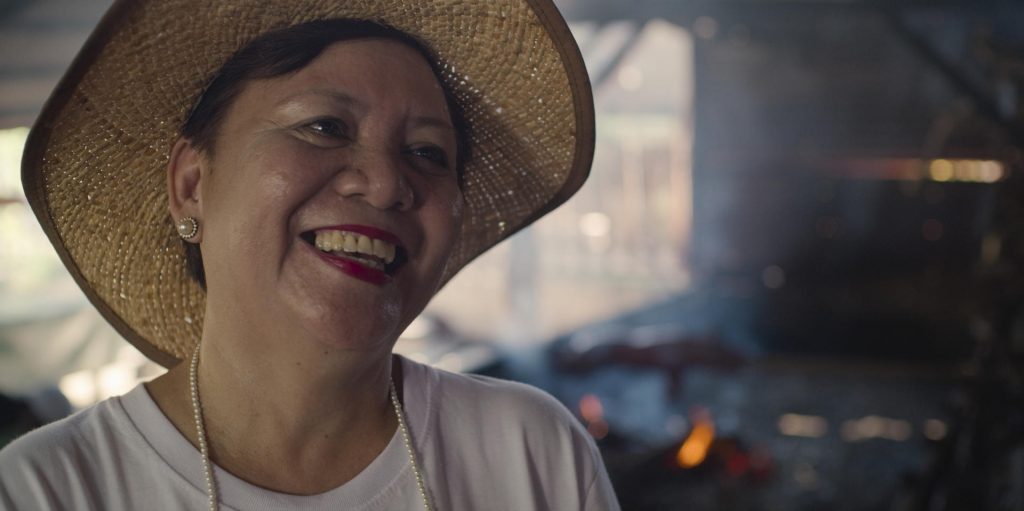 What is Cebu without the famous Lechon? Leslie Enjambre's grandmother was the one who started out the lechon business in Talisay and it has been passed down through the generations ever since.
With the supervision of Leslie herself, Toyo Eatery served a different take on their famed pork belly by adding star anise and pickled onion.
Baboy/Anis or pork belly with star anise and pickled onion
Rubilyn Diko Manayon
Meanwhile, it was the famous lumpia or Chinese-style spring rolls that helped Rubilyn Diko Manayon to support her family. She's been selling eighteen different dishes but Vegetable Lumpia is by far her most popular one.
Since Filipinos are fond of eating lumpia with ketchup, Toyo Eatery's version had the ketchup itself on the inside and wrapped the fried rolls with fresh lumpia wrapper and veggies.
Eggplant talong with catsup inside / IMAGE Netflix/Magic Liwanag
Ending the gastronomic delight and to pay homage to Filipino street foods, Toyo Eatery served guests an innovative take on the classic 'hopia mani popcorn' made up of Monggo ice cream, peanut, and popcorn sandwich.
Toyo Eatery's Monggo ice cream, peanut, and popcorn sandwich
Catch Netflix's Street Food Asia, as they explore the rich culture of street food, documenting blood, sweat, and tears invested to prepare such iconic dishes.
Season one premieres on April 26, with nine episodes featuring Thailand, Japan, India, Indonesia, Taiwan, South Korea, Vietnam, Singapore, and the Philippines. Episode 9 features Cebu's four hard-working culinary locals, their story, love, and passion for food.
Catch its premiere on April 26, 2019, at netflix.com/streetfood.
---
Featured image courtesy of Netflix.