Nikkei Rockwell's First Sake Fest: Sampling one of Japan's Best Sake
For their first sake sampling dinner held last March 26, 2019, Nikkei Rockwell and the Philippine Wine Merchants brought over sake from Hakkaisan, a wine brand originating from Japan's Niigata Prefecture.
Hakkaisan prides themselves on delivering the best products by using the best ingredients available. Hakkaisan aims to provide full-flavored sake that's also smooth so that it doesn't interfere or disturb the taste of the food that they are paired with.
Also Read: Nikkei Nama Bar in BGC Celebrates Japanese-Peruvian Culinary Sensation
Present during the event were PWM's Director of Marketing, Mr. Raymond Lim Joseph who held a small discussion regarding food, wine, and sake and Japanese Consultant Mr. Hiroaki Shibahara who discussed and presented the sake that accompanied each course.
Mr. Raymond Joseph
For their sake sampling, they partnered up with Nikkei Rockwell, a restaurant that already carries the Hakkaisan Seishu Classic and the Hakkaisan Tokubetsu Junmai, two of the sake included in the pairing menu. The sake is accompanied by some of Nikkei's delectable mainstay dishes.
The 4-course dinner began with Nikkei's Peruanito with the Hakkaisan Seishu Classic. The sake is Hakkaisan's entry-level sake that an alcohol content of 15.5%. The Hakkaisan Seishu Classic is one of the sakes that is readily available at Nikkei (Php 4,300/1.8 bottle; Php 550/180ML)and one of the Hakkaisan Sake that you can enjoy when you dine at the restaurant.
Also Read: Nikkei in Rockwell: Marriage of Japanese & Peruvian Cuisines
The second course features the Hakkaisan Tokubetsu Junmai paired with Kakiage Tempura. Tokubetsu Junmai also has 15.5% alcohol and is well-balanced and mellow, which also allows for the sake to be a perfect pair not just for Japanese food but also a variety of food from other cuisines. Tokubetsu Junmai (Php 2,350/720ML bottle) is also readily available at Nikkei.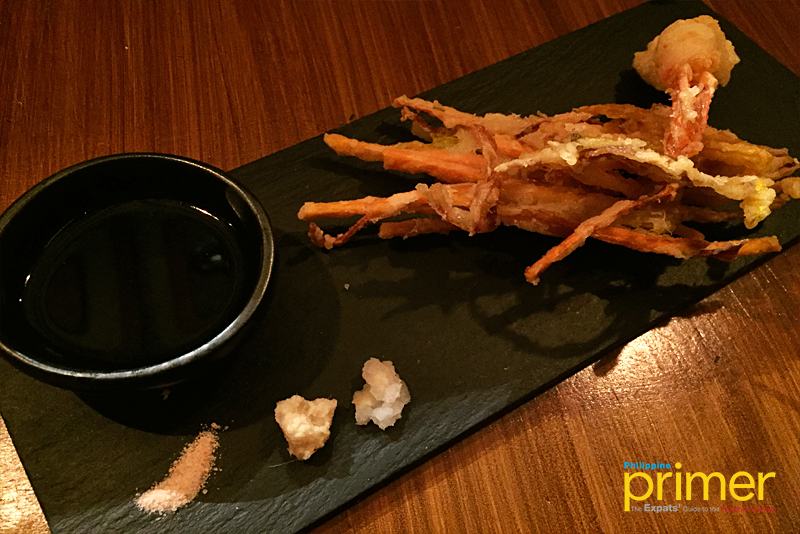 It's important to note that the translation for the term "Junmai" is "pure rice," thus, whenever the term Junmai is present, the only ingredients of the sake are rice, water, yeast, and koji – a mold that is propagated on rice grains which helps break up rice grain starch into sugar.
The third sake, the Hakkaisan Junmai Ginjo is paired with Seared Tune with Sea Urchin Risotto. Like the Seishu Classic and the Tokubetsu Junmai, the Junmai Ginjo has an alcohol content of 15.5%. It's a smooth and mild sake that stimulates the taste of rice.
The fourth course is the Miso Kurobuta accompanied by the Hakkaisan 3-Years Snow-Aged Sake. Hakkaisan, as previously mentioned, hails from the Niigata – a prefecture known for their snow. Thus, in order to make this sake, snow was stored inside an insulated warehouse where the sake can age at a constant temperature.
Also read: Nikkei Rockwell Sake Fest Offers a Treat This March 26!
The temperature helps the sake become very smooth. This sake is slightly stronger than the previous two with 17.0% alcohol content.
Lastly, for dessert, Matcha Truffle was served with Choya Umeshu that's made from Japanese plums. The Umeshu boasts a sweet taste that's the perfect end to a delectable dinner. It's also worth noting that the Matcha Truffle is an off-menu dish but will soon be made available at Nikkei.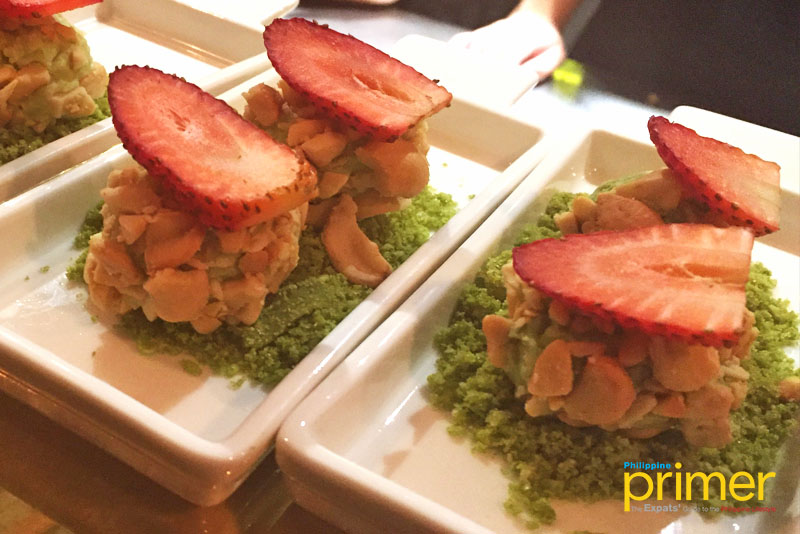 Matcha Truffle served with slices of strawberries on top
The sake for Nikkei's sampling was served in a wine glass as opposed to the original sake drinking cup. As explained by Mr. Shibahara and Mr. Joseph, the use of wine glasses allows the sake to fully express their aroma and flavors clearly as opposed to drinking cups.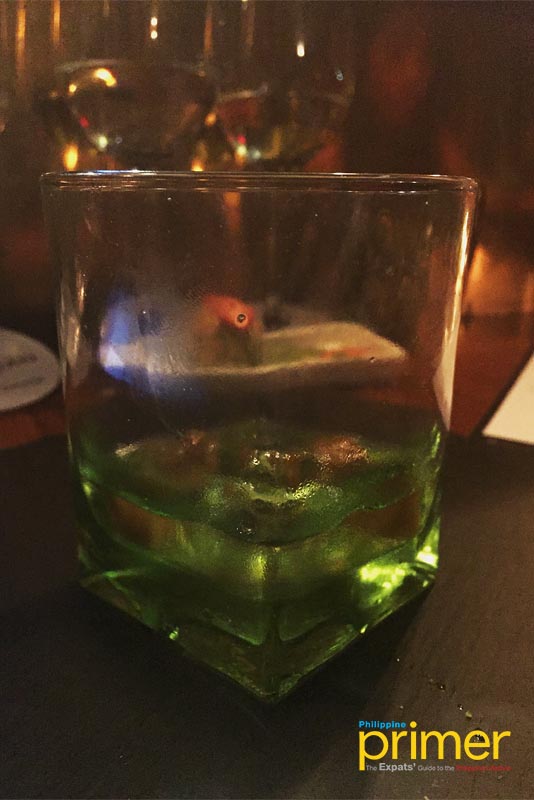 Choya Umeshu
Mr. Joseph also shared that, apart from Japanese dishes, sake can also be paired with food from different cuisine. He also described sake as a very versatile drink.
PWM's Director of Marketing, Mr. Raymond Lim Joseph  and Japanese Consultant Mr. Hiroaki Shibahara
Adding to that, the event was made so that people, who are normally intimidated by sake – can learn to appreciate it. Mr. Joseph explains that, in order to develop an appreciation for sake, one must start with entry-level sakes and climb the latter to get the best sake experience.
Hakkaisan Sake can be purchased in leading department stores and supermarkets. There are also a number of websites online that provide wine buying services.
For more information, you may contact Nikkei at 0927-273-0114 or 02-880-0231. You may also visit their official website. You may also visit Hakkaisan's official website to learn more about their sake. You may also refer to the Philippine Wine Merchant's official website.