Japanese Artist Shinji Ohmaki Unveils Gravity and Grace in Makati
Alongside the first day of the annual Philippine Art Fair, Japanese artist Shinji Ohmaki unveiled to the public his art, Gravity and Grace, in Makati City on February 22, Friday.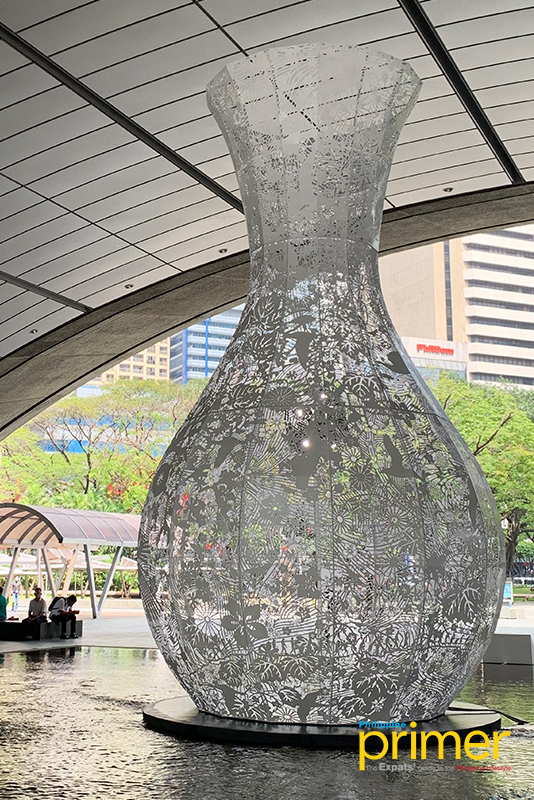 Shinji Ohmaki has been known to be an artist to play with space and materials
Gravity and Grace is an art installation made using iron, urethane paint, stainless steel, and LED lights. Shinji Ohmaki shared that he got the inspiration for the art from the Fukushima events in 2011. The work took four to five years to be completed, beginning from the day he thought of the concept.
The art piece aims to depict the relationship between human and nature. Its vase-like shape is made from white steel surrounded with cutouts of different symbols associated with nature and even of the continents of the world. When illuminated, the cutouts form silhouettes as if retelling the history of humankind through their shadows.
Also read: 5 Things to Expect at the Art Fair Philippines 2019
A close-up look on the intricate design of Gravity and Grace
Its launch was attended by the artist himself, Shinji Ohmaki, members of the Art Fair, and the management of Ayala Land headed by their Chairman Fernando Zobel de Ayala.
Shinji Ohmaki with Chairman Fernando Zobel de Ayala
Also present were artists Olivia D'Aboville and Neil Oshima who talked about their installation Plastics in Our Oceans. The art aims to bring into attention how people abuse the use of plastic. It has two versions one located in Greenbelt and one at the bridgeway connecting Landmark and The Link Carpark.
Also read: Here Are the Must-See Artworks at the Art Fair Philippines 2019
Shinji Ohmaki (middle) with Olivia D'Aboville and Neil Oshima (right) joined with Ayala Land Head of Marketing for Corporate Brand and Strategic Landbank Management Cathy Bengzon (left)
The Gravity and Grace art installation can be viewed until March 13 at the fountain area of Tower One and Exchange Plaza in Ayala Avenue in Makati City.