City of Dreams Offers Stunning Promos for the Chinese New Year
Chinese New Year is almost here, and you're probably wondering where to celebrate.
Well, City of Dreams Manila participates with the annual celebration of the Year of the Earth Pig by unloading a barrage of activities, which will be held along The Shops at the Boulevard, and offering new menu specialties, specifically from ace restaurants, Crystal Dragon and Red Ginger.
Crystal Dragon Promos
The Chinese restaurants will serve mouthwatering specialty menus available for lunch starting at 12 p.m. to 3 p.m. and dinner from 6 p.m. to 11 p.m. spanning from January 25 until February 19, 2019.
Yu Sheng exudes the symbolic Chinese philosophies in Chinese celebrations. It has been said to come from the Cantonese phrase that means "tossing up the good fortune"—to make it more exciting, it was given a fruity twist.
Yu Sheng will be available in medium for Php 1,350 and large for Php 2,700.
Also read: Starbucks Welcomes 2019 with New Drinks and Chinese New Year Collection
Yu Sheng salad
An ever-present eats during Chinese New Year, the Nian Gao (Php 480) or locally known as "Tikoy" is a sticky and sweet delicacy composed from glutinous rice flour that is said to symbolize unity and togetherness.
Steamed trio combination Nian Gao (Php 480)
Give the appetizing Shredded Roasted Duck with Fresh Fruit Salad and Dressing a try! This dish is available in medium for Php 1,280 and large for Php 2,380.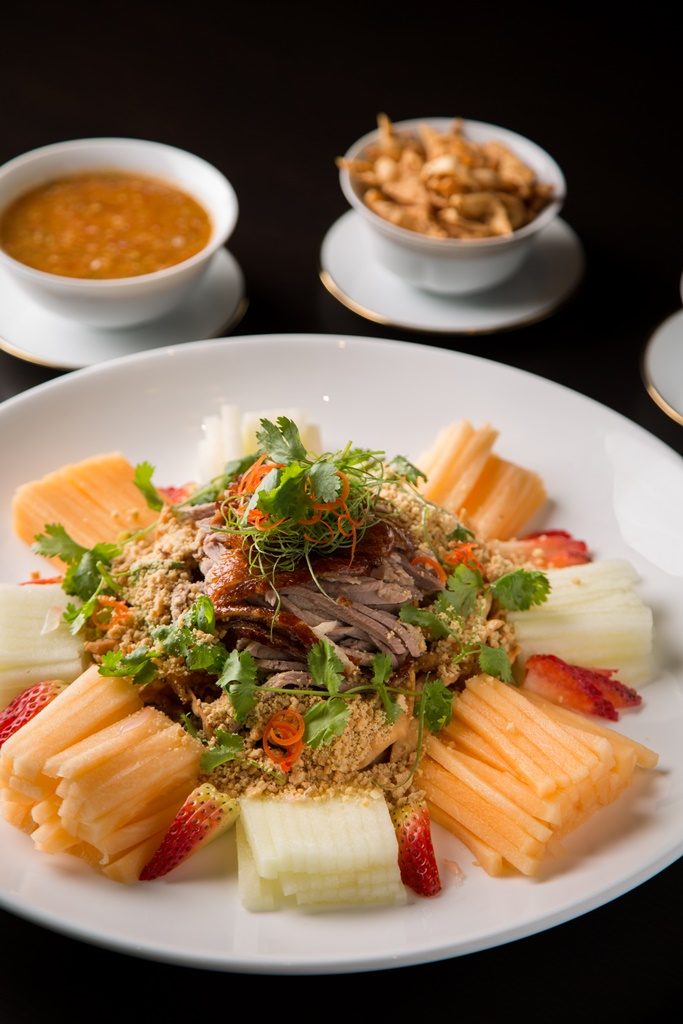 Shredded Roasted Duck with Fresh Fruit Salad and Dressing
For an elite taste, the Oven-baked Marinated Cod Fish Fillet with Fragrant Golden Garlic (Php 2,280) will not fail you.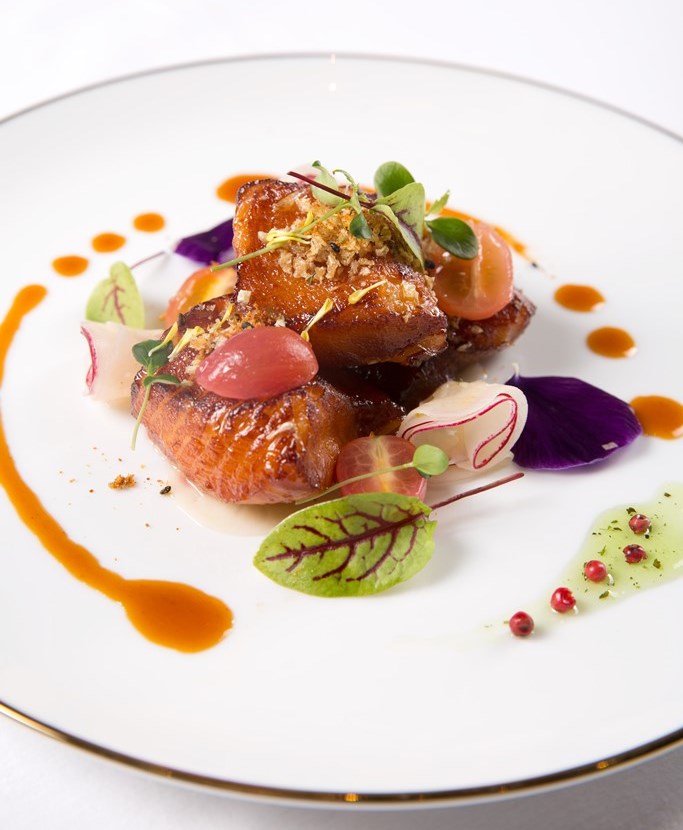 Oven-Baked Marinated Cod Fish Fillet with Fragrant Golden Garlic
If you are dining with a bigger group, the six-course Happiness Set Menu (Php 3,880/person) will surely satisfy your cravings. The set menu includes specialties such as Braised Sea Treasure Brith with Fish Maw and Wok-Fried Fragrant Wild Rice with Sweet Corn and Assorted Nuts.
Meanwhile, for an upscale choice, the seven-course Magnificent Set Menu (Php  6,880) comprised of Oven-baked Marinated Cod Fish Fillet with Fragrant golden garlic, and Poached Hand-pulled Noodles with Spicy Minced Pork and Mushroom should be your pick.
Both menus will be served with a variation of Yu Shen salad, Poon Choi dishes, Sauteed Celery with Lotus Root and Preserved Meat, and Steamed Trio Combination, Nian Gao.
The Shredded Roasted Duck, Yu Shen, and the Stewed Tiger Prawn Poon Choi are available for the Happiness Set Menu, while the Prosperity Abalone, Yu Shen, and Stewed Abalone Poon Choi are complimentary for the Magnificent Set Menu.
Red Ginger Promos
Savor the Lunar Festive Menu at Red Ginger for the whole month of February, which consists of Ginger Poached Chicken with Spring Onion Oil, Braised Pork Pata with Sotanghon and Baby Bokchoy, Tiger Prawn with Butter Pumpkin Curry Sauce, Black Pepper Flower Crab with Winter Melon, and Claypot Pla Pla Fish with Chestnut and Taro. Each is priced at Php 888.
For salad-lovers, you may order Yu Shen salad made up of salmon, shredded vegetables, kaffir lime leaves, pomelo, crushed peanuts, and calamansi plum sauce for Php 188 from February 5 to 7. Get an additional special offer of a Mini Yu Sheng for Php 128 whenever you order a dish from the Festive Lunar Menu!
Activity Area in front of Cafe Society
From February 8 until 10, the activity area in front of Cafe Society will be swarmed by good future and delight-related recreation, such as fortune tellers every 3 p.m. to 8 p.m. and the God of Fortune mascot's appearance every 2:30 p.m. to 8 p.m.
There will also be entertainment such as the Chinese cultural performances at 4:20 p.m. and 6:25 p.m.
The management advised participating guests to present their Dream Rewards membership upon registration, while non-members may sign-up for free at the Dream Rewards counter located at the ground floor.
Note that the schedules are subject to change without prior notice.
Gong Xi Fa Cai! Celebrate Chinese New Year with City of Dream's amazing promos!
Also read: AffiniTea Races' Chinese New Year Lucky Run 2019 is Happening this February 5
For inquiries or registration, you may reach City of Dreams at 02-800-8080 or e-mail them at guestservices@cod-manila.com. You can also visit their website.
---
This is a press release. Minor edits were made prior to publishing.
Images courtesy of City of Dreams.