Brera Delicatessen to Offer Isola Augusta Wines Soon
Italians surely love their wines, but more than that, they are also the world's biggest producer of wines and native grapes.
In Brera Delicatessen, anyone can enjoy Salvano wines from North-Eastern Italy, but starting next week, they will also serve special Isola Augusta wines from North-West of Italy.
The wide selection Salvano wines at Brera Delicatessen include white, red, and classic Italian wines
Isola Augusta wines contain grapes that are grown from a strong and rare clay soil, which gives the vines particular characteristics.
There are only small batches of wine produced, and luckily, the Philippines will soon have these at Brera Delicatessen.
Also read: Brera Delicatessen in Alabang
To celebrate the incoming wine label, Brera allowed us to taste Salvano wines from Piedmont, Northern Italy. They introduced us to their white, red, and classic wines as there is no other way to understand wine other than to taste and drink.
Understanding wine through taste is a simple matter that Brera understands, and they let customers taste the wine before purchasing
First, we must take note of the wine's color. White wines could be light yellow, full-bodied golden, or brown for old wines, while red wines could be transparent red, full-bodied opaque, or dull red-orange for old wines.
Also read: The Wine Guide For Every Occasion in Manila
Next is to stick your nose all the way into the glass to smell the unique scent. It is said that the smell will prepare your brain for the wine flavor that is about to be tasted.
White wines tend to be fruity and tropical, while red wines may have the smell of berries or soil.
Cheers! The celebration of wine is best with friends
Finally, it's time to taste the wine. This is very personal as wine, for many, is an acquired taste, which means that people grow into it after drinking continuously. The Gavi white wine and the Fosco red wine stood out.
The king and queen of wines were also introduced. These are two of the most important Italian wines: the feminine Barbaresco has a gentle mouthfeel and velvety taste making it the queen; while the king Barolo is fruity, complex, and strong great for spicy dishes and cheese.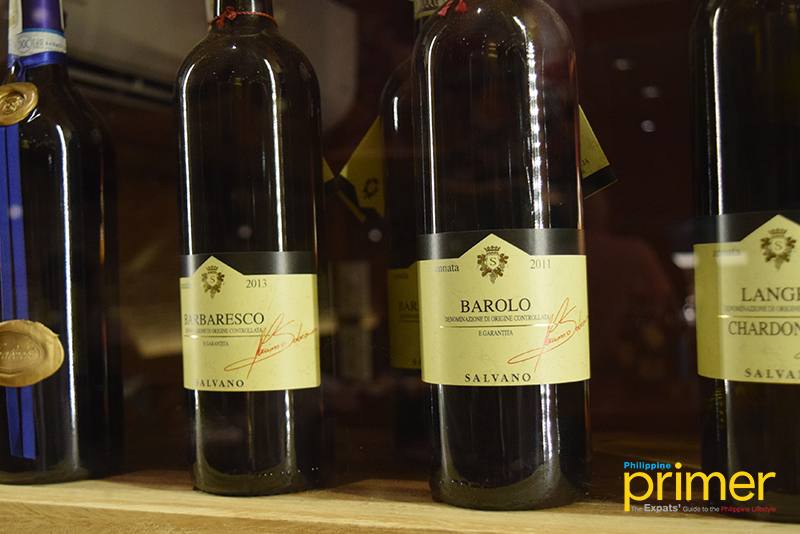 From left, Barbaresco the queen and Barolo the king of wine are two of the most important Italian wine.
While waiting for the release of the new wine label, why not head to Brera and taste premium wines? It's one of the perfect spots for a fancy restaurant date this holiday!