World Bazaar Festival Celebrates Their 18th Year!
The country's longest-running, annual charity bazaar returns for their 18th year!
World Bazaar Festival (WBF) returns for another fantastic year as it runs from December 12 to 22, 2018 at The World Trade Center Manila, Pasay City.
The bazaar officially opened last December 12, 2018, where a grand opening ceremony was held at the lobby of the World Trade Center.
Also read: What to Expect at the 18th World Bazaar Festival 2018
Among the personalities present at the ceremony were the Department of Social Welfare and Development (DSWD) Assistant Secretary Glenda Relova, Justine Brownlee, and Renaldo-Balkman.
Filipino celebrities such as PhoemeLa Baranda, Miles Ocampo, Dimples Romana, and Toni Gonzaga also graced the ceremony along with Worldbex Services International's Founding Chairman Mr. Joseph Ang, Co-Founder Levi S. Ang, Managing Director Jill Aithnee Ang, and key officers Rene Ramos and Tessie Roque.
IMAGE Worldbex Services International
WBF has always succeeded in giving their guests a spectacular holiday show.
For their 18th year, the bazaar draws their inspiration from genuine and unfiltered memories of holidays from the past to present a "Boogie Woobie" Christmas–a celebration that is retro-inspired, inviting everyone to take part in a holiday shindig that is groovy and nostalgia-infused.
Bazaar goers will be impressed by the variety of shopping finds and gift ideas that are present at WBF 2018, apart from the holiday decorations inside the bazaar halls, of course. About 800 booths feature top brands, local makers, and even foreign retailers.
Also read: World Bazaar Festival 2018 Is the Place to Find the Best Gift Ideas for Everyone!
Feast your eyes at the Designers' Avenue, where a wide array of branded apparel and accessories at affordable prices await you. There is also a holiday edition of Bloggers United, where fans of the Metro's top fashion and beauty bloggers can meet and shop at their idols' closets.
Local celebrities set up their own booths to sell new products and their pre-loved clothes and belongings at the bazaar's Celebrity Pavilion. Aside from exclusive finds, fans can also get up close and personal with their favorite celebrities.
Other bazaar zones that you wouldn't want to miss out on include the Christmas Village, BFAR, and the Department of Agriculture Pavilion.
Shopping aside, the holidays won't be complete without music and some festivities! Bazaar goes can enjoy family-centered events that will be held throughout the event period such as competitions, Christmas carols, and Himig ng Pasko.
Bazaar goers can recharge and unwind with mouthwatering food choices and drinks at Woobie's Food World after a day of shopping. Don't forget to drop by Woobie's Goodies where a wide array of holiday sweets and treats await you!
Also read: Satisfy The Foodie in You at the World Bazaar Festival 2018 This December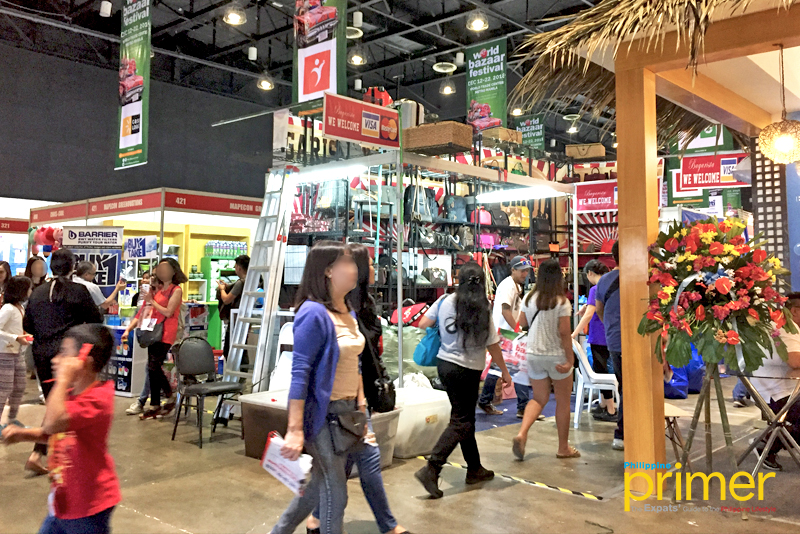 The World Bazaar Festival 2018 is organized by Worldbex Services International and is presented in partnership with ABS-CBN. The bazaar is for the benefit of ABS-CBN's Lingkod Kapamilya Foundation.
WBF runs from December 12 to 22, 2018 at the World Trade Center Manila. It runs from 12 n.n. to 10 p.m. on Sundays to Thursdays and 10 a.m. to 12 m.n. on Fridays to Saturdays.
What are you waiting for? Head on to the World Bazaar Festival for a Christmas celebration like no other–it's undoubtedly the most phenomenal one-stop shop for your holiday needs!
Also read: Complete Your 2018 Christmas Shopping with These Holiday Bazaars in the Metro
For more information, you may check out the World Bazaar Festival's Facebook and Instagram. You may also call 02-656-9239, or e-mail them at inquire@worldbexevents.com.
---
This is a press release. Minor edits were made prior to publishing.