What to Expect at the 18th World Bazaar Festival 2018
The country's longest running annual charity bazaar, World Bazaar Festival, is back on its 18th year, showcasing a cool, retro-themed ambiance to embrace you with nostalgic memories!
Last year's WBF was hailed by more than 250,000 visitors from all over the country
The World Bazaar Festival is opening on December 12 to 22, 2018 from Sunday to Thursday (12 n.n. to 10 p.m.) and Friday to Saturday (10 a.m. to 12 m.n) at the World Trade Center Manila.
Also read: World Bazaar Festival Is Back for Its 18th Year This December
Shoppers can expect more than 800 booths by both local and foreign exhibitors from Thailand, Singapore, and India. But that's not all of it as there will also be specialized shopping sites namely Designers Avenue, the Christmas Village, and the Department of Agriculture Pavilion.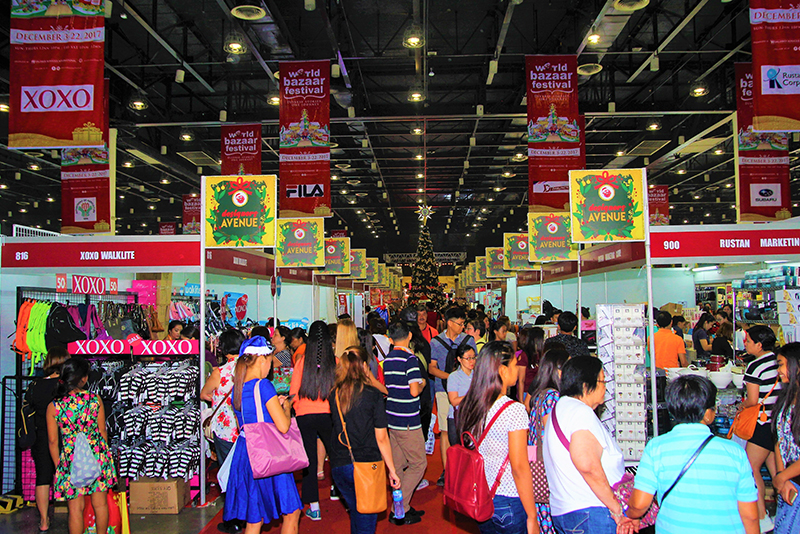 Christmas couldn't be more exciting as the World Bazaar Festival returns for another unforgettable shopping experience
And of course, the kids are meant to tickle our hearts again this year with the annual Woobie's Kid Idol Competition happening on December 15! Kids at heart can also expect your favorite Filipino treats like Chocovron, Poland Hopia, Tita Ely's products, and so much more at Woobie's Goodies.
A various mix of clothes, accessories and more can be found in this year's World Bazaar Festival
Shop your favorite celebrity's closet at the Celebrity Pavilion, where you can also meet them! Aside from the celebrities, get a chance to meet some of the country's top fashion and beauty bloggers at the Bloggers United on December 15, wherein you can also score stylish yet affordable finds from these popular influencers.
For pet lovers out there, there will be a series of pet-centered events on December 15, so be sure to dress your pets up to win exciting prizes at the 12 Dogs of Christmas. There's also the one-day shopping event, Woobie's Pet Expo, wherein you can score goodies for your fur babies.
Dress up with your dogs and join this year's 12 Dogs of Christmas only in the World Bazaar Festival
After a whole day of shopping, you may visit the Woobie's Food World to finally relax and fill your tummies up with a diverse selection of food from Yellow Mango, World of Fries, Snowcone, McDonald's, King Sue, Sushie Kenzie, Chops to Go, and so much more.
Plus, the holiday season will not be complete without any Christmas songs to make you hum and dance to the beat. Throughout the 10-day bazaar, there will be a Street Dance Competition on December 16, the Himig ng Pasko choir singing competition on December 20, and the Christmas Carol with the Angels singing charity event.
The World Bazaar Festival, as it has always done, offers visitors a chance to participate in humble acts of charity for the benefit of the ABS-CBN Lingkod Kapamilya Foundation.
For more information, follow World Bazaar Festival on Facebook and @worldbazaarfestival on Instagram, or go to www.worldbazaarfestival.com.
---
This is a press release. Minor edits were made prior to publishing.
Images courtesy of Worldbex Services International.