The Seasons Residences and Mistsukoshi Mall: A Prime Japan Living Soon to Open in BGC
Japan is known for its world-class technology and design innovations that are both functional and simply elegant. The country's unique culture and way of living drove many people to visit just to experience such a lifestyle.
But now, one doesn't have to travel to Japan to get a grasp of their lifestyle as a new residential tower will soon rise in Taguig City's prime business district.
Federal Land Inc., together with two of Japan's biggest real estate and retail industries namely Nomura Real Estate Development and Isetan Mitsukoshi Holdings Inc., recently launched The Seasons Residences, an integrated lifestyle center and residential tower inspired by the Japanese way of living, last November 23, 2018 in Bonifacio Global City.
Nomura State Development Inc. Chairman Mr. Eiji Kutsukake (third from the left), Federal Land Inc. Chairman Mr. Alfred Ty (center), Japanese Ambassador to the Philippines Koji Haneda (third from the right), and President/CEO of Isetan Mitsukoshi Holdings Ltd. shares a toast as they inaugurate the launch of The Seasons Residences
The Seasons Residence, formerly known as the Sunshine Fort, is the newest residential and lifestyle complex designed to set the standard in the way of living in the metro. This joint venture project incorporates the timeless Filipino hospitality with the Japanese innovative technology to bring a piece of home from Japan to the Philippines.
The Residential Towers
There will be four residential towers designed after the four seasons in Japan – Haru or Spring, Natsu or Summer, Aki or Autumn, and Fuyu or Winter. Each tower channels Japan's deep respect for nature with amenities that fit different lifestyles.
Also read: Federal Land, Japanese firms bring Japanese living to BGC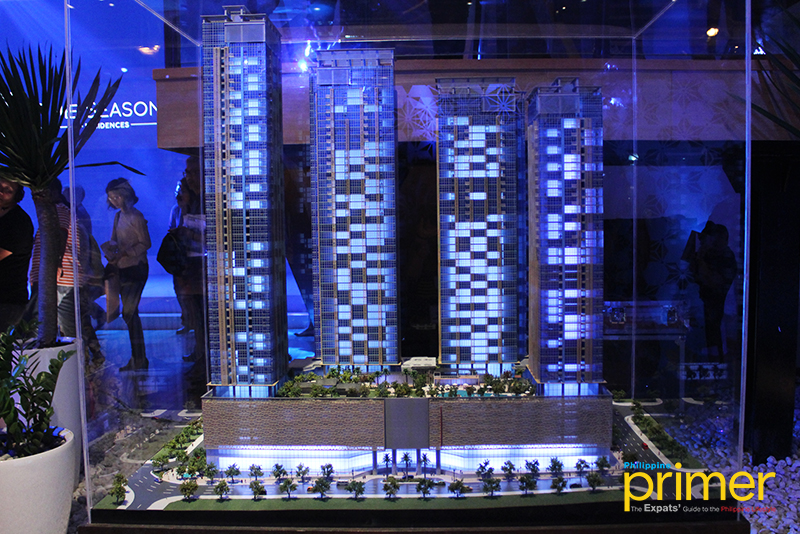 The Seasons Residences 3-D building model shows the four residential towers above the Mitsukoshi Mall
The Haru/Spring tower houses facilities for an active lifestyle, such as an indoor gym and a zen garden perfect for family picnics and meditations.
Meanwhile, The Natsu/Summer tower is where relaxation and entertainment happens. Its amenities include pools for the kids and adults, a karaoke station, a game room, and a function room available for family gatherings and occasions.
The Aki/Autumn tower, on the other hand, is the right place for the creative ones where a business center and a music studio are located, providing an avenue for residents to be more creative and productive.
Lastly, the Fuyu/Winter tower lets you indulge in a refreshing experience to soothe the mind and body with their Japanese hot spring inspired spa.
Another unique feature of The Seasons Residences is the Guest House. This Japanese-inspired tea area located at the amenity deck has a spacious bedroom where guests of unit owners can also relax.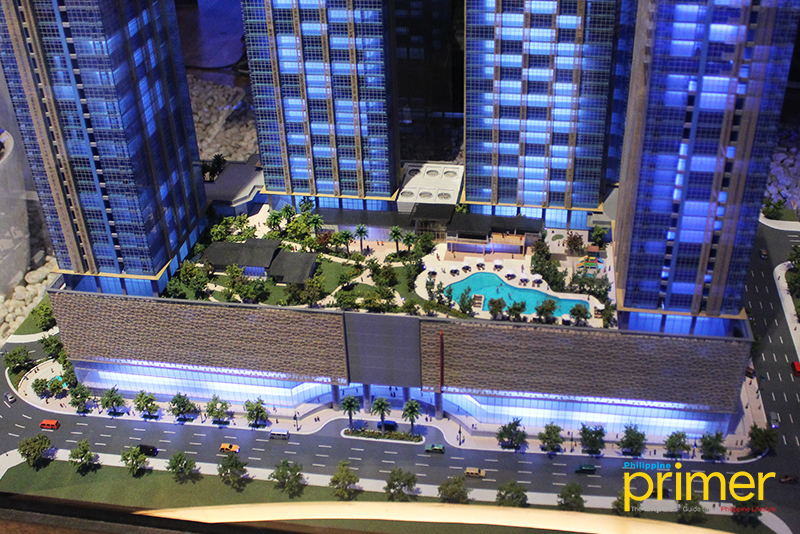 The Zen garden, adult pool, and guest house located at the amenity deck
What makes The Seasons Residences unique is the overall design that exudes sophistication and simplicity of the Japanese lifestyle.
While it reflects the harmonious balance between Japanese technology, architecture, and Filipino hospitality, it aims to introduce a convenient, eco-friendly, stylish, and safe residential area by using Japan's state-of-the-art technology such as a damper system, an earthquake vibration control technology from Japan which can help tall towers withstand natural calamities such as earthquakes and strong winds, a key card system for elevators and main doors, and sunken slabs for a convenient plumbing maintenance.
The Master's bedroom of the 3-bedroom suite
Also read: New mall and condo complex to rise in BGC
The Haru Tower, which has a total of 304 units ranging from 1-bedroom to 3-bedroom suites, will be the first tower to open to the public and is expected to be complete by 2023.
Each unit's bathroom is equipped with sunken slabs for a convenient plumbing maintenance
The Podium: Philippine's first Mitsukoshi Mall
Beneath the Japanese-inspired condominiums is the podium where the country's first Mitsukoshi Mall will be situated. This well-known Japanese department store will bring a unique shopping experience for Filipinos as they showcase a carefully curated selection of stores and restaurants.
Also read: Japanese department store brand Isetan Mitsukoshi eyes opening a store in PH
FIRST IN THE PHILIPPINES, A JAPANESE INSPIRED MALL AND RESIDENTIAL TOWERS

Federal Land, together with its partners, Nomura Real Estate and Isetan Mitsukoshi will bring the best of Japan here in the Philippines. The Japanese-inspired integrated community will come to life within the sprawling 10-hectare Grand Central Park in Bonifacio Global City. The Seasons Residences is the perfect fusion of Japanese ingenuity and modern luxuries. This is the first Japanese-inspired condominium in the Philippines. The first tower of The Seasons Residences, Haru, will have 304 distinct units measuring 45 square meters up to 345 square meters.#SunshineFort #GrandCentralPark #BonifacioGlobalCity #BGC #HaruTower #Sophisticated #HighEnd #PreSelling

The Seasons Residences – Sunshine Fort, Bonifacio Global Cityさんの投稿 2018年10月30日火曜日
Mitsukoshi Mall sets itself apart from other malls in the metro because most of their brands are Japanese homegrown products that cannot be found in any other place in the country.
As the first mall of its kind in the Philippines, expect a wide range of international cosmetics, fragrance, and clothing brands, plus the anticipated restaurants and signature supermarket that will elevate every Filipino's shopping experience. Mitsukoshi Mall is set to open in the year 2021.
Also read: BGC Bus Routes and Schedule Changes with the New One-Way Scheme
For more information, you can visit The Seasons Residences Showroom and have a walkthrough on the available units located at 7th Ave. Corner 34th st., Grand Central Park, North BGC, Taguig City, or visit their website at www.federalland.ph.
---
Written by Deneca Ordinanza