Fukudaya in BGC Now Offers Hearty Breakfast Eats
Fukudaya at Arya Residences in Taguig has been bringing authentic Japanese staple to every palate since it formally opened its first branch in the country.
And as a home of Japanese comfort food, Fukudaya now serves Japanese breakfast every Saturday and Sunday, from 7:00 a.m. to 10:00 a.m, aiming to completely provide the modern Japanese dining experience.
Also read: Fukudaya Is Where You Can Experience Authentic Omakase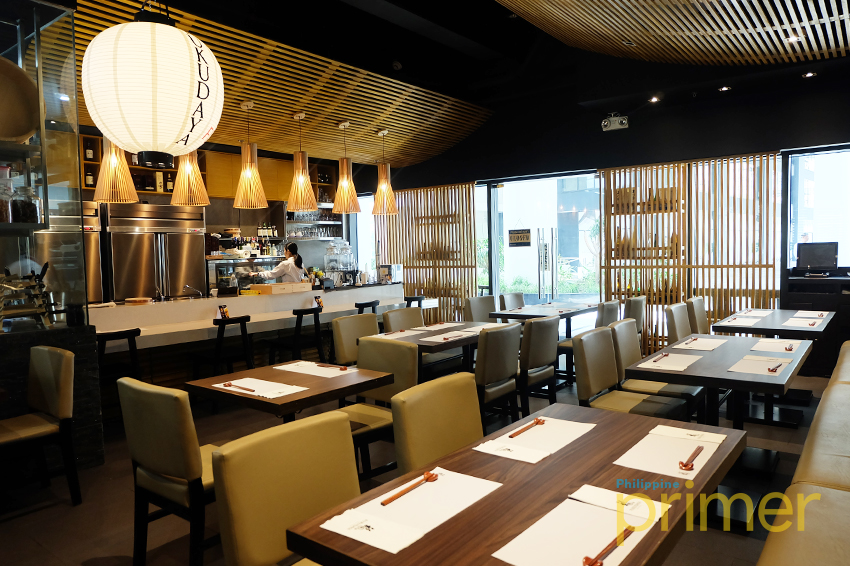 Fukudaya sports modish interiors with laid-back ambiance 
Before embarking on your daily tasks, treat yourself first with these Japanese breakfast treats that will surely satisfy your morning cravings. Try the Mushroom "Zousui" (Php 300) which is a porridge with mushrooms, rice, and wakame spring onions in Dashi soup with salted plum and shredded seaweed.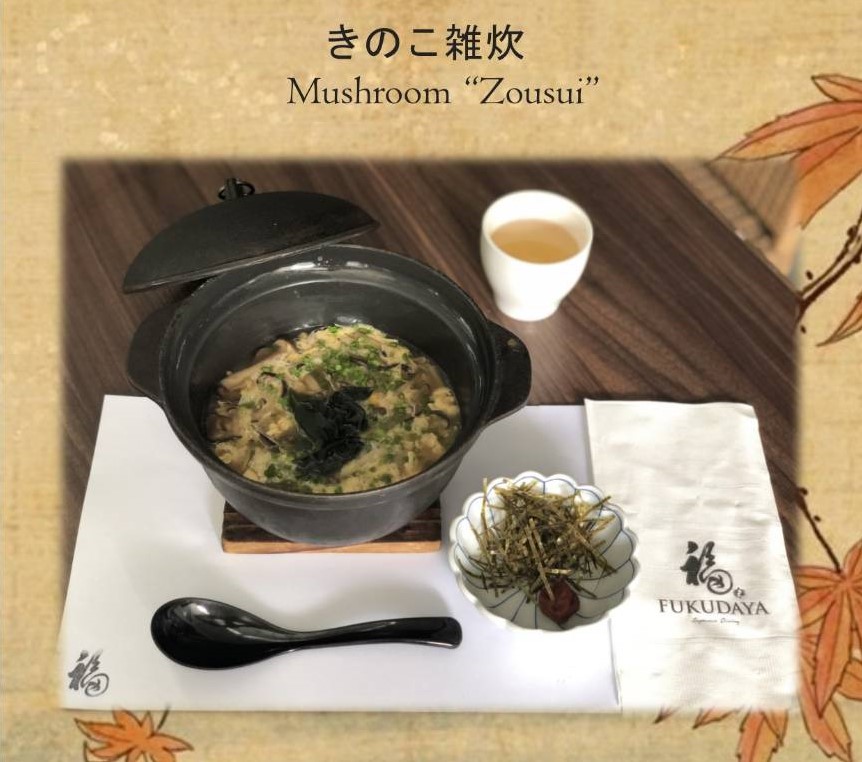 Mushroom "Zousui" (Php 300)
The Temkasu Onigiri (Php 200) might also work wonders to your appetite. It is a serving of temkasu with seaweed, sesame, and Dashi soy sauce mixed in rice ball. This is also served with hot tea and miso soup.
Temkasu Onigiri (Php 200)
If you want a meaty breakfast, go for the Fukudaya Asa Gozen (Php 450), which is a teriyaki chicken with two kinds of appetizer, pickles, tamagoyaki, and rice ball, served with hot tea and miso soup. At the same price, the Fukudaya Asa Gozen (fish) can be ordered with grilled mackerel instead of chicken.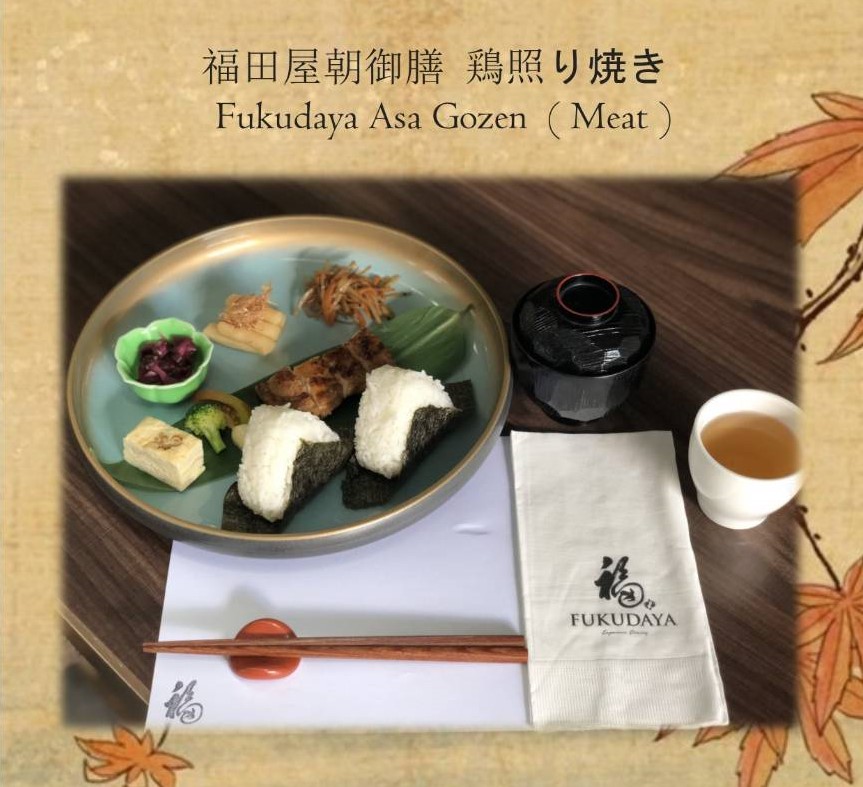 Fukudaya Asa Gozen (Meat) (Php 450)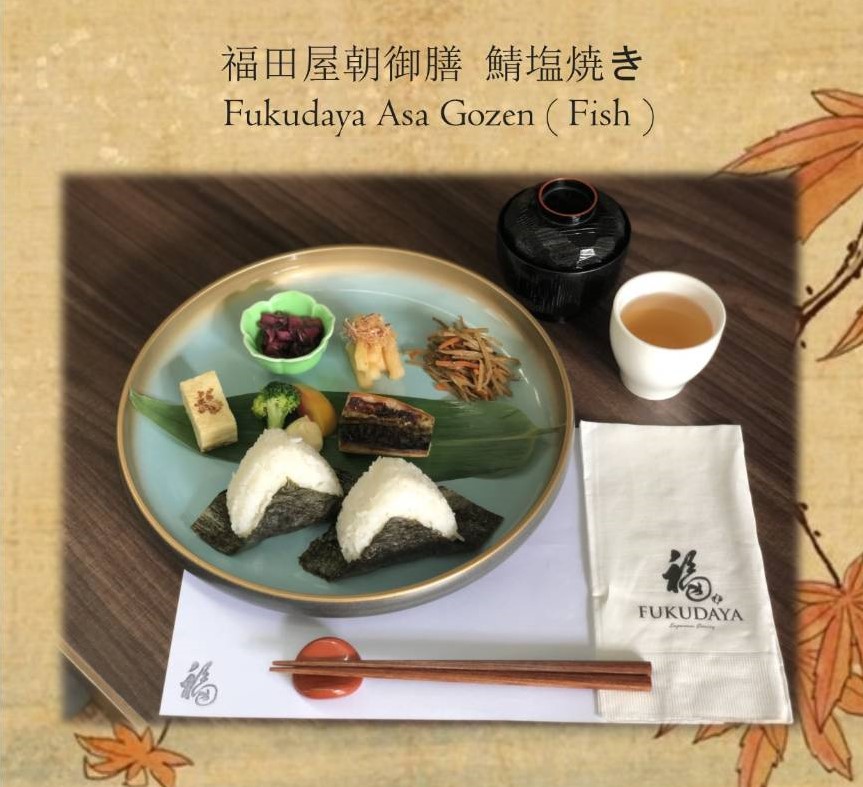 Fukudaya Asa Gozen (Fish) (Php 450)
Fukudaya has three guest chefs from one of Japan's largest and most popular food caterers. They use cooking equipment imported from Japan, hence the curation of sumptuous modern Japanese epicurean enjoyment.
So if you're craving for some Japanese breakfast food, Fukudaya is the place to be!
Enjoy these newly added hearty eats in Fukudaya's sumptuous menu. Visit them at G/F, Arya Residences Tower 1, McKinley Parkway, Bonifacio Global City, Taguig City. For more information, go to their Facebook page, or call 02-800-3563 for reservations.