Fukudaya Is Where You Can Experience Authentic Omakase
Have you ever gone into a restaurant for the first time and not know what to order? There is always the way of asking the servers what they recommend or better yet, what the chef recommends. In Japan, this is called omakase, and it is something you could experience in Fukudaya at Arya Residences, Taguig. Omakase means "I'll leave it to you," referring to the chef allowing the customer to judge a dish for themselves.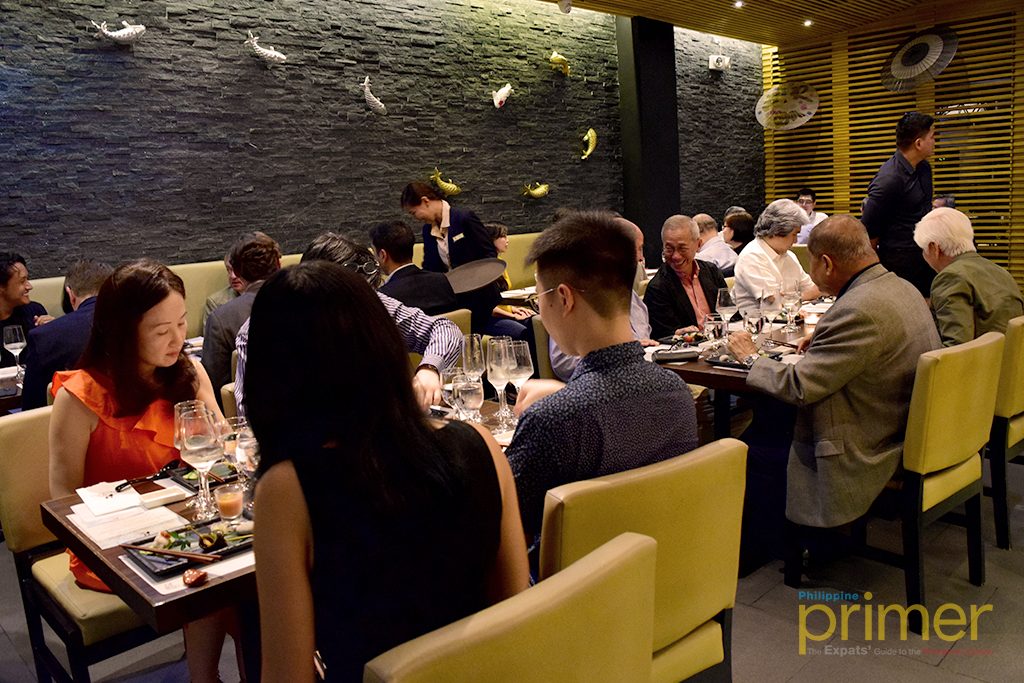 The Philippine branch members of the International Wine and Food Society at Fukudaya for an Omakase dinner 
Fukudaya is a Japanese restaurant in Arya Residences, Taguig. This is the first and only Fukudaya outside Japan and they have chosen the Philippines for our appreciation of their culture. For private events and gatherings, they can offer an omakase-kaiseki course with off-menu dishes special to the occasion. Kaiseki is a traditional full course Japanese meal created with seasonal ingredients designed skillfully and thoroughly by the chefs.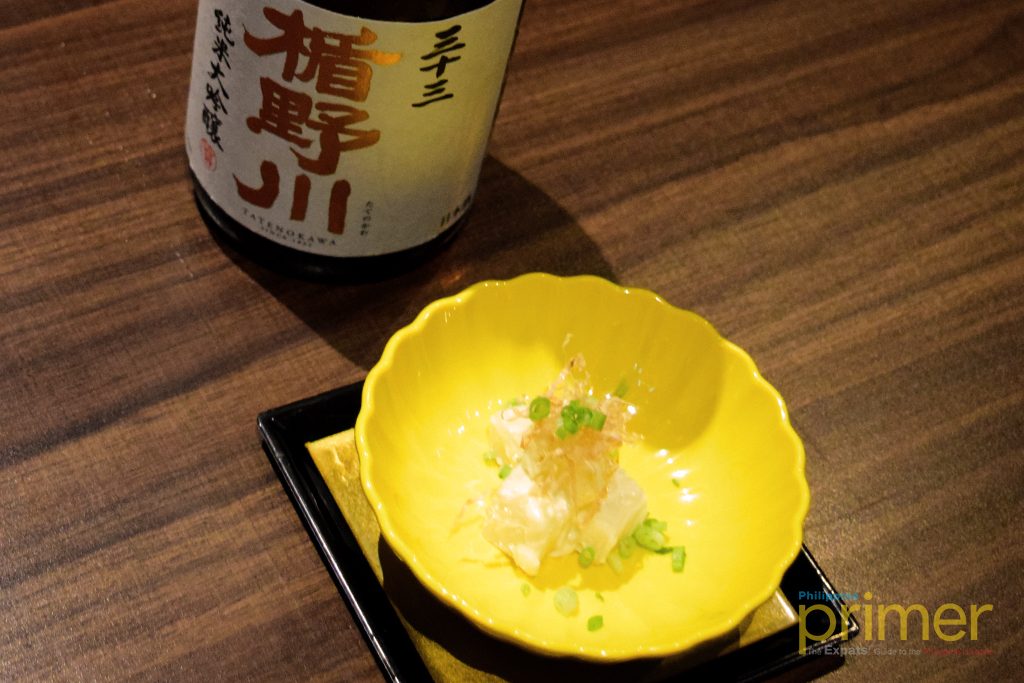 A small appetizer of pickled radish with cream cheese mixed with sake kasu. This is paired with Shichiken sparkling that is fruity with fine bubbles, sweetness, and refreshing taste 
For a private event of a wine and food club, Fukudaya worked closely with the organizers in creating a nine-course omakase dinner. As the club is familiar with wine, the restaurant paired each meal with a carefully selected sake.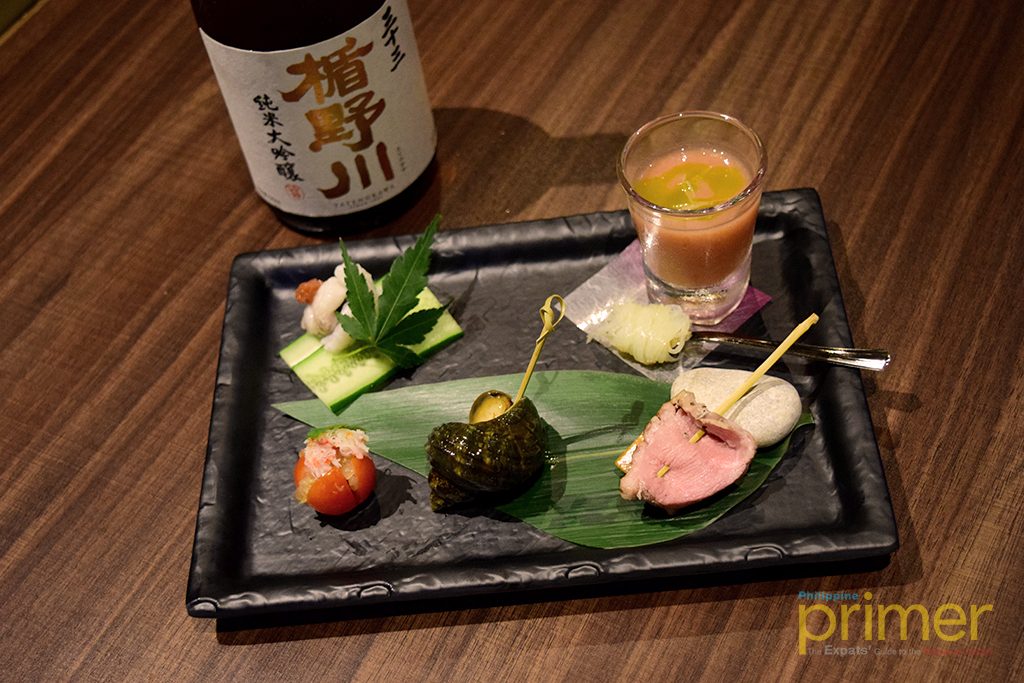 Boiled cutlass with salted plum, simmered turban shell, tomato and onion ponzu sauce, Japanese gazpacho with potato noodles, and roasted duck breast with cheddar cheese paired with Tatenogawa sake
The night started with appetizers such as pickled radish with cream cheese mixed with sake kasu or lees left from sake production. Have some seasonal assorted appetizers paired with the clean and fresh Tatenogawa sake.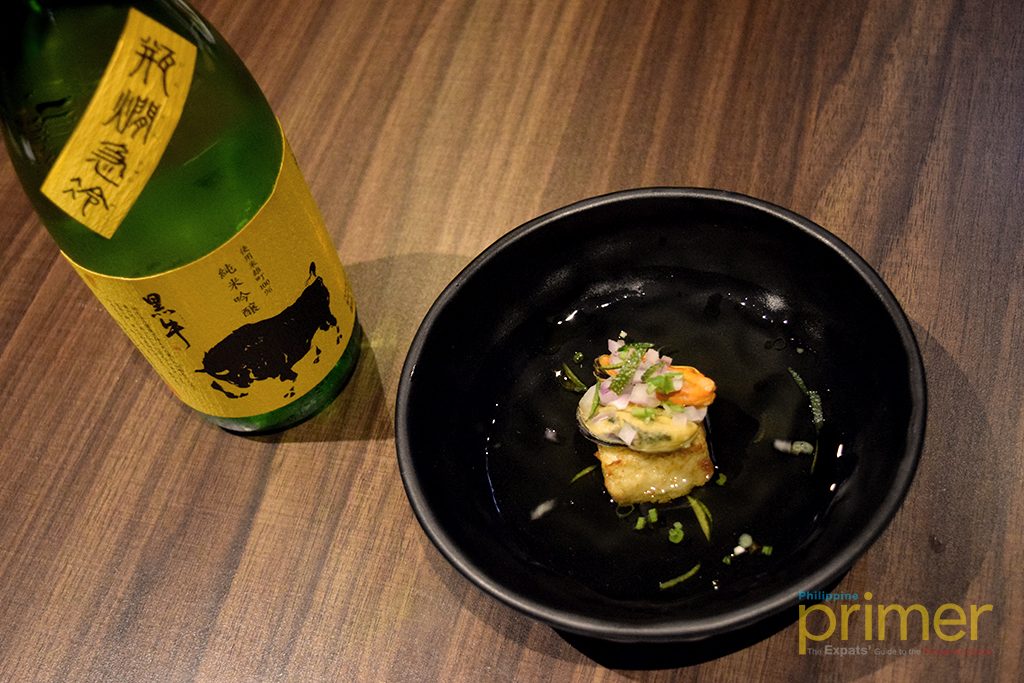 Mussels and radish cake in dashi soup paired with Kuroshi sake
Warm up the stomach with a hot soup paired with Kuroshi Junmaiginjou sake of a fruity sweetness and a pleasant sour flavor that lingers but fades out gently.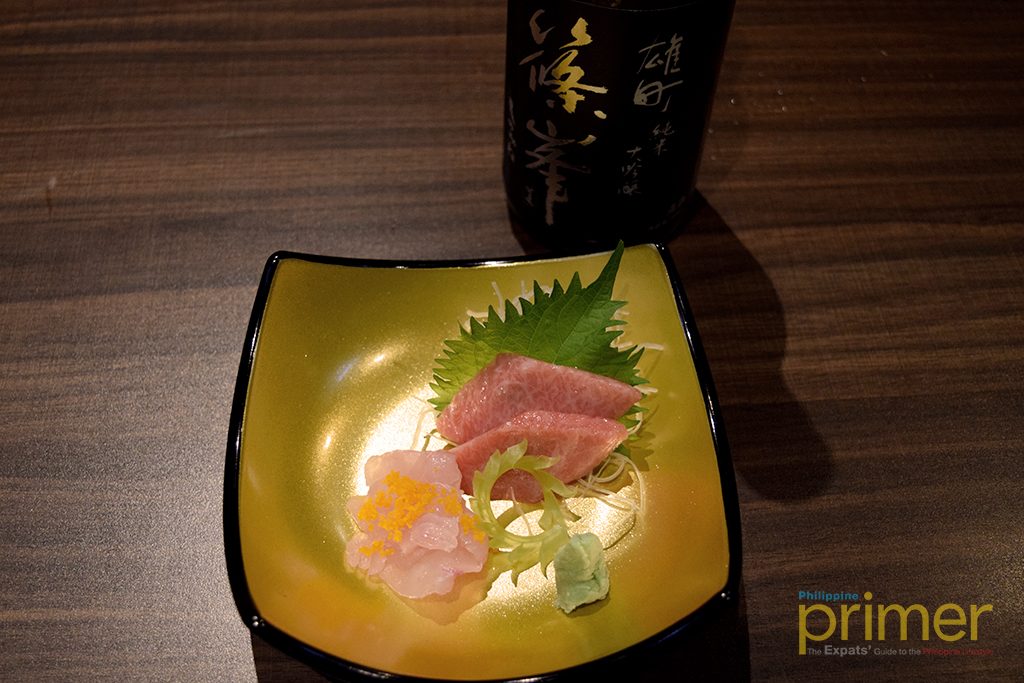 Two kinds of sashimi tuna otoro white fish with Shinomine sake
Made with omachi rice, the Shinomine Junmaidaigijou is spicy and crisp in softness giving a slightly refreshing fragrance and a taste of elegance to match the otoro white fish sashimi. Otoro is the most desired part of the tuna belly that is rarely served even in sushi houses.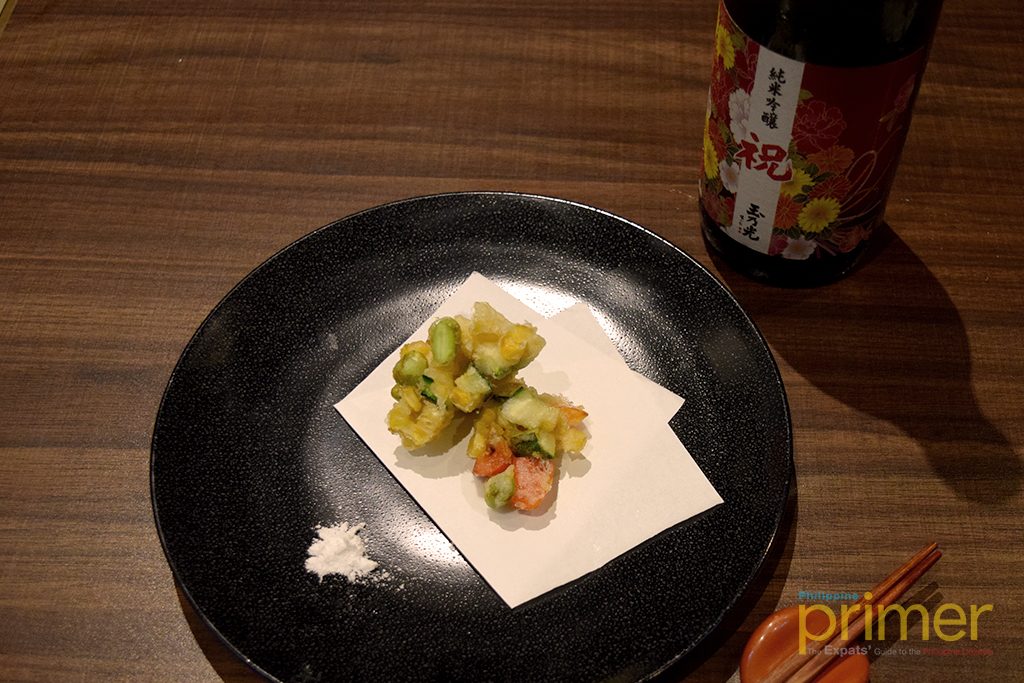 Summer vegetables kakiage tempura with Tamanohikari sake
It is only well to have some tempura in any Japanese restaurant and for this omakase, summer vegetables are brought together in a tempura. Elegantly paired is the gentle Tamanohikari Iwai Junmaiginjou that has natural sourness and taste from Kyoto's finest sake rice, Iwai.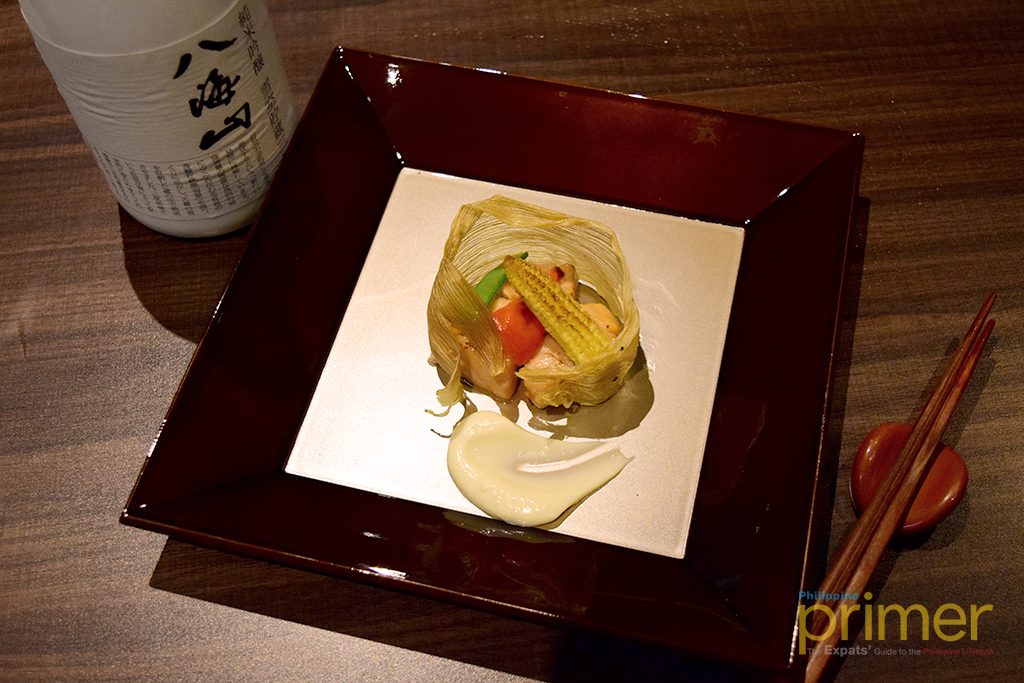 Grilled salmon with marinated sake kasu paste and paired with the special Hakkaisan sake
Nothing is wasted in sake production because even the lees could be made into pastes that Fukudaya served with the night's grilled salmon. As with wine, fish is paired with a dry sake such as the Hakkaisan Yukimuro Kozou that has been aged in low-temperature giving it a rich flavor.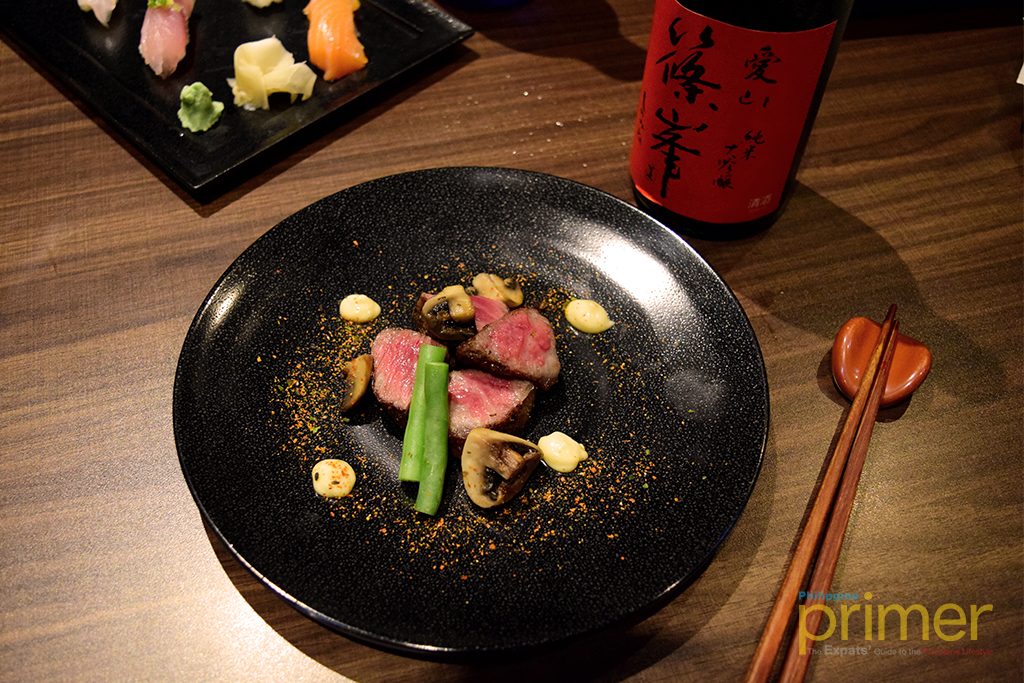 Gunma wagyu steak with miso sauce, mushroom, shichimi spices paired with the Shinomine sake
As the main course, Fukudaya prepared medium-rare Gunma wagyu steaks with Shinomine Junmaidaigijijou Aiyama that is soft and balanced. With a volume unique to Aiyama rice and the sophisticated acid like Shinomine, enjoy the change to a deeper flavor with every sip.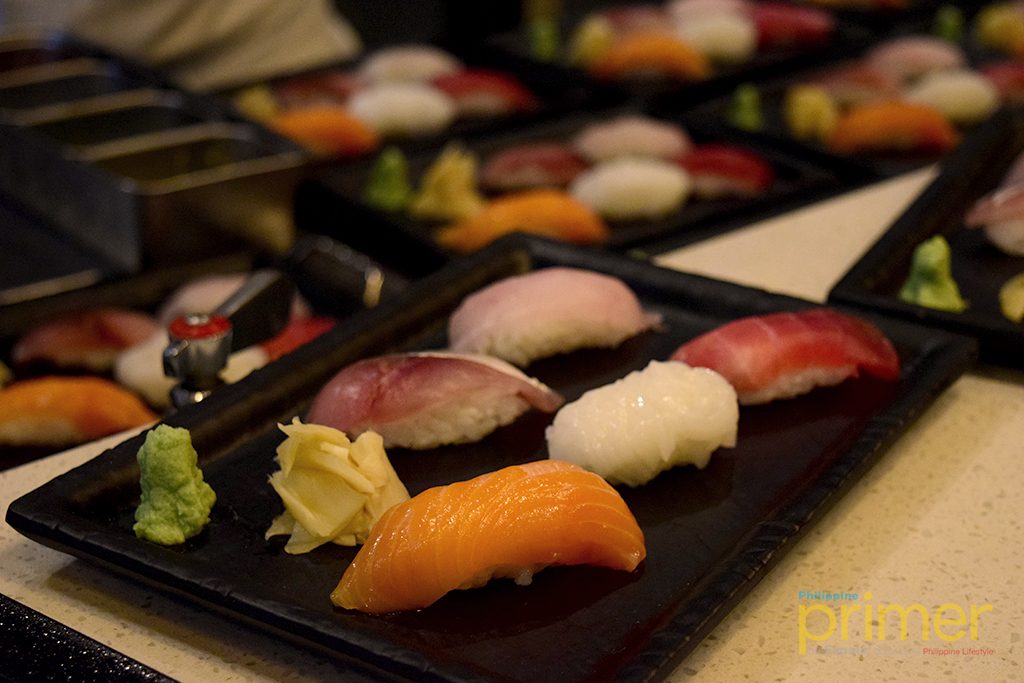 Assorted nigiri sushi with Hakkaisan
Nothing like a classic Japanese dinner without sushi so have five! Fukudaya makes sushi the only way they know, traditionally. Diners will also be given a spray bottle to spray over the raw fish. Paired with the Hakkaisan Tokubetsu Junmai, that has a very special smooth taste and flavor.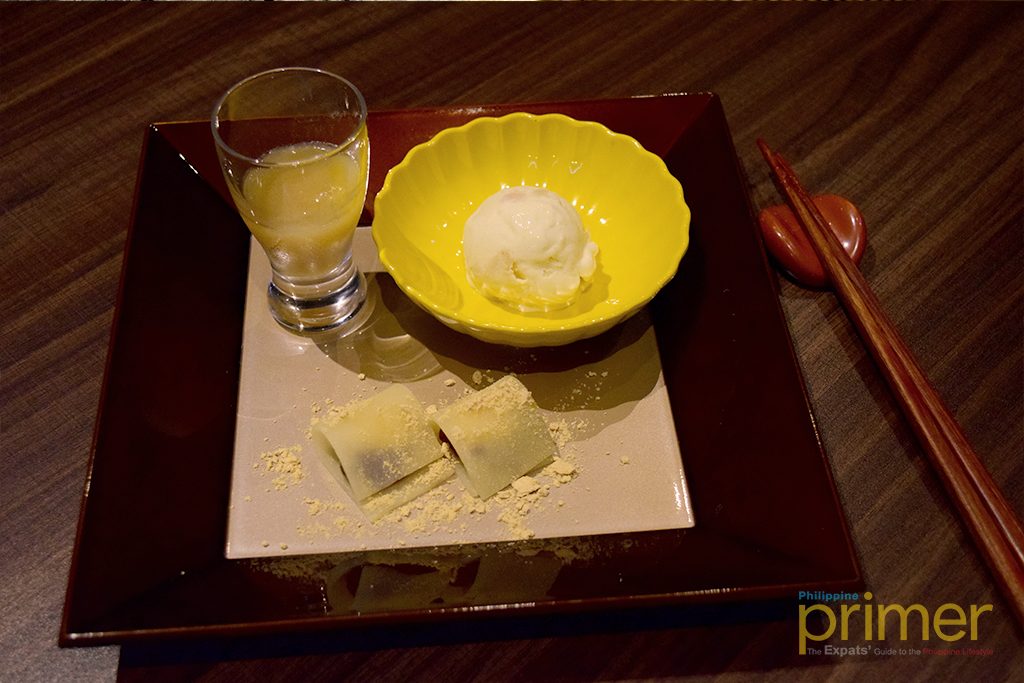 Yatsuhashi with mango and red beans, sake kasu ice cream and baked apple soup
The dinner ended with yatsuhashi filled with red beans and mango, sake kasu ice cream and delicious warm apple soup. The night ended with smiles on every guest and high praises for the chefs and staff members.
Though the event was a sake-pairing dinner for the wine club, omakase-kaiseki courses are available to be requested from Fukudaya Japanese Dining in Arya Residences, Taguig. For inquiries, contact them at 02-800-3563, 0927-264-0171 or 0998-805-6859.
Also read: Fukudaya Grand Opening in BGC 
---
Written by Heloise Diamante