Interactions launch Roche Bobois Collaboration with Filipino Artists
Luxury Parisian furniture brand Roche Bobois sponsored ten Mah Jong Sofa for ten Filipino artists to outfit with their own designs and styles. Auctioned to respective charities last September 19, the pieces are all works of art and sophistication.
Interactions introduced to the Philippines the modular Mah Jong Sofa like this design by designer Kenzo Tanaka
Since 1961, Roche Bobois has been known for ingeniously customizable pieces and distinctive collaborations. And no piece of their furniture has ever been more adaptable than the Mah Jong Sofa. Created by Hans Hopfer with the goal to inspire total freedom of function and form. The Roche Bobois Philippines showroom is located at 2100 Don Chino Roces Avenue Extension, Makati. It is open daily from 10 am to 7 pm.
This year, the luxury brand collaborated with creative and exemplary Filipino artists to customize their own Mah Jong Chair from the basic style. The Mah Jong can be an armchair, a straight sofa, corner sofa, armless sofa, lounge chair, or daybed. It is a blank canvas as well as space for the artists to play with.
Bobby Mañosa with her design for the Mah Jong Chair
Architect Bobby Mañosa has a philosophy to showcase the Filipino identity. His most notable work is The Coconut Palace which is a government building made of several types of Philippine coconut hardwood and coconut tree parts. His works all speak of the Filipino identity, traditional designs by combining them with indigenous materials.
Architect Ed Calma is one of the sought-after residential and building designers. His works are very sophisticated, simple yet functional. As the son of Lor Calma who put up Philippine School of Interior Design and made interior design a profession in the country. With big shoes to fill, Ed is set to radically change the Philippine design in this generation.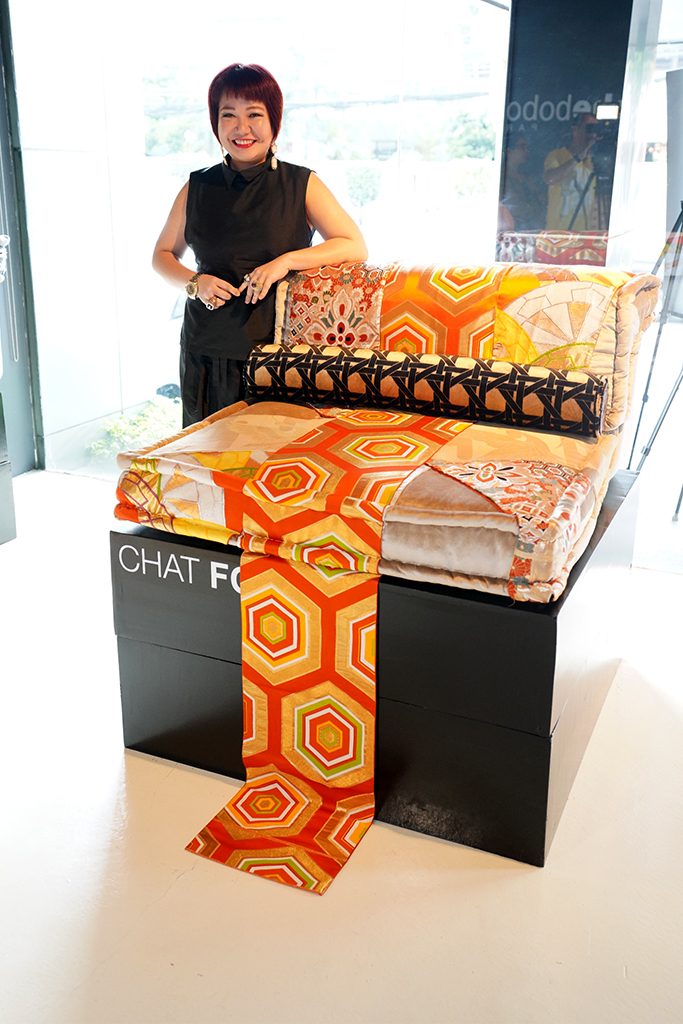 The sofa from Chat Flores comes with a sentimental piece from her mother
Interior designer Chat Flores is known for her elegant aesthetic with a sense of adventure. Her pieces could both catch the eve of the viewer as well as tell a story. Mostly stories of her travels to many interesting places and interactions. On her Mah Jong Chair, she included her mother's obi, Japanese sash, that adds a sentimental touch which is important to all her pieces.
Vito Selma is a furniture designer whose complex woodwork has achieved international acclaims. Driven by his love of nature, he uses natural products to play on shapes, colors, and textures that are often seen naturally. The core of his pieces is his attention to detail and craftsmanship.
Bea Valdes rendered a piece that recalls vintage travel posters but done in embroidery
World-class jewelry designer Bea Valdes elevated Philippine craft and traditions on a global scale. The intricate craftsmanship she learned growing up in a family in the fine jewelry trade. Now, she takes inspiration from various cultures and sourcing materials and patterns from around the world.
Nikki Luna is an advocate for women human rights which also shows in her art and designs. Working with materials and symbols that highly speak of femininity, and capitalize on the tension of the social conflict that looms in the world today. Her Mah Jong Chair makes a strong statement against violence that pervades Philippine society.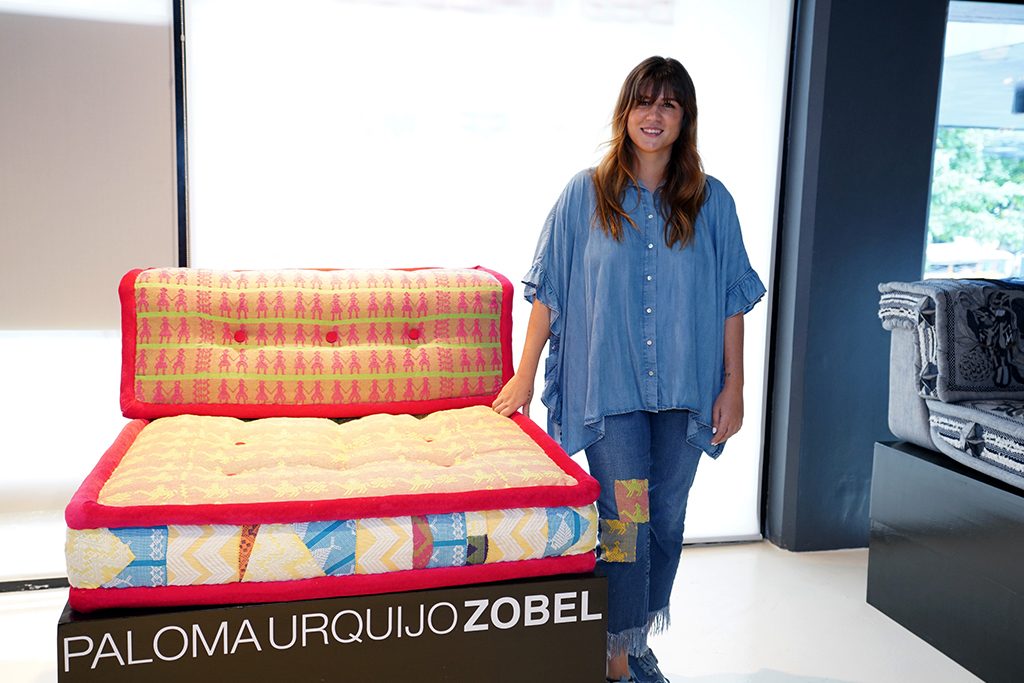 Zobel gave homage to the wonderful weavers of Ilocos and the Philippines
Fashion designer Paloma Urquijo-Zobel is known for repurposing traditional textiles such as the Inabel weaving used in the Mah Jong Chair. Her style is from everywhere and everything creating a bohemian chic spirit which she uses in her fashion line, PIOPIO.
Artist Jojo Lofranco creates pieces depicting movements and forms. Though his pieces show disharmony, his colors and brushwork speak otherwise. As a painter and a sculptor, he created his Mah Jong Chair to be both a canvas and a piece that pulls the viewer to become interested.
Geraldine Javier is a contemporary visual artist recognized as one of the most celebrated Southeast Asian artists. She treated the sofa as a communal activity, involving long, thoughtful, and skillful labor like many of her projects. Her piece uses her dog as a model for the pattern and an inspiration for the wooden cage.
Costantino Zicarelli is one of the new generation artists whose paintings are hard to describe but harder to ignore. Using dark images that are deviant and remorse, his art speaks emotionally and asks for apathy. Given the blank white chair, he purposely made it dark and dirty in an effort to erase the white.
The exhibit launch and auction celebrated the Mah Jong Chairs, their artists as well as the other pieces from Roche Bobois
Each sofa was auctioned off at the Interactions event last September 19, 2018, at Whitespace, Makati which also serves as the exhibition launch. Best of all, a portion of proceeds from the sale of each will go to the artists' chosen charities the Asian Cultural Council (ACC) Philippines Foundation, Inc., PAWS, Tukod Foundation, AHA Learning Center, and Baigani Feminist Solidarity.
There are endless ways in which one can mix and match the sofa's fabrics just like how the Roche Bobois collaborations with noted architects and designers across the world. With this, Filipinos can look forward to more local collaborations in the coming years.
---
Written by Heloise Diamante