P100 Starbucks Frap Every Wednesday of May
Your Wednesday afternoon frap is going to be very special starting May 2 because Starbucks Grande Wednesday is back with more customized Frappuccino blended beverages!
Inspired by the love for their Frappuccino blended beverages, Starbucks is offering special customized Frappuccino blended beverages for Php 100 for one Grande size. The promotion is available every Wednesdays of May from 3 pm to 6 pm only, so be sure to line up before 3 pm at your nearest Starbucks branch.
This month, the lineup includes five new flavors that are fun, exciting and something you would surely miss once it's gone:
May 2: Matcha Hazelnut Frappuccino blended beverage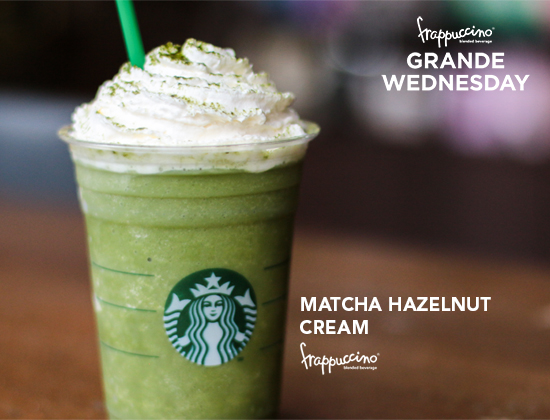 A good pump of Hazelnut syrup in your regular order can change a lot in a drink. Combining it with the Green Tea Frappuccino adds the perfect amount of sweet and buttery to the whipped cream and matcha powder.
May 9: Almond Jelly Cream Frappuccino blended beverage
Coffee jelly cubes and Almond syrup is a match made in heaven to create a light an refreshing Frappuccino drink with just the right amount of creaminess.
May 16: Strawberry Cupcake Cream Frappuccino blended beverage
On Wednesdays, we wear pink and this new Frappuccino is seriously pink with chocolate and coffee Frappuccino chips, strawberry sauce, and whipped cream. A little extra makes this originally simple Vanilla frap special.
May 23: Butterbeer Frappuccino blended beverage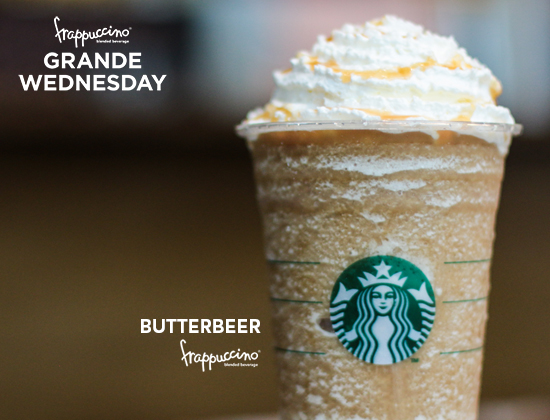 Harry Potter fans would remember the pub favorite, butterbeer. Now a reality, Starbucks creates this fan favorite drink by combining Caramel and Toffee Nut syrup into a coffee frap drizzled with buttery-sweet caramel.
May 30: Candymint Frappuccino blended beverage
Chocolate, mint, and coffee come together in this new Frappuccino drink. What used to be a plain Mocha frap becomes extra minty and chocolatey as the perfect ender for a month of wonderful Wednesdays.
To let everyone to enjoy the fun flavors that they have in the lineup, the offer is limited to two purchases per customer, per transaction. No add-ons will be allowed except for soy milk for customers with health concerns. No other Starbucks promotion can be combined with the Grande Wednesday including VAT exempt discount, Beverage Star, complimentary birthday cake, Beverage Star Reward or Registration Treat. However, the offer is valid in all Starbucks stores and Drive Thru in the Philippines.
Be sure to head on early to any Starbucks near you for this limited Php 100 for a Grande promo starting tomorrow from 3 pm to 6 pm. With five new flavors to add to your favorite Starbucks order, you are sure to look forward to hump-day Wednesdays from now on.