% Arabica BGC Grand Opening plus New Exciting Items on the Menu!
In the morning of March 19, I once again set out for BGC where I heard I could get the most effective cure for Monday sickness. I found myself at % Arabica at W City Center, a vibrant welcoming cafe emanating Japanese simplicity, that was celebrating its grand opening.
In addition to timeless coffee options like Caffe Latte and Americano, and the smooth and milky-sweet Spanish Latte, % Arabica introduced new exciting items on their menu in time for their most-awaited grand opening.
Iced Spanish Latte (Php 170 – blend; Php 190 – single origin)
% Arabica now welcomes matcha lovers with their Matcha Latte, a simple cup of pure, delicious matcha goodness. There are also a lot of new flavors of pastries to choose from, like Dark Chocolate Salted Oatmeal Cookie, Apple Danish Tart, and more kinds of croissant.
Matcha Latte (Php 140 – short; Php 180 – tall)
More pastries to choose from!
% Arabica also recently underwent a renovation and added more space for coffee drinkers on the second floor, a corridor-like space with high tables and chairs overlooking the whole cafe on the ground floor.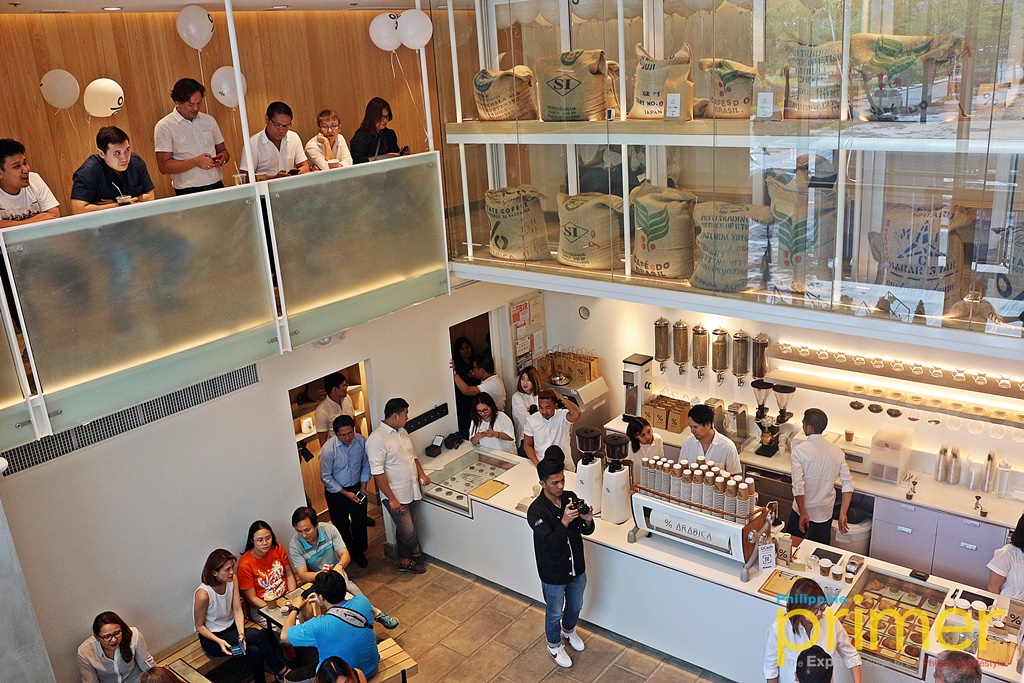 I found myself attracted once again to this simple yet pleasant cafe—and many people do, too. From the outside, % Arabica stands out because of its ground-to-ceiling glass facade that lets people easily find a vibrant, relaxing refuge inside. This also welcomes a lot of sunshine in, letting daytime customers get a ray of positivity while they enjoy coffee inside.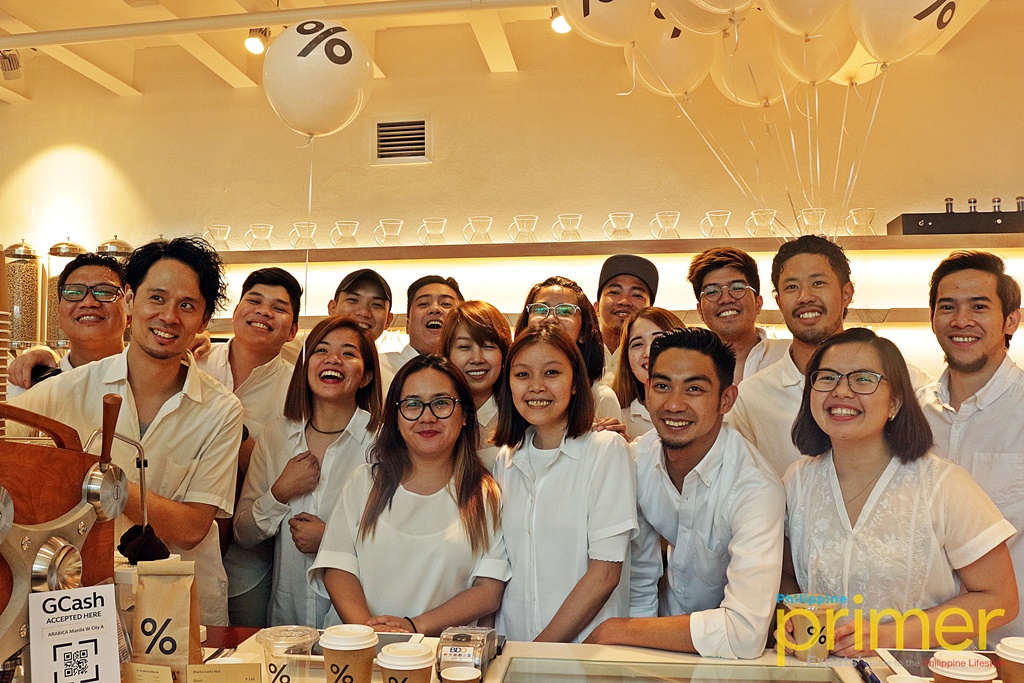 Vibrant people. The grand opening was joined by Global Head Barista Junichi Yamaguchi and Kyoto Head Barista Shu Konishi from Japan.
At night, the cafe remains vibrant and laidback, as if it has well-preserved the sunlight it got during the day and then let it radiate for its nighttime customers.
% Arabica is a simply a nice place, day and night, to slow down and watch the world go by through its glass walls. And when you need a grab-and-go cure for your Monday-or-any-workday sickness, this cafe is also the best place to go.
% Arabica is now open early in the morning and late at night! Their new operating hours are 5 a.m. to 12 m.n. on weekdays, and 10 a.m. to 6 p.m. on weekends. Visit them at the ground floor of W City Center, 7th Avenue corner 30th Street, in BGC.
Also read: NEW in BGC: Japan's % Arabica opens first Manila branch
---
Written by Rizelle "Rei" Leaño