Urban Gadgets' GoPro Photography Workshop: A step towards mastering your GoPro
There are many ways you can use a GoPro. It's great for capturing movement and the occasional selfie with its wide field of view, but did you know your GoPro is capable of doing something like this:
That's the handiwork of photographer, urban explorer, and GoPro Ambassador Benjo Cabarro. He's probably the best guy we have in taking photos with his GoPro, especially when it comes to night lapses (time-lapse photos at night) and cityscapes.
Photography workshops with a GoPro are few and far between, so we considered it a stroke of luck when Urban Gadgets, the country's highest-rated one-stop shop for premium lifestyle gadgets and tech accessories, put up a GoPro Photography Workshop with Benjo.
VIEW FROM THE TOP. This is how Makati City looks in the evening. Shot on an SJCAM SJ5000x Elite./PHOTO Andronico Del Rosario
A slot was reserved almost immediately, and off this writer went to the Iris Observatory at Tivoli Garden Residences in Mandaluyong. With an SJ5000x in hand and a clear mind, I sat down and prepared for the amount of information that Benjo will impart.
The workshop started off real simple: going deep into GoPro's signature Protune settings. Protune, for the uninitiated, is very much like your DSLR's manual shooting mode minus aperture control. He also talked about the different modes the GoPro has, which includes video, photo (still, night, and burst), and time-lapse (video, photo, and night).
He also gave tips on how to set-up the GoPro to make sure you get the shot you want, highlighting his preferred ISO and shutter speed in some of the photos he showed.
BENJO CABARRO talks about composition and how it applies to photos taken with a GoPro.
The best part, however, was when he started talking about composition and creativity. This was what we were looking forward to, since it can be applied to virtually every action camera out in the market.
He showed us these two images, one of which should be 100% familiar to anyone who's into photography:
RULE OF THIRDS. Or as he calls it, the "guide of thirds". Using this is simple: you either put your subject on any of the four intersecting points or have one of the vertical or horizontal lines in your image match up to any of the four lines.
RULE OF THIRDS – GOPRO VERSION. It's not official, but yes, this is how you should see the standard rule of thirds through the lens of your GoPro. It's similar to the standard rule-of-thirds guide but with a catch: you don't put your subject in any of the intersecting points, lest it gets distorted.
It's best that you understand how these work if you want to step up your photos if you use an action cam. He also talked about the single-point perspective, or having things in your frame meet up at a certain point in your image (preferrably in the middle) to achieve symmetry.
He emphasized, however, on these being mere guides and not hard-lined rules for photography. "Don't look at these as rules. Think of them more as guides. Once you've understood how they work, you can then proceed on breaking them."
He also stressed on the importance of post-processing. Photos taken from an action cam look good, but there's always something you can do to make it look better in post, even from the comfort of your smartphone.
Things didn't end there for Urban Gadget's first GoPro Photography Workshop. Apart from inviting Benjo, they also brought in one of the country's best independent filmmakers, JC Gellidon.
Known for his edgy lifestyle videos, JC taught everyone in attendance (and there were at least 30) how to edit lifestyle videos and give them an edge over those you see all over the internet.
JC stressed the importance of choosing the right soundtrack for your video since the right music can set the tone for the duration of your video. "I spend 60% of my editing time looking for the right track," he said.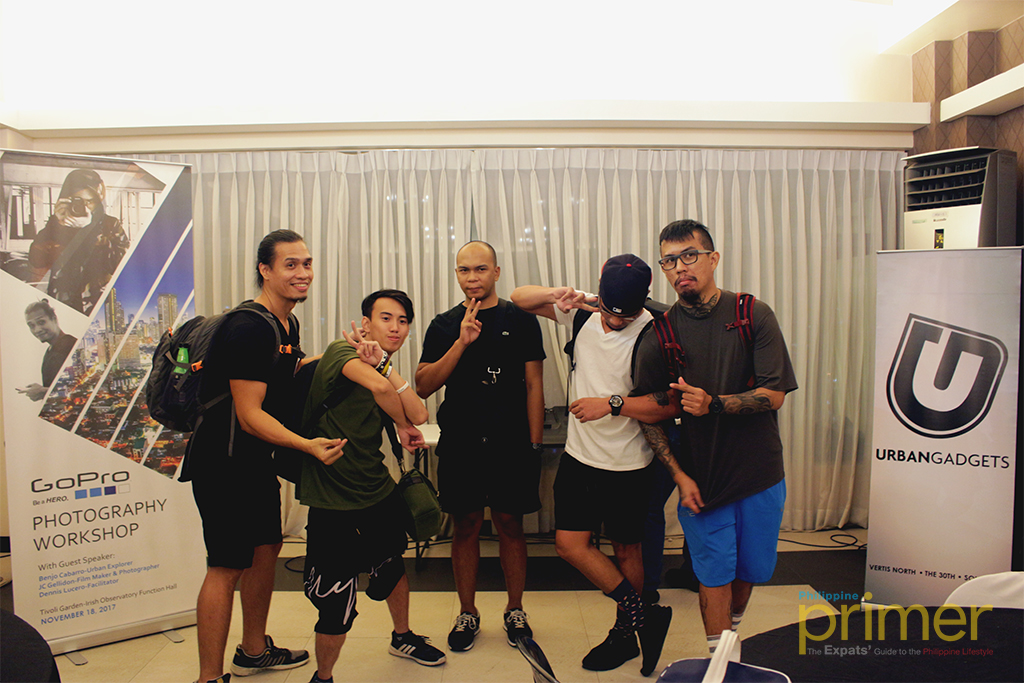 JC GELLIDON (first from right) on making a career out of photography and/or videography: create your own brand and stick to it.
Finding the right track, however, isn't enough. Editing with the beat also gives your video that extra oomph it needs to push it past being just another video on the internet. Listen to when the drum beat starts and put the highlight of your clip on that beat.
Finally, he recommends saving your color grading for last by grouping your videos into one and applying your color corrections after. This makes it easier to set the tone for your entire video and saves you a lot of time in the editing cave.
As a final tip, JC gave everyone a tip about pursuing photography and videography as a career. "Create your own brand and stick to it. Be consistent with your branding if you're looking to pursue this as a career."
JC is known for his best-in-class edits without so much as a fancy graphic or SFX. Benjo is known for taking things over the edge. With the information they shared and this last bit of advice, I'm sure everyone in the workshop walked away with significantly more than what they paid for.
As for me, I have all the information I need to improve my photos with a GoPro. All I need right now is a GoPro to use it with.
Urban Gadgets is the Philippines' highest-rated one-stop shop for premium lifestyle gadgets and accessories. Upgrade your life experiences with #UrbanGadgetsPH. Visit their website, www.urbangadgets.ph, or their Facebook Page @urbangadgetsph for updates on when the next workshop will be.
Follow Benjo Cabarro (@benj.o) and JC Gellidon (@jcgellidon) on Instagram to see more of their work.
---
Written by Andronico Del Rosario