Recipe Corner: Pasta con le Sarde by Chef Dario Cattarinich of Sicilian Roast
For this month's recipe, we go Italian! It's time for us to level up our pasta cooking skills and make something new and more flavorful. The Pasta con le Sarde (pasta with sardines) is a typical Sicilian recipe; it is probably influenced by the Arab domination centuries ago. The strong flavor of the seafood mixes well with the sweetness of sugar and raisins. This is Chef Dario's version of this recipe made simplified using sardines in can instead of the fresh ones and tomato sauce instead of saffron.
Pasta con le Sarde
Check out this popular pasta dish by Chef Dario Cattarinich and see how you can make this authentic Sicilian dish at home!
Also read: Sicilian Roast by Giuseppe Genco: A Siclian Dining Scene in Legazpi, Makati 
Yield: 4
Prep time: 20 to 30 minutes
Ingredients:
400 g Bucatini (or spaghetti)
430 g Sardines in tomato sauce
80 g Fresh fennel leaves
40 g Raisins
20 g Pine nut seeds
200 g Diced onions
10 g Mint leaves
10 g Anchovies (optional)
4 tbsp White sugar
8 tbsp Breadcrumbs
60 ml Extra virgin olive oil
Salt and pepper to taste
Procedure:
Boil the water then add two tablespoons of sea salt. When the water warms up, set aside one cup of water in a small bowl and soak the raisins. Cook the pasta according to package instructions.
Remove sardines from the can, keep the tomato sauce. Pull out the backbones and entrails.
Blanch quickly the fennel in the warm pasta water and chop it into small pieces.
Toast the breadcrumbs with sugar in a large nonstick frying pan. Mix continuously with a wooden spoon until it is golden brown, then remove the mixture from heat.
In a separate frying pan, toast the pine-nuts at medium heat, just a little to give them more crunchiness and brown to its color.
To prepare the sauce: Get a large frying pan; heat the olive oil and sauté onions over medium-low heat until hot and tender. Add the chopped fennel, anchovies (optional), raisins, pine-nut seeds, fresh mint, and some black pepper. Add the reserved sardines and tomato sauce. Cook for 5 to 10 minutes on medium heat.
If the sauce appears too thick at this point, add a small amount of the pasta cooking water. Keep mixing all the ingredients then turn off the stove and set aside the sauce.
Drain the cooked pasta into a large serving bowl. Add the sauce to the pasta and mix delicately. Sprinkle the toasted breadcrumbs and sugar mix on top of the pasta. Add some extra-virgin olive oil if the pasta is too dry. Buon appetito!
About the Chef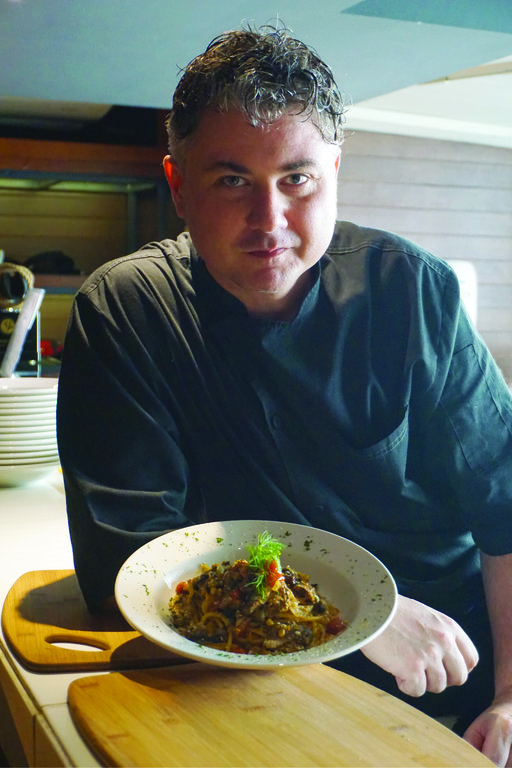 Chef Dario Cattarinich is from Napoli, Italy. He is a pizzaiolo certified by the Associazione Verace Pizza Napoletana (AVPN). After working in Italy, he worked in 5 star hotels in Middle East and the Maldives. He also stayed in the US for three years. Before coming to the Philippines, he was an Executive Chef in Myanmar of two boutique hotels. Now Chef Dario is Executive Chef of Sicilian Roast, a restaurant in Makati that offers Southern Italian dishes.
Want your easy home-cooked recipe to be featured in Philippine Primer magazine? Send your recipe via email at information@primer.ph. (Subject: Feature my Recipe)