#WorldGinDayPH2017: New flavors, new tastes, and a heightened appreciation for gin
The British Chamber of Commerce Philippines (BCCP), in partnership with Ginebra San Miguel Incorporated (GSMI), capped off the celebration of World Gin Day (more like month) in the Philippines with a bartending competition and networking night at Dusit Thani Manila!
Also read: World Gin Day 2017: Gin, food, and prizes from the BCCP
Here's what went down during the last day of #WorldGinDayPH2017:
New tastes and flavors
Bartenders from the metro's top hotels went against each other in a friendly bartending contest to see who can make the best gin-based cocktail… in 5 minutes.
THE JUDGES. Judging the night's competition were BCCP's Events Committee Head Matthew Seddon (right), Ronald Molina of GSMI (middle), and Glen Miguel (left), also from GSMI. They were also joined by a fourth judge: Juan Torres, General Manager of Etihad Airways Philippines, whose photo appears below.
2-NIGHT VACATION. Etihad Airways gave everyone just enough motivation to push through the 5-minute time limit, what with a round-trip ticket to Abu Dhabi at stake.
Apart from the time, they were also given these two crucial conditions: (1) it has to have a local ingredient, and (2) it must use Ginebra San Miguel Premium Gin as its base.
Seven bartenders took up the challenge, but only two came out on top: Karlo Ramos of Raffles Makati and Renato Remiendo, Jr. of New World Makati Hotel, the latter winning top honors from the event.
GOOD, BUT NOT QUITE. Karlo Ramos gave us something to remember: a drink made with calamansi, a lemon endemic to the Philippines. He took home Php 5,000 in cash and gift certificates.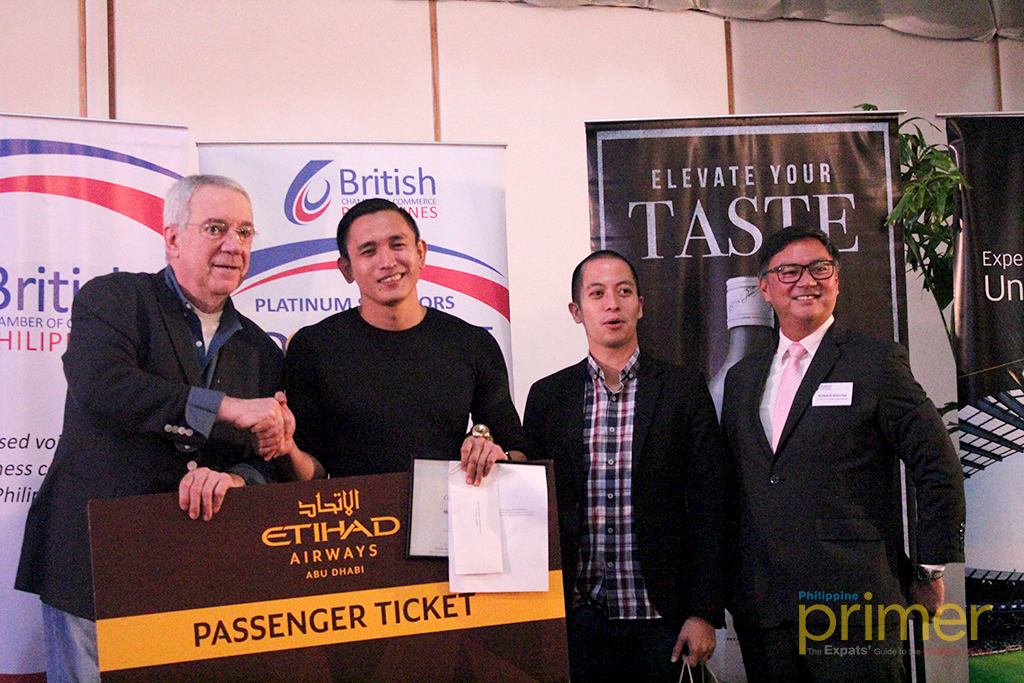 TAKING HOME THE GOLD. Ren Remiendo bagged top marks for the event, taking home Php 15,000 in cash, bar tools courtesy of GSMI and Bevtools, and a roundtrip ticket to Abu Dhabi plus a two-night stay at the Dusit Thani Abu Dhabi.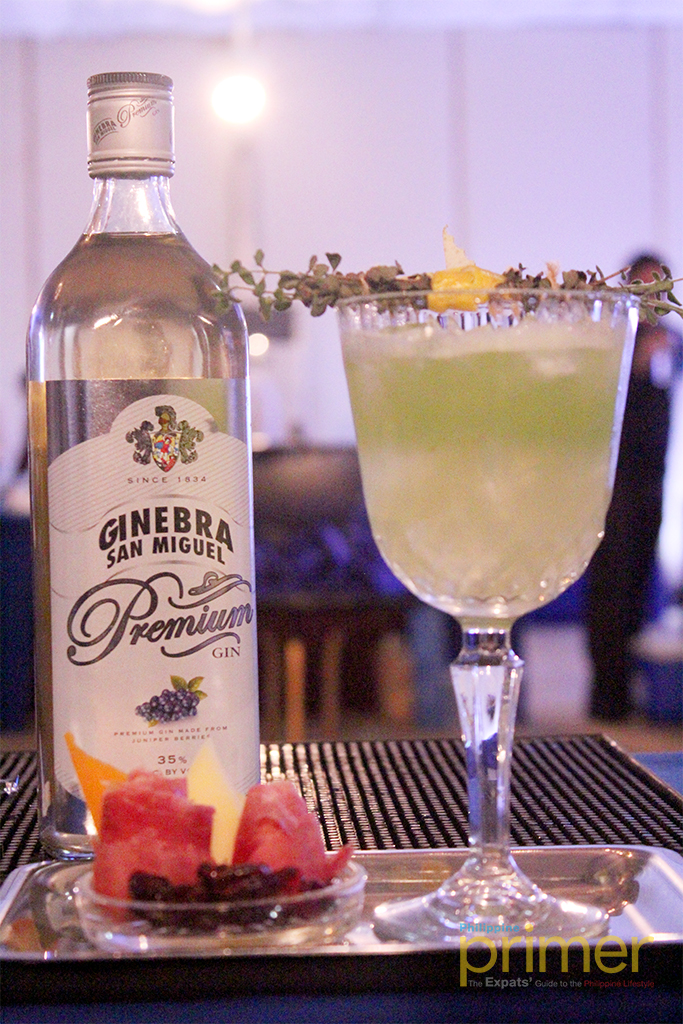 THE OREGIN. The drink that won the night: Ren Remiendo's The Oregin. It's a mix of GSM Premium Gin and oregano, and, according to Ren, goes well with cheese and thin slices of raw meat.
Here are some of the drinks that caught our attention (apart from those who won, of course):
STARFRUIT. We couldn't scrounge up the name of the cocktail, but it was made with starfruit, known locally as balimbing. This drink was made by Kevin Villafuerte of Marriott Manila.
SWEETNESS. A true ladies drink made with green mangoes, it came from the mind of the only rose among the thorns that night: Maricel Payod of Fairmont Makati.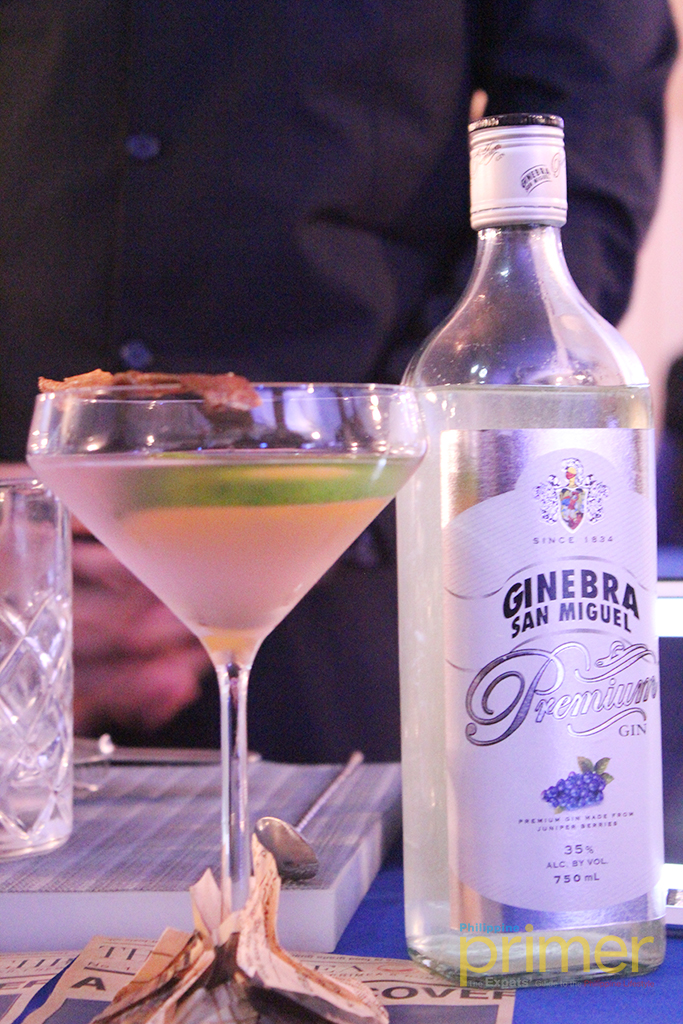 TINAPA COCKTAIL? Yes, it's possible! Lennon Aguilar of Discovery Primea took fat washings from tinapa or dried fish and used it in his cocktail.
A brief history lesson about gin
BCCP Events Committee Head Matthew Seddon gave everyone a bit of insight into World Gin Day, including the earliest days of its production.. "Gin was first produced in the UK back in 1689. There was a point where a working gin still was found in one of every four habitable structures in London."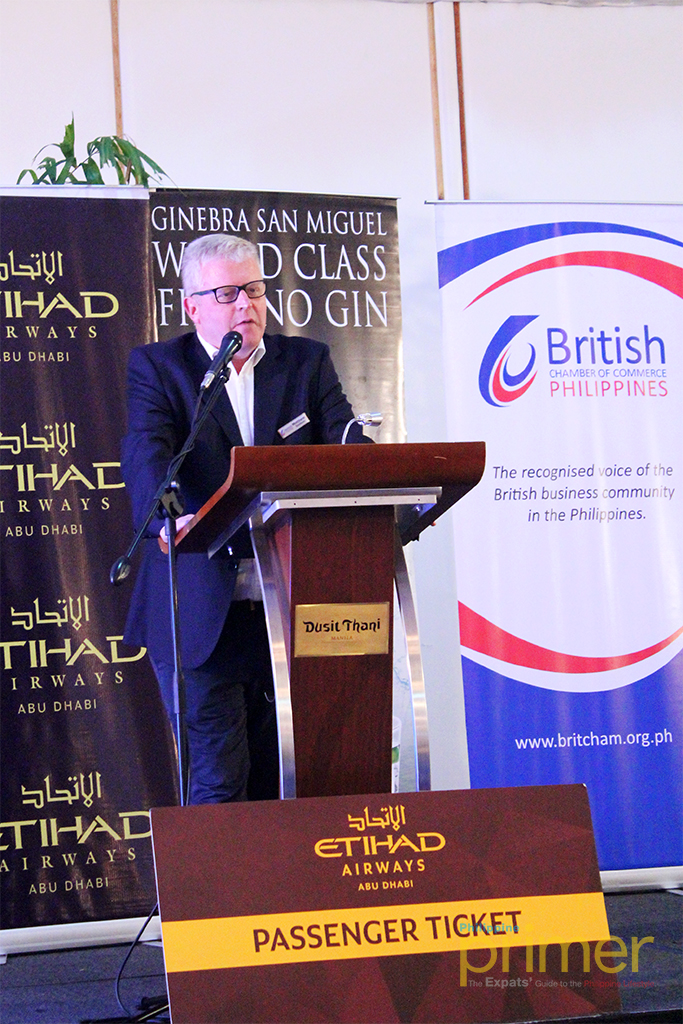 A BRIEF HISTORY OF GIN. BCCP Events Committee Head Matthew Seddon made everyone appreciate gin just a bit more with a bit of a history lesson… and how the Filipinos and the British are forever linked by gin.
"The Brits are passionate gin drinkers, and always have been. During the 1800s when British sailors were given a daily rum ration, British officers were given a daily gin ration," he added.
He also introduced everyone to how gin was made, specifically the main ingredient in gin: juniper berries. "The best Juniper berries are apparently grown the Mediterranean. Interestingly, pretty much all of them are grown wild, with very little cultivation."
World Gin Day and GSM Premium Gin
Though the bartenders made the show lively last night, the real star of the show was GSM Premium Gin. An export quality product from GSMI, GSM Premium Gin is a consistent winner of the Monde Selection Gold Award for several years.
FOUR OF ELEVEN. Yes, gin was used in eleven ways last night. Shown here are just a few of the ways you can enjoy GSM Premium Gin in your own home.
"It has a lower proof compared to our classic Ginebra San Miguel gin, making it smoother. We use fine alcohol giving you a more pleasant experience. It also has more flavor with the junipers we use during production," said Giselle Villanueva, brand manager for GSM Premium Gin.
"It's a versatile brand: you can go on the rocks or mix it with your favorite citrus juices," she added.
More than GSM Premium Gin, though, the night is all about World Gin Day, an event celebrated the world over. It has been around since 2009 and is one Brit's way of celebrating the wonders of gin.
YOU'RE ONLY LIMITED BY YOUR IMAGINATION. Ronald Molina of GSMI said it best: Gin is such a versatile spirit that a cocktail can last you for an hour. The only limit is your imagination.
As Ronald Molina of GSMI explained, "We (the Philippines) started about 3 years ago. The day itself was started by Neil Houston back in 2009. He was a guy who loved gin, and wanted to celebrate it for everyone to enjoy. It's usually celebrated every 2nd Saturday of June."
"Gin is such a versatile drink that one cocktail can last you an hour. It's something you enjoy with friends… and we make it accessible to Filipinos. The only limit is your imagination," he added.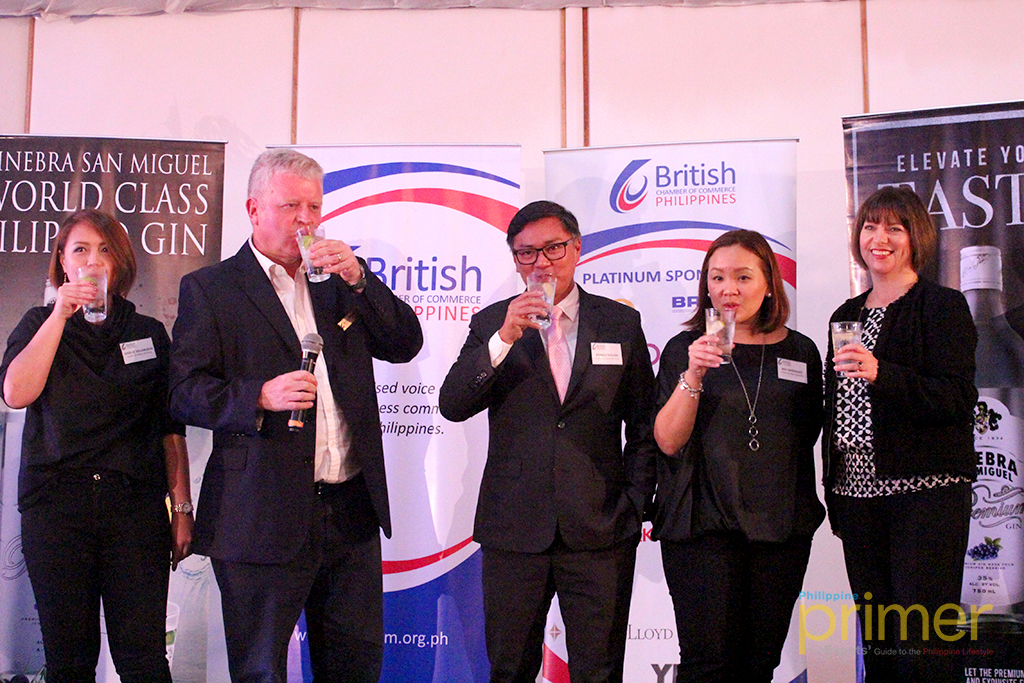 A TOAST TO AND FOR GIN. Matthew Seddon (second from left) leads a toast with Ron Molina of GSMI. They're joined by representatives from GSMI and BCCP.
GSMI continues to be the country leader in selling gin, with Filipinos consuming close to 25 million cases of gin every year and Ginebra San Miguel gin making up the bulk of that amount.
---
Written by: Andronico Del Rosario