MMDA look to implement modified odd-even scheme by April
Motorists might have one more thing to worry about come April as the Metro Manila Development Authority (MMDA) looks towards a modified odd-even scheme to ease traffic along EDSA.
A NEW SCHEME OR EXPERIMENT? MMDA enforcers assist motorists in navigating the zipper lanes the agency tested last month. Photo from MMDA
According to reports, the proposed modified odd-even scheme, which MMDA General Manager Tim Orbos referred to as "Windows 2", will affect private vehicles plowing EDSA from North Avenue in Quezon City to Magallanes in Makati City.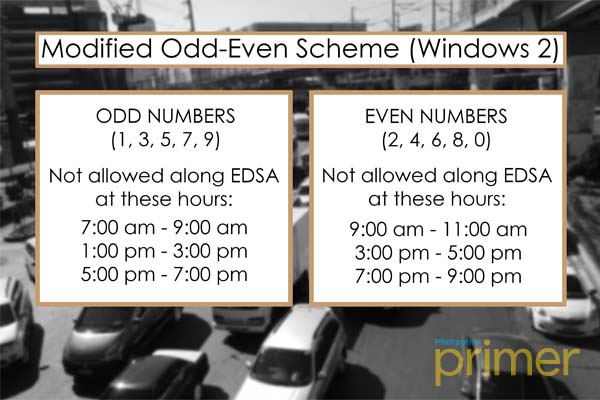 THE NEW SCHEDULE. If MMDA Acting Chairman Tim Orbos meets the conditions set by the Metro Manila Council, this scheme will be implemented alongside the current number coding scheme.
Under the proposal, vehicles with plates ending in 1, 3, 5, 7, and 9 will be banned along EDSA from 7:00 am – 9:00 am, 1:00 pm – 3:00 pm, and 5:00 pm – 7:00 pm. Those with plates ending in 2, 4, 6, 8, and 0 will be banned from 9:00 am – 11:00 am, 3:00 pm – 5:00 pm, and 7:00 pm – 9:00 pm.
Once approved, the modified odd-even coding scheme will complement the current number coding scheme implemented within Metro Manila. PUVs like jeepneys, buses, and taxis will not be affected. Transport Network Vehicles (TNVs) like Uber and Grab, however, were not mentioned among those who will be exempted from the scheme.
Orbos said the proposal may cut vehicle volume on EDSA by half and improve travelling speed.
"What we want to do now is make it faster. The current average speed is now 19 kilometers per hour, we want to double it to 40 kilometers per hour," Orbos said in a phone interview with CNN Philippines on Wednesday.
The Metro Manila Council, however, told Orbos to defer its implementation until three conditions are met: adequate alternative lanes, strict enforcement, and time for people to be informed and consultation with stakeholders and other transport groups.
"I am given a month to clear the Mabuhay lanes as a perquisite and illegal terminals in Edsa-Cubao and Pasay before they give their go signal," said Orbos.
Source: Philippine Daily Inquirer, Manila Bulletin, Manila Standard, GMA News Online, CNN Philippines