A Glimpse of What To Expect at P R O H I B I T E D: A 1920s Masquerade Degustacion
Serbesa MNL have invited food bloggers and influencers at Artellano 11, The Henry Hotel in Pasay City for the media launch of their upcoming pop-up event titled, Prohibited: A 1920s Masquerade Degustacion on November 26, 2016, that will also be held at Artellano 11, The Henry Hotel.
The media launch was held in Artellano 11, a heritage house tucked in the heart of the bustling city of Pasay. It's a place that will arouse your aesthetic senses, with a plethora of tasteful art installations, fusion of contemporary and repurposed artwork and home to a number of artwork pieces created by various artists, curated by interior designer  and owner himself, Eric Paras.
Jazelle Carandang, the owner of Serbesa MNL have served 4 pairs out of 7 savory dishes and cocktails to be served on the event on the 26th. Basically, the main theme of the craft cocktails to be paire with the menu are influenced by music and music icons of the past such as Prince, the soundtrack of Pink Panther, and even the Spice Girls (Read full article of Serbesa MNL)
First pair is the Plato Medio, a platter roasted eggplant puree, hummus, green olives and toasted flour taco wraps, paired with the Pink Panther cocktail. The drink is a combination of dry white wine, 4 seasons, calamansi syruo and infused white rum (rum is infused with cilantro,mint and kamias for 2 days)
The hummus (made of cumin, chicpeas and paprika) and roasted eggplant puree goes perfectly together with its tangy flavor
The second pair is the rich and creamy Squash and Jalapeno Popper stuffed with cream cheese, mozzarella and kesong puti, encased in a crunchy breading and deep fried to perfection, paired with The Prince of Peach ( A mixture of vodka, peach juice, rosemary, and black tea syrup, four season and dry white wine, garnished with black tea leaves; inspired by Prince and his song Peach)
The third pair served is the well-executed Cerdo Tostado, a Pork Belly confit(simmered in olive oil for 3 hours with lime, parsley and cinnamon) toasted until crispy. Served with spiced pear chutney, crispy camote chips, paprika and habanero lime glaze) matched with The Golden Age cocktail when mixed forms swirling glitter on the glass.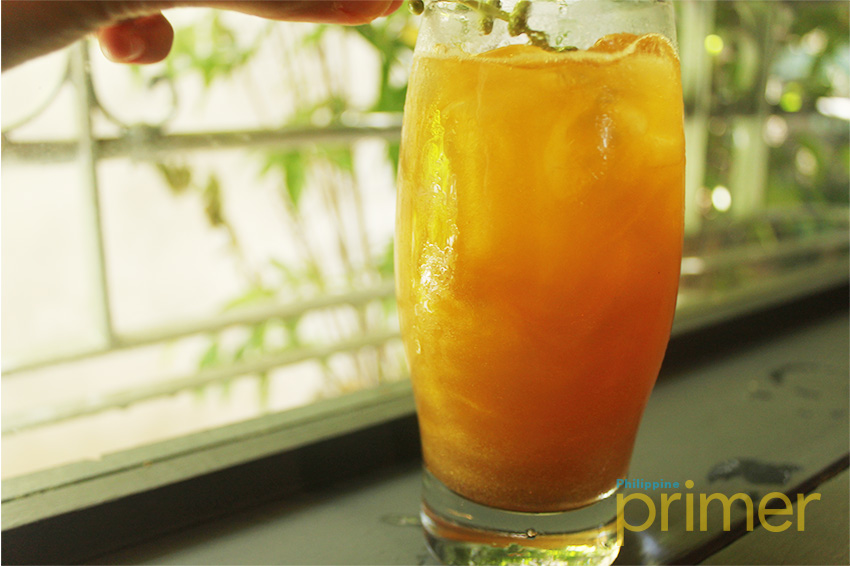 Closer look at The Golden Age cocktail. A mix of vodka, mango juice, rosemary and tea syrup, four season and dry white wine, garnished with gold luster dust to make it sparkle. The drink is inspired by a dream apparition, a solely on JC's opinion is 1920's is the golden age.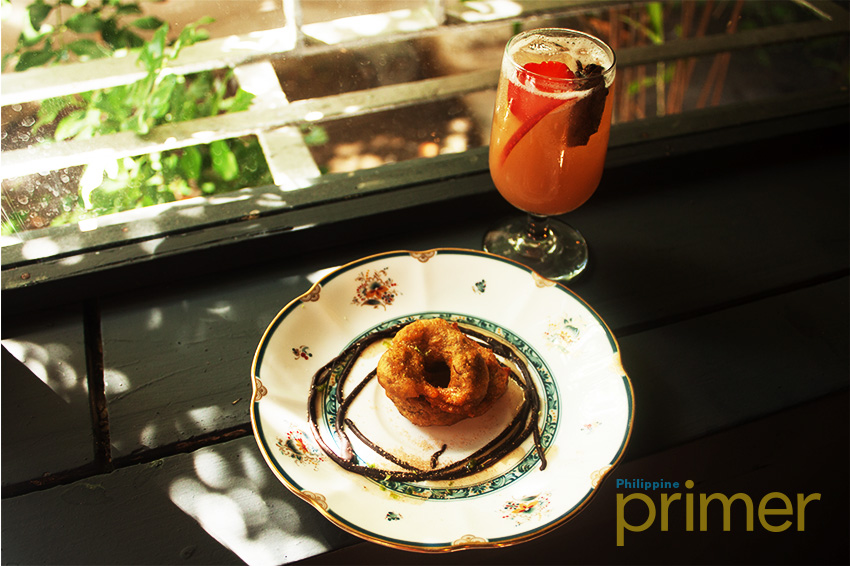 The fourth pair served at the media launch was the Picarones. It's basically a Peruvian inspired donut, made up of sweet orange potato and roasted bananas which really is enlightening to the taste buds. It is served with calamansi glaze, spiced chocolate sauce (uses habanero), cinnamon sugar and lime zest. And of course, matched with The Posh Spice; a mixture of spiced rum, cinnamon nutmeg syrup, apple juice and egg white. Garnished with apple slices, cinammon bark and star anise. This cocktail will give off the feeling of Christmas, apple crumble and cinnabon rolls. It is inspired by Spice Girls member, Victoria Beckham and Posh Spice.
Let's get fried on giggle water! Grab a fella and join us for our first degustacion and cocktail pairing event! We're putting on the Ritz and serving you guys some stuff you've never seen yet! With 7 courses and free flow cocktails, everyone is sure to have a swell time.

Better get a wiggle on, and reserve as we only have limited slots.
For those of you who wanted to get a taste of the 7 pairs on November 26th , kindly contact (0916) 636 8238 or e-mail serbesaph@yahoo.com
Event details:
What: P R O H I B I T E D: A 1920s Masquerade Degustacion
When: November 26 | Saturday Night
Where: Artelano 11, 2680 FB Harrison Street, Pasay (inside The Henry Hotel)
Contact details: (0916) 636 8238
E-mail address: serbesaph@yahoo.com