DOLE starts shutting down of 'endo' firms
Starting October 4 (Tuesday), The Department of Labor and Employment (DOLE) will be shutting down firms that engage with "endo" or labor contractualization.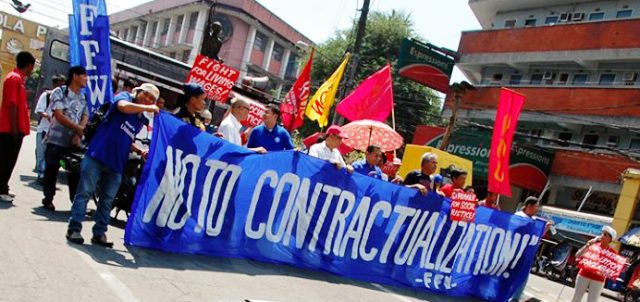 NO TO CONTRACTUALIZATION. DOLE is set to shut down companies' that practice "endo or end of contract labor." Image grabbed from bulatlat.com
According to PhilStar.com's report, Labor Secretary Silvestre Bello III said yesterday that he has directed all DOLE regional offices to implement the shutdowns soon. "I am issuing a warning to these big companies that I will cancel their license to operate if they fail to comply with the regulations against contractualization," said Bello as per the report. The closures will start before Bello leaves for Norway on October 6, Thursday.
DOLE was reported to have given a moratorium in mid-August to cease from illegal contractualization of workers and to comply with the labor code. The said moratorium was also the time for employers to learn about "illegal labor-only contracting" and "contractualization."
The labor secretary also said that they will not hesitate to cancel the companies' license to operate" if they fail to cooperate with the policy.
Source: DZRH News, PhilStar.com